As with any type of remodel, it is important that you create a space you absolutely love to spend time in; essentially, a space which fulfills both your functional needs and aesthetic desires. Although bathrooms are generally considered as more of a necessity, this notion still holds true. Of course, you still need to include all of the key fixtures for your bathroom to function properly, such as a toilet, sink, and either a bathtub, shower, or both. However, it is encouraged to splurge on the features that are specifically important to you, whether it's a show-stopping accent tile or a spa-like steam shower. After all, your bathroom remodel should be custom tailored to you.
Below are some of the more luxurious, unique features that our clients chose to invest in when creating the bathroom of their dreams. Find inspiration for designing your own personal oasis by checking out these 10 ways to make a splash in your bathroom!
1. Bold, Beaut, & Brilliant Backsplash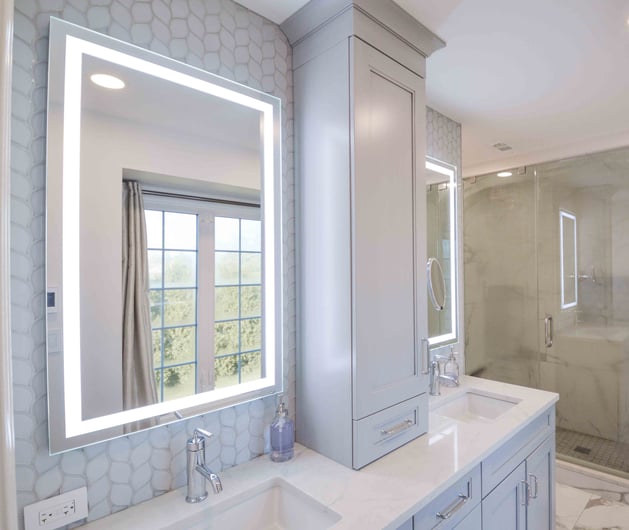 Not only does this backsplash perfectly complement the rest of the design selections, but it also lightens the room immensely. The client and designer purposefully chose a glass tile so that it would reflect the natural light pouring in from the window opposite to it. Furthermore, the glass petal tile covered the entirety of the wall as it ran from the vanity top all the way up to the ceiling.
2. Foxy Floor Tile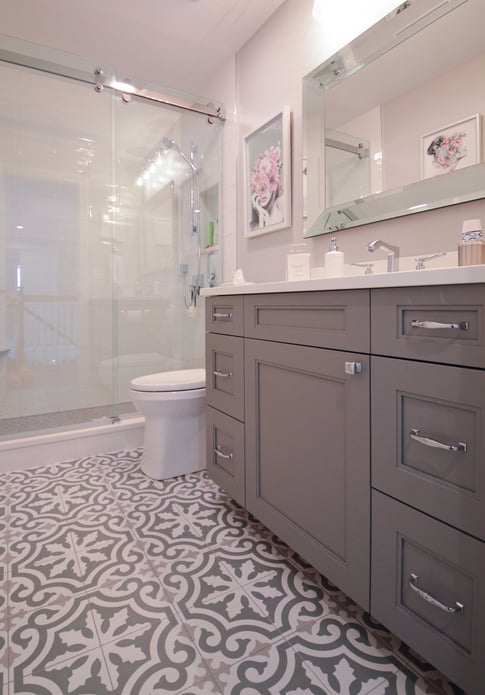 Due to the client's choice of splurging on a decorative floor tile, the designer purposefully chose to keep the rest of the selections in the bathroom more muted. By doing so, the floor tile was able to be the star of the show, without appearing as gaudy or too busy.
3. Swanky Steam Shower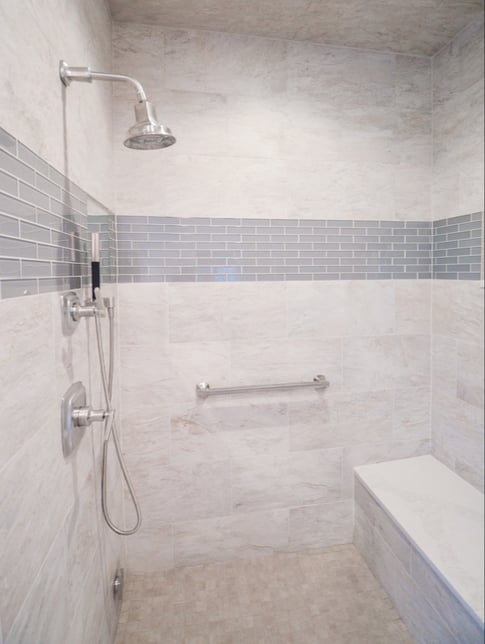 Steam showers can take your plain Jane bathroom and transform it into the luxurious in-home getaway you deserve. In some cases, feeling like you have your own personal high-end spa is reason enough to invest in a steam shower. In other cases, clients choose to invest in a steam shower simply for the health benefits they provide. Either way, you can't go wrong with investing in a steam shower.
4. Nifty Niche for a Bathtub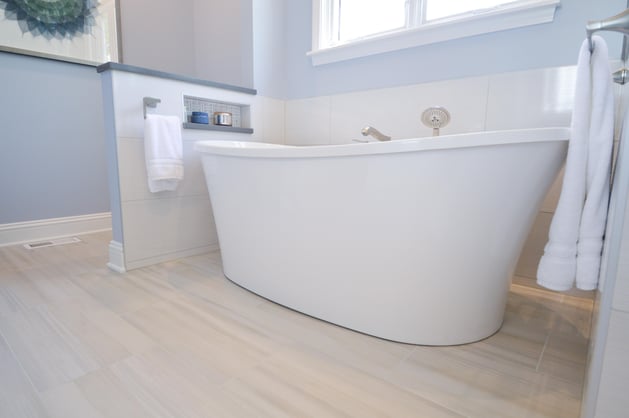 A bathtub is a luxurious feature in and of itself, however, if you really want to make the most out of your investment in a tub, we recommend also including a niche. Niches are commonly found in showers, but are rarely considered for bathtubs. For one client, we replaced the existing clunky tub deck with a sleek, standalone bathtub. Then, we built a knee wall to provide extra privacy between the tub and toilet, which also allowed for an ideally placed niche.
5. Mesmerizing Makeup Vanity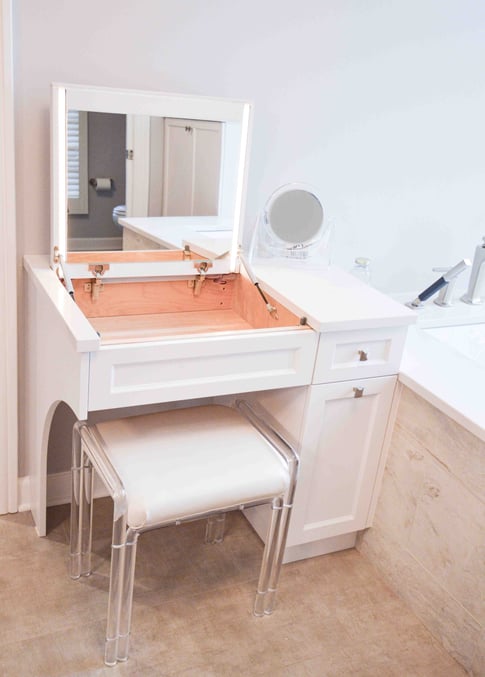 A makeup vanity revamps your monotonous getting ready routine by setting the scene to make you feel like a glamorous Hollywood star. A makeup vanity allows you to keep the countertop around your sink uncluttered by providing a separate, dedicated space to do your hair and makeup. In addition to keeping your bathroom orderly by providing extra storage, it is also equipped with sufficient lighting for actually applying your makeup without any shadows.
6. Heated Floors to Toast Your Tootsies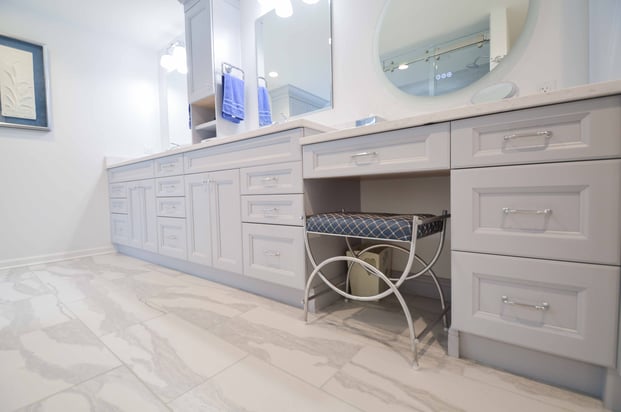 In-floor heating (also known as radiant heating) is one of those features that is primarily seen as an unnecessary indulgence, however, it does actually provide several functional properties as well. In addition to feeling like royalty when you step out of the shower onto what is not a cold, damp bath mat, your heated floors also help radiate heat throughout your entire bathroom. This is a particularly important feature for bathrooms because they are heavily comprised of tile, which is naturally a cooler temperature. Furthermore, in-floor heating is even more valuable if your bathroom is on an exterior wall of your home, because the harsh Midwest winters can penetrate through and make your bathroom feel more like an ice box than an oasis.
7. Audacious Accent Tile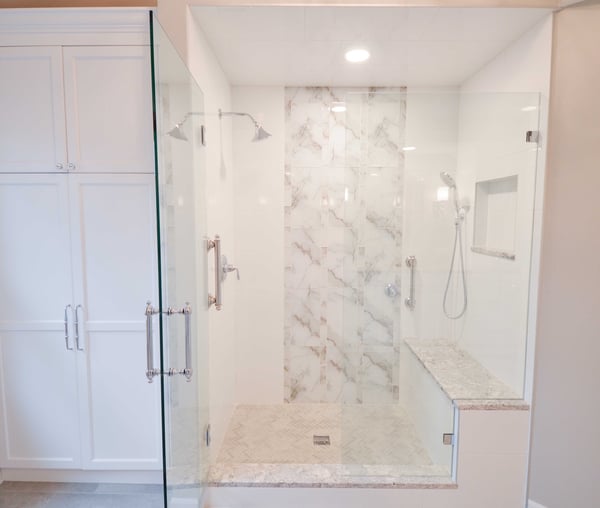 One of the most simple ways to make your bathroom appear more glamorous is to add an accent tile in the shower. This can be achieved by adding the accent tile in the shower niche or by installing a horizontal or vertical line or pattern on the shower wall. In either circumstance, the accent tile will be a trendy focal point for your bathroom design. It is also important to mention that adding an accent tile doesn't take away from the primary tile that is chosen, but instead, the two tile selections work in tandem. The trick is finding two tiles that complement each other and the rest of the selections within the bathroom.
8. Eye-Catching, Colorful Cabinets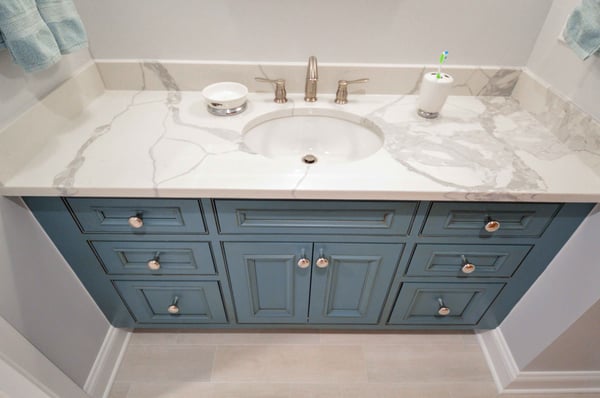 Choosing colorful cabinets as a statement piece in your bathroom design can be an intimidating idea. However, bathrooms are actually the perfect place to experiment with colorful cabinets because bathrooms are typically a smaller space, closed off from the rest of the home which means that you don't need to worry about matching your bathroom's design to the rest of your home's decor or color scheme. A daring cabinet color is certainly a bold choice, but the risk is definitely worth the reward.
9. Lavish, Luminous Lighted Mirrors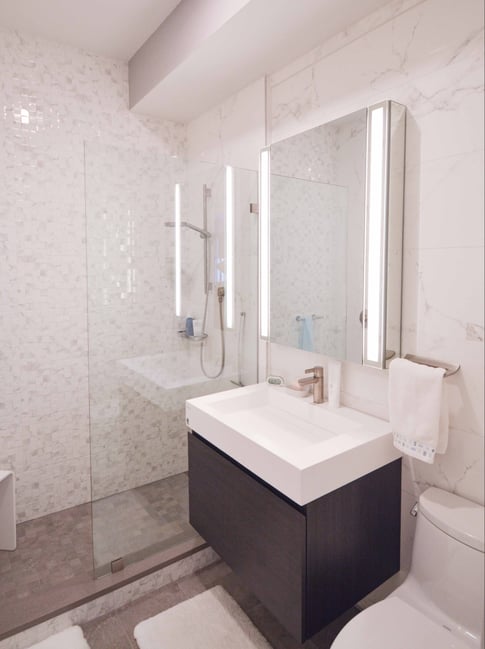 Lighted mirrors seriously elevate the elegance of any bathroom. The use of recessed lighting in conjunction with lighted mirrors can upgrade your bathroom, making it feel more modern, sleek, and sophisticated. Along with adding an element of glamour, lighted mirrors provide ideal lighting for all aspects of your getting ready routine. The lighting surrounds the mirror which prevents any shadows from being cast while you're styling your hair, applying makeup, shaving, etc. Lighted mirrors are also a great option if your bathroom is cramped and doesn't allow for a makeup vanity or if you're not willing to invest in one just yet.
10. Surplus Storage Solutions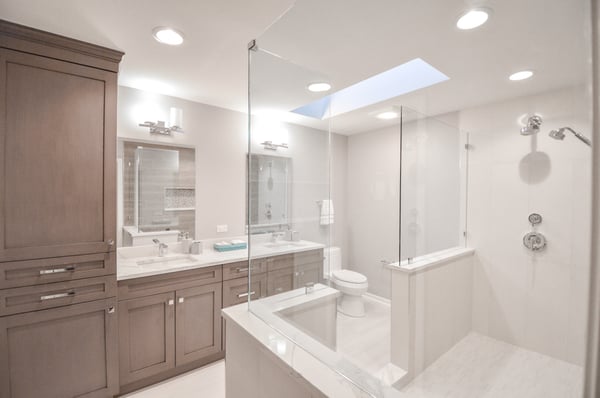 Not having enough storage in the bathroom is one of the most common complaints of clients, prior to remodeling their bathrooms. Regardless of the size of the bathroom, there are many ways to include supplemental storage solutions. Two minor solutions are to replace your mirror with a mirror medicine cabinet combo and to add shelving on the walls. If you're in need of much more storage, cabinetry is the best and biggest solution. This could mean upgrading to a larger vanity that has the storage features you need or investing in a larger storage organization system. There is a plethora of storage options when designing a custom organization system, but the key to maximizing your return is to make sure it meets your needs. Having a surplus of storage is going to allow you to sufficiently organize your space. Therefore, when you step foot inside of your bathroom, instead of tensing up when you see that dirty pile of laundry on the floor or the cluttered countertop by the sink, you will feel overcome with a sense of relief and serenity that you can finally relax in your bathroom getaway.
We have no shortage of ideas when it comes to beautiful bathrooms! If you're ready to make a splash in your bathroom, give us a call or fill out our project discussion form.
Related Articles