We have never been more stressed out as a culture than we are today. Whether over work, money, appearance, or politics, we carry a heavy burden. When we look in the mirror, we find new stress lines, more gray hairs, and perpetually dark circles under our eyes. Although we feel like there's not enough time in the day to relax, we need to. And while a day trip to the spa may be a great solution, it is only temporary. Spa trips still have to be booked in advance, whereas a trip to your personalized oasis could happen anytime. We're talking about upgrading your master suite to give you the relaxation space you need and deserve.
Designer Andrea Shoop believes your bathroom should provide you the opportunity to relax as much as it does the opportunity to get ready and clean up. She has a few tips for how your bathroom remodel can help you keep one of your New Year's Resolutions... to RELAX!
Rub-A-Dub-Dub In Your Brand-New Tub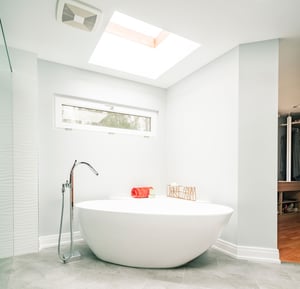 As you lay in your Pepto-Bismol pink bathtub, filled with lukewarm water and deflated bubbles, you contemplate if you should refill the tub with more hot water, or finally get out and brace yourself for the imminent cold. You were supposed to be relaxing, but instead you were distracted by discovering that bathtubs are not as comfortable as they look in movies… well, at least your tub isn't. It's time to ditch your cramped and discolored tub and hop into either a jacuzzi style tub or a soaking tub. A jacuzzi tub is perfect if you want water or air jets to create a massaging effect, as well as a gentle hum to lull you into a relaxed state. However, their ROI is not as good as a soaking tub which features a deeper cavity, perfect for luscious bubbles.
Either choice will help you gain back some relaxation as baths are proven to help with arthritic pain, a case of the blues, and stress (among other things). Light a few candles, play some calming music, and invest in some good bubble bath.

Add Some Hot Features
Your new jacuzzi or soaking tub is absolute perfection! You can feel your muscles relaxing and all your cares floating away. When you finally decide to get out, panic strikes and you break into a cold sweat. You raise your submerged leg from the hot water into the open air, only to quickly splash it back into the water. It's exactly as you feared: your exit from the tub is sure to cause instant hypothermia and death by freezing… Well maybe not, but it will certainly reverse any relaxing that was taking place.Prevent this nightmare from becoming a reality by investing in a heated towel rack and heated flooring. A heated towel rack not only emits heat into the room, but it also keeps your towel nice and toasty. Plus, with heated floors (also known as radiant heating), you'll no longer have to awkwardly scoot across your floor, dragging the bath mat under your feet until you reach a carpeted area. Instead, you will make an easy escape to the warm hug of terry-cloth as you walk calmly and regally to you perfectly organized closet nd adorn yourself in some cozy pajamas.
Save Your Sinking Routine
A common method used to promote relaxation is to become consistent, at least in your morning and evening routines. As you are preparing for bed, you complete the simple tasks of brushing your teeth, washing your face, removing makeup, or shaving. However, as you glance down at the sink you share with your partner, you're stopped dead in your tracks. The white sink is peppered with shaved hairs and electric-blue globs of toothpaste cemented in place. In a rush to get through your routine without gagging, you concentrate on avoiding the disgusting scene below, rather than mentally preparing for the day ahead of you. Instead, consider going all out for your bathroom remodel with a double sink vanity. Now you each get your own space. Yours can stay pristine, while your partner's sink can abide in whatever state they see fit. When your new porcelain sink is gleaming white, you'll start to savor your moments in front of the mirror. You may even consider keeping a few face masks on hand for when you want to pamper yourself. Trust us, with a bathroom like this, you'll want to pamper yourself daily.
Find Some Shade
After you take a bath, wash your face and throw on a face mask, you are ready for bed. Unfortunately, sleep often escapes you due to your hectic schedule, overthinking, or your window blinds. Yes, your window blinds whose most blinding aspect is the light blaring through them. You've tried curtains, sleep masks, and even throwing a blanket over the window, but to no avail. It's time to bring out the big guns with Hunter Douglas blackout blinds or their more expensive and incredibly impressive Duette Lightlock system, which is the closest to a blackout that you can get. The blanket of darkness will finally pull you into a deep sleep and you'll wake up oblivious to any stress you may have experienced the day before because, after years of restless nights, you finally got a full night sleep.
Now What?
There are endless possibilities for creating your relaxing bathroom oasis, and OHi has been helping families in Chicago and its surrounding suburbs remodel their homes since we founded our family business in 1900. Our expert team members will help you find design inspiration and carry out your vision. We've been improving our neighborhood one home at a time through expert advice, exclusive products, and exceptional service. Check out our portfolio, or contact us to speak with an OHi family member about your remodel!
Related Articles