There are a lot of factors that need to be taken into account before you choose a stain for hardwood floors. For example, some species of wood, such as oak, are easy to stain, and will hold any hue with dignity. Other types of wood, such as birch, maple, or pine are much more resistant to staining, and may even be better off retaining their natural color. Feeling a bit overwhelmed? OHi has you covered with a few tips from John Kautz on how to pick the perfect stain.
Traffic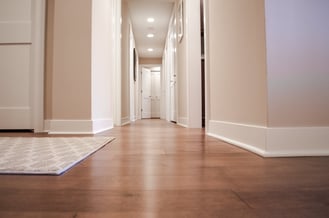 If you're in a family that proudly includes its pets in family photos, opt for a lighter stain. While it's true that a lighter stain exhibits a wooden floor's natural imperfections, it also creates a blending mechanism that will hide pet hair, scratches, and dust.
If you're not concerned about pet-related floor troubles, go for a darker stain. These will hide most of the floors natural imperfections, creating a sleek, sophisticated, and uniform look.
Lighting
As unfortunate as it is, lighting will end up dictating which stains look good in your home. Poorly lit homes should try out lighter stains on their floors, as they will reflect the available light onto other areas of the room. Homes with a lot of natural light can look into darker stains, which will soak up any access light that's floating around.
Seller Friendly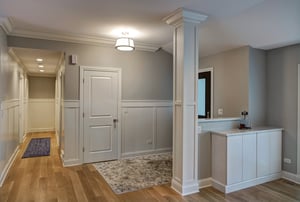 Are you thinking of selling your home anytime soon? If so, it's probably safer if you pick a conventional stain that people are used to. However, if you've found your personal Camelot, look into some of the more unique stains, like teal, citrus, and lilac (yes, you can have purple floors!).
Now What?
There are endless possibilities for making your current home into your dream home, and OHi has been helping families in Chicago and its surrounding suburbs remodel their homes since we founded our family business in 1900. Our expert team members will help you find design inspiration and carry out your vision. We've been improving our neighborhood one home at a time through expert advice, exclusive products, and exceptional service. Check out our portfolio, or contact us to speak with an OHi family member about your remodel!