Half baths are often trouble spots for many people considering remodeling their homes; they're so small that many folks just don't know how to spruce it up. Often, homeowners neglect doing any updates at all, leaving the space as it is. But with a little creativity and inspiration, there are endless ways to update a half bath during a home remodel.
Designer Dove Brown weighs in on fresh ideas for your powder rooms, basement bathrooms, and guest bathrooms, as you bring these small but oft-used rooms to the top of the to-do list!
Get Creative With Vanities And Sinks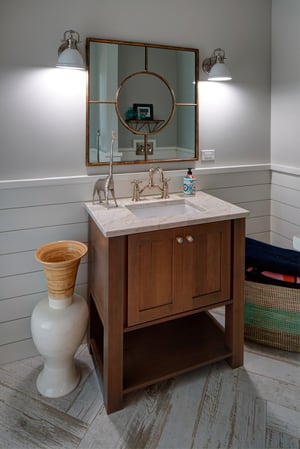 Switching out the vanity or sink makes a huge impact on a small bathroom. Pedestal sinks often save space over large vanities (which can absolutely work in many small bathrooms!), some offering storage shelves for small items. Mounted sinks free up a bit of space below them, while undermount sinks can free up valuable countertop space. Getting creative can also open up more space in the room. Oddly shaped vanities—like a round one without corners—can improve the flow of traffic in a cramped bathroom by eliminating sharp corners.
Replace an Unattractive Toilet
The toilet is the focal point of the room—and usually the reason why people enter the half bath in the first place. Why not make the main attraction a little more attractive? Today's models emphasize comfort and appearance, and many even have water-saving options and multiple flushing capabilities. Replacing an outdated toilet enhances the appearance of the room, in addition to benefiting the environment and possibly even shaving a few bucks off the water bill.
Freshen Up Your Accessories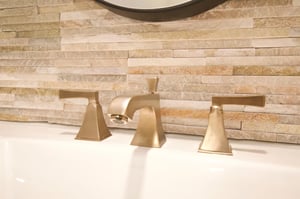 If a full bathroom remodel isn't in the budget, just giving some TLC to the small details and accessories in the room is an easy, inexpensive way to freshen it up. New vanity finishings, doorknobs, light switches, toilet paper holders, and towel racks can modernize the room. Paint can also go a long way in transforming the space; large-scale patterns, accent walls, and pops of color can make the small room feel larger.
Now What?
There are endless possibilities for updating a small bathroom, and OHi has been helping families in Chicago and its surrounding suburbs remodel their homes since we founded our family business in 1900. Our expert team members will help you find design inspiration and carry out your vision. We've been improving our neighborhood one home at a time through expert advice, exclusive products, and exceptional service. Check out our portfolio, or contact us to speak with an OHi family member about your bathroom or home remodel!
Related Articles