It's no secret that remodeling completely changes the style of a home, but not every home needs a full remodel. One of the most efficient and cost effective upgrades is new flooring. With all the options available today, what choice is best for your home? Read more on how you can dramatically change the style of a room without the disruption and high cost of a remodel, courtesy of one of OHi's resident flooring experts, Tammy Ogaard.
What Is The Best Type Of Flooring For Your Space?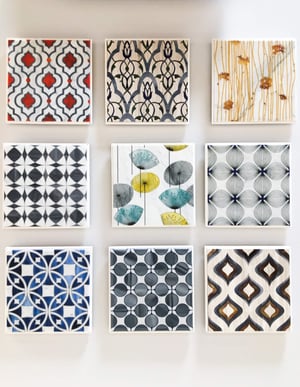 The first step in narrowing down the options is to choose which type of flooring will work best for your space. If the flooring is for a bathroom, basement, or any other area frequently exposed to moisture, tile flooring would be the best choice. In addition to being beautiful, tile is easy to clean and durable. Most importantly, tile's water-tight properties help prevent issues with mold and bacteria growth. Porcelain tile and ceramic tile are both made from clay, other naturally occurring materials, and fired in a kiln. What most people don't know is that porcelain is made from a more refined, purified clay and fired at a higher temperature, which makes it less porous and less prone to chipping than ceramic tile is.

Furthermore, if you have young children or pets, hardwood is probably not the best choice. We often tell clients that putting hardwood down is like having furniture as your floor. With regular [minimal] wear and tear they will last a long time; however, children and pets significantly reduce that timeframe." There are plenty of other options such as laminate or tile that still look like wood, but meet your functional needs as well. While solid wood can be re-sanded and stained, it damages more easily than tile, laminate, and LVT (luxury vinyl tile) which are all stronger than solid hardwood, but they cannot be refinished.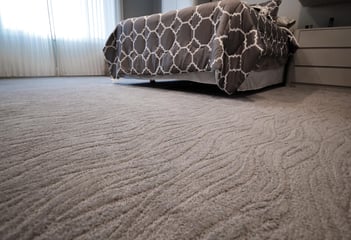 In addition to hard surfaces, there's another slew of options for soft surfaces. Carpet comes in a variety of fibers, styles, and colors. Contrary to hard surface, carpet creates a soft, warmer atmosphere and even provides sound absorption for the space. Carpet is frequently used in bedrooms and family rooms due to these qualities. Although carpet can stain easier than hard surface, manufacturers have developed carpet that is much more stain resistant than it used to be. In most cases, getting the carpet professionally cleaned will lift a majority of stains out. However, even if the stains don't come out or if it is too worn down, carpet is normally the least expensive flooring to pull and replace.

Subsequently, every household has different considerations to examine when exploring all of the flooring options available. For example, what is the existing floor, what is underneath the existing floor, is there harsh sun, is it a high traffic area? At the same time, each person has a unique style and vision for their space. Just as you'd approach any project, it's always best to consult a professional who is skilled at taking all of these variables into account while providing insight on new products and collaborating with you to find the perfect fit for your space.
Now What?
There are endless possibilities for creating your dream home, and OHi has been helping families in Chicago and its surrounding suburbs remodel their homes since we founded our family business in 1900. Our expert team members will help you find design inspiration and carry out your vision. We've been improving our neighborhood one home at a time through expert advice, exclusive products, and exceptional service. Check out our portfolio, or contact us to speak with an OHi family member about your remodel!
Related Articles