Some would say the master suites of the past have seen their day. Jacuzzi tubs, tub/shower combinations, and even soaker tubs are being passed over for the luxury shower. These large havens feature elements you'd find in the finest Chicago spas and resorts, and they're finding their way into our very own Chicago neighborhoods.
Designer Kim Malito has worked on high-end kitchens in Chicago, Chicago's suburbs, and the North Shore. Her guide for creating a luxury shower will leave even those of you who prefer baths longing to rinse off in one of these beauties!
Find or Make the Space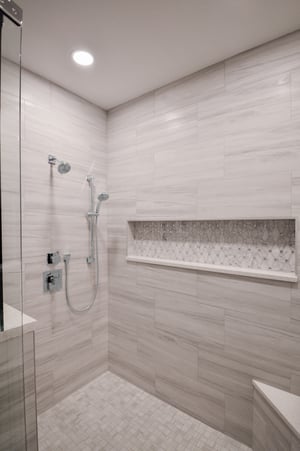 The first step to achieving the luxury shower you desire is making sure that you have enough space to work with. Having a large, open floor plan for your bathroom and your shower will result in a more comfortable user experience. The extra space also allows for features such as sculpted boulders and benches, offering you the luxury of sitting down in your shower.

If you don't have the space in your current bathroom, reconfiguring your floor plan is a possibility. This could include moving your closet, changing the location of a door, or even building a micro-addition.
Create Multiple Outlets for Water
Whether or not the shower will used by the whole family, adding more than one outlet for water is an excellent way to up the ante on your shower's luxury. A second showerhead, either adjacent to or across from the first, can allow two to shower at once. Adding a handheld fixture can also allow for greater ease in rinsing off little ones. Installing multiple
side body sprays can take your shower to an entirely different level!
Be "Extra"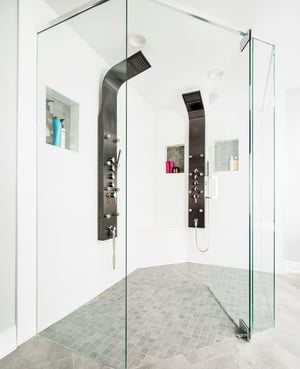 There are many extras when it comes to luxury showers, one of which is the aptly named "steam shower." These are growing in popularity with our clients, as it combines the spa-like nature of a sauna with a shower, allowing your stress to melt away as you sit on your shower bench and put your head against the gorgeous tile. I highly recommend considering this addition if you're going all-out on your shower.
Waterfall showerheads give that relaxing feeling, sometimes directly from the ceiling. There are many styles, from super sleek and modern, to traditional round showerheads centered in your shower ceiling, and even one that looks like a ceiling tile and blends right in. Some waterfalls even include LED lighting that changes colors, as well as bluetooth speakers, so your surroundings can reflect your mood.
My favorite luxury shower extra is technology. Water thermostats have advanced to a point at which you can choose a specific water pressure and temperature, then save those settings for future use. They also allow for multiple users, enabling everyone in the family to have their own setting. Integrate your Pandora account or Amazon Alexa into your shower's bluetooth speakers, and install some LED lighting for a truly luxurious experience.
Express Yourself
While all of the components I mentioned can create luxury, the most important is style. There are limitless ways to make your shower unique, and making it exactly what you want is truly what makes it luxurious. When deciding which style to go with, keep texture, pattern, and color in mind, as these facets are the building blocks of a perfect shower. Above all, remember that you want your shower to be a representation of everything you dreamed it would be. So don't settle for cheap, time-vulnerable options. Go all out, express yourself, and have some fun with your newest home improvement project!
Now What?
There are endless possibilities for creating your luxury shower, and OHi has been helping families in Chicago and its surrounding suburbs remodel their homes since we founded our family business in 1900. Our expert team members will help you find design inspiration and carry out your vision. We've been improving our neighborhood one home at a time through expert advice, exclusive products, and exceptional service. Check out our portfolio, or contact us to speak with an OHi family member about your remodel!
Related Articles