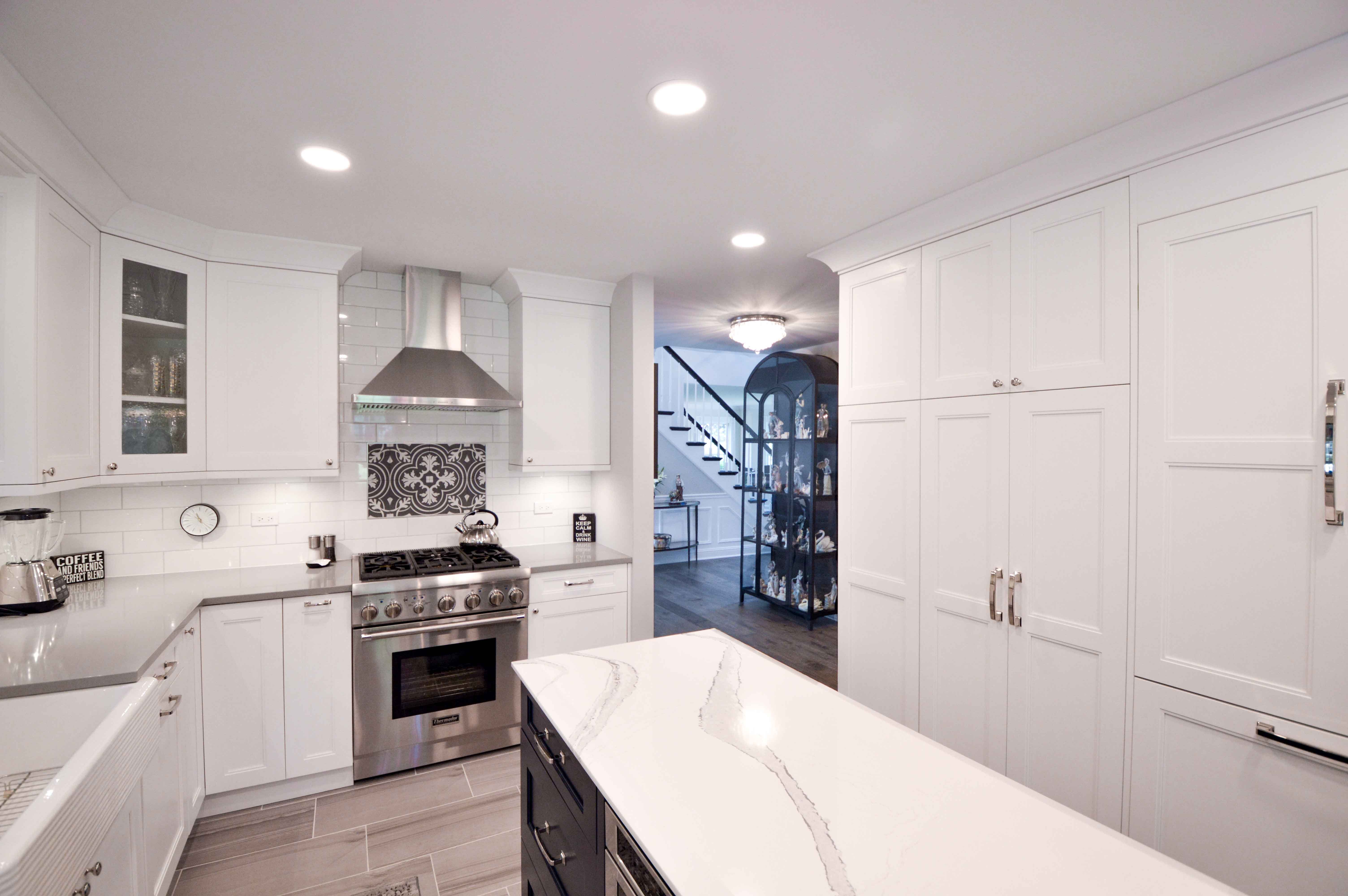 While the temperature outside may have been close to 100 degrees, our staff and guests were enjoying the comfort of air conditioning for our July 20th event, Designing a Timeless Kitchen. Instead of a standard panel discussion or lengthy presentation, we broke our guests up into groups and had them rotate between three different stations: 'Fundamentals of Kitchen Design', 'Materials: The Do's and Do Not's, and 'What Makes a Trend Timeless?'. In case you missed all the glory, we've rounded up the most important highlights for you!
Fundamentals of Kitchen Design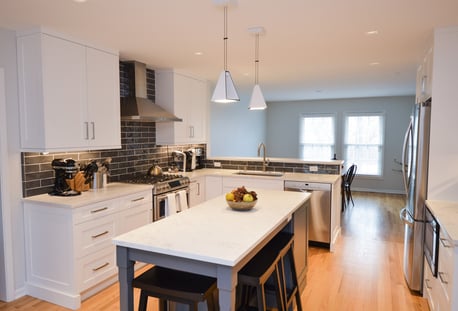 Lead by President, John Kautz, and Designer, Teri Meiners, station one took time to explore common problems and solutions for kitchen design. The best place to start is with the question, "Why do you want a kitchen remodel?" Although it seems like a simple and obvious question to ask, without providing an answer, your remodeling project can suffer. Your project will lack heart and direction as the lifeblood required for every other decision will be missing. While it can be hard to narrow down, you'll often land into one of two categories: Function or Design. For function, you're facing issues such as isolation, a lack of storage, or a cramped space. When it's design related, common issues tend to be that the kitchen is dated, the layout is weird, or the materials are worn. Scratched countertop anybody?
Once you know your reason or combination of reasons, you can start to answer the fun questions… the ones that are all about what you want. Some prime questions to think through are as follows:
Would you like to enlarge your kitchen. . .take out any walls?
Do you need more counter space?
Would you like an island (if it will fit)?
Do you need more storage? What kind of storage would you like?
What kind of lighting would you like. . . recessed cans? Pendants? Under cabinet lighting?
Do you want to get rid of your soffits?
What kind of appliances do you want?
To best illustrate how these common problems are solved, our facilitators shared a few case studies of past clients, including two projects never seen by the public. One of the new projects showcased how to make a galley kitchen feel less cramped, while also providing better storage solutions. The other project was a jaw-dropping kitchen, complete with two quartz topped islands, a perfectly flush, inset microwave, and bright new cabinets.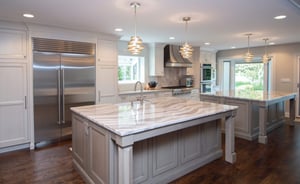 Furthermore,they shared our NARI award winning kitchen. This previously cramped and outdated space now has a wide open floor plan, achieved by tearing down walls. The space itself looks brighter and is easier to work in due to its updated materials and the addition of two islands, providing much needed counter space.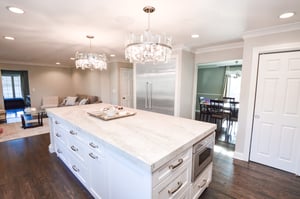 Next, they discussed the popular "Wood to Whoa" kitchen. In this remodel, we removed a wall and a pantry. While some people may gawk at the idea of losing storage, this homeowner wanted a larger, more open kitchen because she often hosted Christmas parties with over 60 attendees. In addition to a sprawling island, Teri also included multiple storage accessories to help improve organization.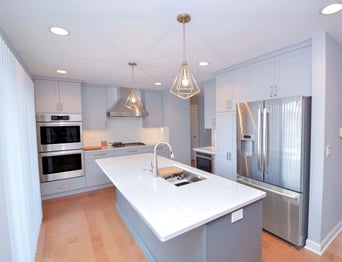 Finally, they discussed the "Wretched Retro to Ultimate Update" kitchen. This kitchen needed a better layout as well as a complete overhaul of materials. The total transformation from an entirely out of date kitchen to a clean, bright, and much more contemporary kitchen is enough to knock you over in shock.Removing a wall opened up the space and allowed for the addition of a sleek island, which more than doubled the counter space. Embarrassment over yesteryear's design and the hassle of working in a cramped space have become distant memories. This, after all, is the power of remodeling. A designer sees the potential for beauty and joy in a long forgotten or deeply loathed space, and helps create your own personal wonderland.
Materials: the Do's and Do Not's: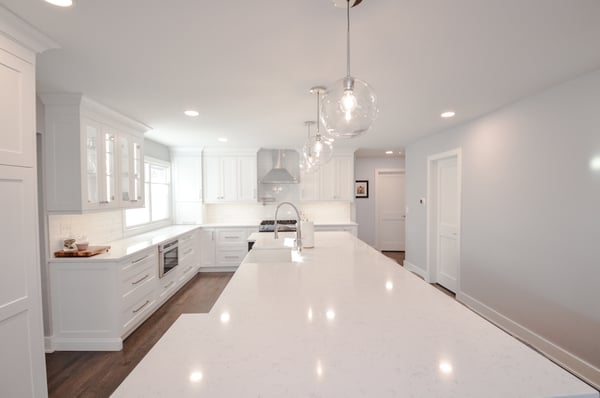 At station two, team members, Mary Aubry and Jim Thomas, took a deep dive into materials. With the shared knowledge of our experts, attendees gained a better grasp on which countertop, cabinet, and flooring materials are best for their lifestyle. Starting with countertops, Mary broke down the most common materials and how to choose.
Quartz: A non-porous, durable option, quartz is currently the most popular countertop material as it is offered in a variety of trendy looks.
Granite: Granite is a naturally-occurring rock, so the color options for this material are more limited and tend to be in darker shades. Although it does need to be re-sealed regularly, it does have the benefit of being heat resistant. Compared to quartz, this is the more affordable option.
Quartzite: While it is trendy and unique, quartzite tends to scratch easily, requires regular re-sealing, and is not heat resistant. This option is more expensive than quartz and granite.
Solid Surface: Solid surface's pliability allows for it to adapt to curves and the seams are hardly noticeable. However, it isn't heat resistant and it stains easily.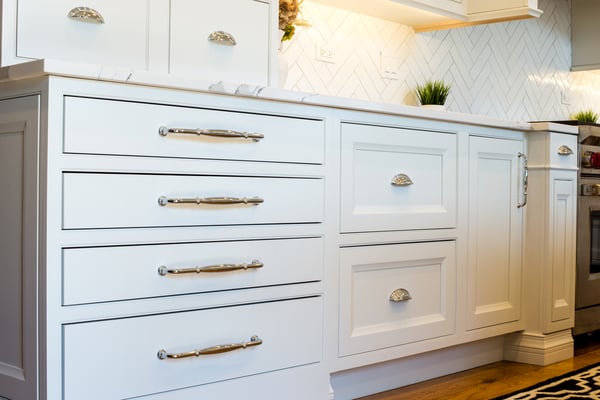 Next, she moved on to discuss everything from construction types to the different styles of cabinets. While this topic involves many details, Mary utilized real life examples to give attendees hands-on experience. Here are some important general notes on cabinets:
Framed: The most common option, framed, compliments both traditional and transitional kitchen styles. It is also the most affordable construction type because there is more room for error.
Frameless: Frameless cabinets are constructed where the door fully overlays the cabinet box. This option tends to be more expensive, but also provides more storage, and better access to storage.
Inset: With inset cabinets, the door is set inside the frame, making it flush or recessed from the frame. This option is commonly found in either traditional or contemporary kitchens. It is the most expensive construction type due to the fact that these cabinets are usually custom built with minimal room for error.
Styles: Shaker, raised panel and slab front are the three main cabinet door styles people choose in their kitchens.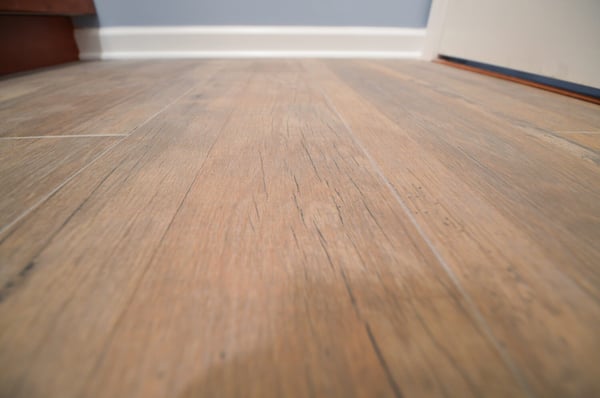 After cabinetry, Mary focused on flooring and the benefits of each option. After all, not every choice is the right one for your lifestyle, especially if you have fur babies or real babies.
Luxury Vinyl Tile: This is the most popular choice as it is water resistant, pet friendly, and kid friendly.

Laminate: This option offers a variety of looks, is pet friendly, kid friendly, and affordable.
Hardwood: Hardwood is a natural product with its own distinctive characteristics. Hardwood is always on trend, even though it tends to dent and scratch easily. Hardwood isn't water resistant and it expands and contracts in humidity.
Porcelain: Porcelain is extremely durable and offers the opportunity for a more customizable look.
Finally, Mary closed out the session by discussing how to make decisions on where to splurge and where to save in regards to the materials you choose. For those looking for ways to save, without sacrificing "the look", consider installing laminate floors. Many of today's laminate styles look like real wood, but with a significantly reduced price tag. Check out our "Basic Box Kitchen to Luxury in Des Plaines" kitchen as a perfect example. In regards to choosing which material you'll splurge on, many of Mary's past clients chose to spend more on their countertops, namely quartz, because the wanted a specific look. Sometimes clients go into the process knowing they will splurge on a brand like Cambria quartz, whereas others see the samples, fall in love, and then decide to splurge. With all the benefits quartz has to offer, it's hard not to fall in love. Here's a great example of a client who splurged on quartz countertops. Some people who cook all the time tend to splurge on their appliances, such as a custom ventilation hood or an expensive stove. It can be a tricky balance, but often it comes down to what materials you love and what materials will last a lifetime.
What Makes a Timeless Trend?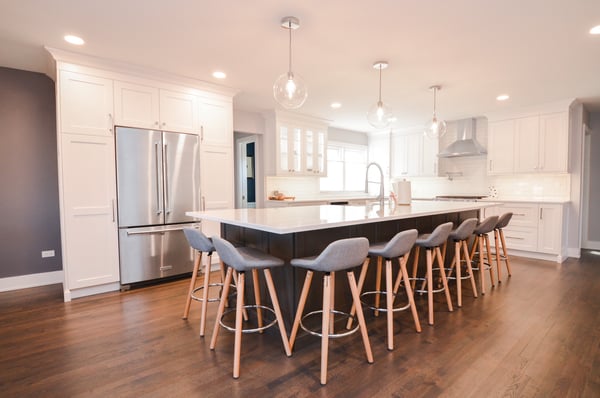 OHi team members, Kim Malito and Tammy Ogaard, lead the discussion on trends, starting with a difficult question: Can a Trend be Timeless? You're probably not going to like the answer, which is, of course, that it depends. Often, it comes down to the colors and materials you choose. For example, white cabinets have a long history of being trendy. Even when they're not the most popular choice, they're still a popular choice. Specific materials, such as quartz or granite are also timeless trends because the material itself will stand the test of time.
However, most trends have a life cycle of 10 years: gaining popularity for 5 years, and losing traction the following five years. This means that most trends are transitory. Kim and Tammy provided the following list of current trends:
Color: Deeper tones, such as emerald greens, navy blues, and matte black. Great ways to embrace these colors are in appliances, tile, islands.
Tile: Larger format subway tile is the way to go, or geometric shapes. If you want a little more fun, consider adding an accent wall or floor with tile.
Accessories: Think mixed metals, gold hardware and starburst light fixtures.
Ultimately, if you want to embrace trends, both timeless or transitory, there are two conversations you should have. The first conversation is determining if you're designing for your forever home or if you're designing to sell. If this is your forever home, it's acceptable, even understandable, to make more liberal selections. Choose the materials and colors that you love. Make the space completely yours. "Cherrywood Tradition to Upscale Transitional" kitchen and "Grandma's House to Forever Home" kitchen are both great examples from our portfolio. The homeowners went for looks that spoke to their personalities and taste. They went all out by choosing the materials they wanted. On the other hand, if you are designing to sell, choose neutral pallets and standard materials. Think whites and grays, with a simple backsplash.
The second conversation centers around when to splurge on trends, and when to hold off and say, "maybe next time". Great ways to incorporate trends include splurging on trendy hardware since it is more affordable and much easier to change out than a countertop. You could also splurge on cabinets. If you choose a trendy cabinet style and color, ensure that the material is high quality. This way, when they become dated you have the option to paint your cabinets. A great way to save on trends is with appliances. Some people may want the top of the line countertop and cabinets, but that eats into their budget for appliances. If your appliances are still working well, this is a great way to save money, while still investing in the kitchen remodel of your dreams.
Overall, our attendees walked away with more knowledge on kitchen remodeling, full stomachs from a homemade brunch, and the pleasure of getting to meet the OHi team. If you missed the event, but would still like to chat with a team member or want to visit the showroom, make an appointment. We'd love to have you visit!
Related Articles