If you've considered remodeling your kitchen and bathroom, you've likely researched which materials to use, which spirals you down a rabbit hole of choice fatigue. One simple Google search for countertop materials brings up an endless number of pages to sift through, and each one seems to be trying to convince you that their favorite material is superior to all. The pressure and amount of options can be far too overwhelming… and this is just for countertops!
But don't worry, your favorite remodeling family is here. We asked designer Dove Brown for her pros and cons of the four most popular countertop choices we see our customers choose.
Quartz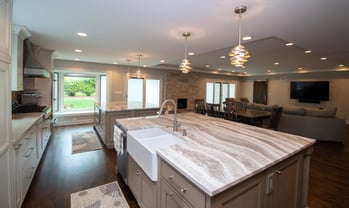 As a relatively newer material for countertops, Quartz has taken the world by storm. It is the most popular choice amongst our customers, likely because of its durability and low maintenance needs. Since it is not a natural stone, when it is manufactured with a resin the final product is already sealed and requires no re-sealing in the future. This resin and sealing process creates a non-porous surface ensuring that when homeowners clean, they can rest easy knowing that no bacteria or germs are growing in the pores they can't reach. The resin also prevents it from absorbing liquid and leaving stains, making it a good choice for the humid environment of bathrooms. This is also the hardest surface on this list, making it the least likely to crack, chip, or scratch.
Those are all the practical benefits of quartz. We haven't even mentioned the beauty of the product. It is an attractive choice with the widest variety of options available regarding color and style. You can even find some that mimic natural stone, which may give you the look you want with the durability you need.
Some customers veer away from quartz because it isn't the perfect look or feel compared to countertops comprised of natural materials. The price can also stop some from selecting this material.
Quartzite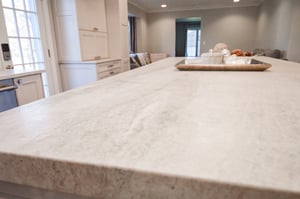 Known for its beauty and feel, choosing quartzite will add a feeling of sophistication to any space. Since it is a natural stone, the variety of color and design is limited. However, people on the market for the marble look often end up choosing quartzite because it is almost identical to marble, but with much better durability.
Be warned that simply because it is more durable than marble doesn't mean that it won't scratch or stain easily. Be prepared to reseal the surface on occasion in order to maintain a scratch and stain free look. In fact, you have to clean up spill rather quickly for the liquid to not leave a mark. Sharp objects will most likely scratch the surface as well, so be sure to keep a cutting board on hand at all times. Also, it isn't heat resistant, so think twice before setting that hot pan on the counter, even if for a short period.
On the bright side, this stone is UV resistant, making it a great choice for an outdoor surface. Plus, it is easily cleaned with a little soap and water. While this pricey choice may need a more careful chef, the beauty of it may have you throwing caution to the wind.
Wood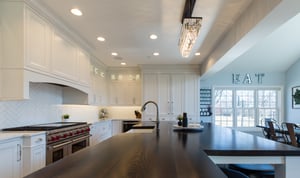 While it may be a more unconventional surface material for countertops, the splash of a wood topped island is sure to be a showstopper in any kitchen. The warm tones found in wood give any space a cozy, earthy feel. When sealed properly, no special cleaning process is necessary apart from soap and water… yes water. Just be sure to wipe it down with a dry towel after. Also, it helps to occasionally apply mineral oil to keep it clean.
Since wood is extremely porous it can allow for bacteria and germs to grow. Not only that, but it absorbs liquids, and if not treated properly, can become moldy. Too much water exposure can loosen the glue holding the wood together, allowing the seams to split. Despite this fact, wood countertops can be long-lasting if you diligently reseal it when the time comes.
Since it is a soft surface, it can also scratch easily, but unlike stone or quartz, you can refinish the surface to remove any scratches. An unexpected benefit comes with wood being a natural sound absorbent, which will help keep your kitchen quieter as any toddlers or clumsy adults dropping plates or silverware will be met with a muted clatter.
Granite
Remember when everyone and your grandmother had granite countertops? While granite is still a viable option, it has dropped in popularity slightly due to the limitations of the look and the fact that all its strengths are stronger in quartz. Since it is a natural stone, the designs and colors are limited to what nature has to offer, which means a lot of browns, greens, greys, and mild blues. Since it is a hard, natural stone, it is still a durable and scratch resistant material that can last a lifetime.
It is also a heat resistant material, which allows it to be perfect in kitchens near your cooktop or in a bathroom where you may accidentally drop a curling iron or straightener. While it is low maintenance and only requires soap and water for cleaning, it is also a very porous material causing the potential for bacteria to grow and germs to fester. However, proper sealing will do the trick to prevent this to a certain degree. The sealing will also slow down any absorption of liquids, meaning if it is wiped up quickly, it shouldn't leave a stain. Keep in mind, after a certain amount of time, the sealing will wear away and you will need to reseal the counters.
Other Options
There are numerous other surface types available for you to work with in your home, such as tile, porcelain, stainless steel, corian, laminate, marble, glass, soapstone, and travertine.
If you have a surface type you're specifically interested in, give us a call and talk to one of our experts. We'd be happy to walk through the benefits and risks of each product and see what might be the best solution for your space and for your lifestyle.
Related Articles