Making decisions can sometimes feel impossible, especially when you're trying to build your dream kitchen. From the ground up, every component of your kitchen should be handpicked and tailored to fit your functional needs as well as your personal style. Choosing the perfect products for your kitchen is a seemingly simple task, until you find out there are numerous materials, styles, and costs associated with each selection.
As a trusted family with generations of experience, we understand that it can be hard to figure out where to start. OHi Kitchen and Bath Designer Teri Meiners compiled a short list of important choices to mull over regarding cabinetry.
Do You Want Framed Or Frameless?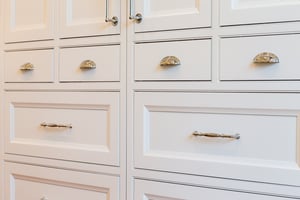 Cabinets tend to be one of the trickier selections due to the many pieces involved, as well as the correlating vocabulary.If you can at least master the difference between framed and frameless cabinets, you deserve a gold star and a pat on the back.

Framed cabinets, otherwise known as the American style, are probably the cabinets you're most familiar with. They are constructed with three main parts: cabinet box + frame + door. The frame is an extra band of wood added around the cabinet box. The door hinges are then screwed into the frame, instead of the box, which actually creates a sturdier foundation for the door. The drawers also have a frame surrounding them, which can make their height allowance shorter.

Simple enough. However, it starts to become complicated when you decide where you want the doors placed in regard to the frame, otherwise known as the overlay. For the overlay, there are three common types:
Inset: The doors are placed within the frame so that the surface of the door is even with the frame. This creates a smooth, clean feel.

Standard (Partial): The doors are attached to the surface of the frame, however, a small band of the frame is visible on the surrounding edges.

Full: The cabinet door covers the outermost edge of the frame, giving it the appearance of not having a frame.
What Style Door Do You Want?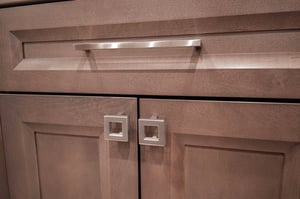 Now that the most confusing portion of cabinets is out of the way, it's time for the fun stuff! The stuff we pretend is pointless, but really contributes to the entire feeling your kitchen gives. We're talking the details of you kitchen, particularly what type of door you want. There are three popular choices:

Recessed: The center panel of the cabinet or drawer door is lower than the border surrounding it. Often, this is the most popular choice and works particularly well in a transitional kitchen. It will help achieve a clean, but comfortable feel. While there are more details than a slab cabinet door where dust can land, it it easier to clean than a raised cabinet.

Raised: You guessed it, this simply means the center panel is lifted above the border surrounding it. Often, this style is found in traditional kitchens and helps create a rich environment. However, this is the most difficult door style to clean due the the raised center and border often being separated by a thin, small valley where dust can easily accumulate.

Slab (or Flat): If you're going for a contemporary or modern kitchen, a slab door style is perfect for you. For these, there is no border around the center panel, in fact, it is simply a flat panel. This style is sleek and the easiest to clean because there are no crevices where dust can gather.
How Custom Do You Want Them?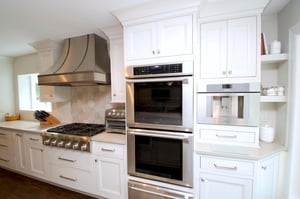 Now you're starting to get into the style of the door. Maybe you have very specific details you want on your cabinet. Or, perhaps, you thought there were only rectangular doors with a rectangular border. Either way, unless you're getting a slab door, you will have to decide on a specific look, which introduces the issue of custom or semi-custom. For many people the decision boils down to one thing: the price. However, here are a few other details you should know:
Semi-custom:Most people can find what they are looking for in semi-custom. Many of our partners still offer a wide variety of styles and colors that can meet the needs of any home. They are also (usually) the more affordable choice. The detailing can be similar to custom, but since they are prefabricated they are limited to what can be mass produced. Often, you can't change the heights and widths, but you can change the depths of the cabinets. One of our semi custom partners, Decora, allows for you to make minor height and width adjustments, but they are pricier than other semi-custom partners with stronger limitations.
Custom:These cabinets are individually hand-crafted to meet the exact specifications you decide for both design and size. However, they can often take longer to create because they are made by hand and not machine. Often people are charmed by the built-in character and the knowledge that they know their cabinets were handled with special care. Generally, they are also made with higher quality wood.
What Material Do You Want For Your Cabinet Box?
It may feel like all the decisions have been made. You're ready to give yourself a high five… but we have to stop you, because there is another huge decision to be made that often gets overlooked by first time kitchen buyers. It is the material of your cabinet box. The cabinet box is otherwise known as the portion of the cabinet that holds everything from dishes to food. In general, there are two main options:
Plywood:The more durable choice of the two is also the more expensive choice. It is composed by layers of wood veneer. It has a longer shelf life (pun intended) and can withstand more weight while also tolerating moisture better than HDF. But beware of extreme temperatures which will affect its makeup.
High Density Fiberboard:Otherwise known as HDF, this option is still durable, but slightly more affordable. It is formed when pressure is applied to wood fibers and then glued together. It isn't as weight-bearing as plywood and can be easily damaged by water if the raw material is exposed. However, it withstands dramatic temperatures better.
The Soft Close
Moody teenagers and angry spouses don't stand a chance against soft close technology, which will softly close the cabinets, regardless of the speed with which you shut the cabinet. Gone are the nights of loud cabinets that wake the family when you're on the hunt for the perfect midnight snack. This is the easiest decision you can make, you won't regret it.
In the end, we can't possibly cover every detail for selecting cabinets in a short blog, however, we can give you a good start. If you begin with these decisions you'll be ready to continue the conversation with our relationship managers and designers in the Northwest suburbs of Chicago. With them, you can dive into details such as dovetail drawers, type of wood, finish, and color, as well as what would be right for your specific layout.
Related Articles