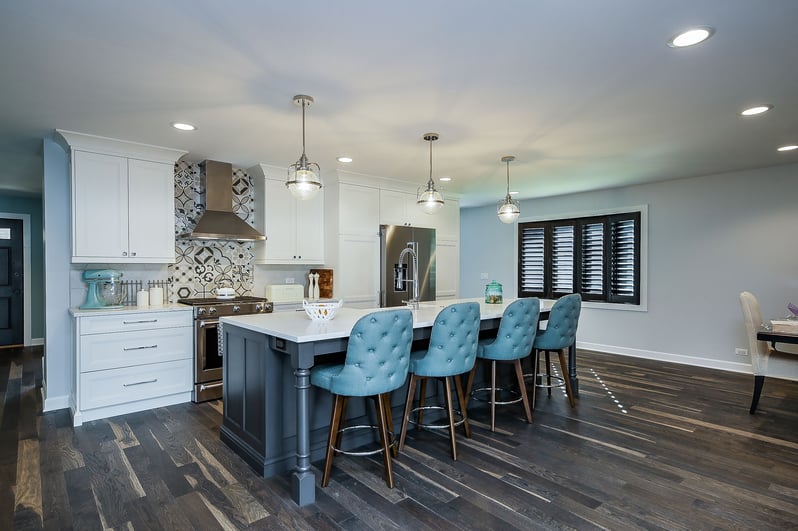 Whether your kitchen is classically all white, a chic galley with a trendy pop of color, or an eclectic mix of your own personal style, choosing the right accessories to complement your space is equally as important as choosing the initial selections. Similar to accessorizing an outfit, the "little extras" you choose to dress up your kitchen can make or break the design in total.
Regardless of your kitchen's size, style, or color palette, there are numerous ways to elevate your space and incorporate your own personal flair by way of finishing touches. We often refer to these items as the jewelry of the kitchen; they're the smaller, more sparkly details that stand apart, yet bring the rest of the space together!
Here's a look at three different ways you can dress up your kitchen:
Hardware
Although cabinet hardware is tiny in size, it can make a significant impact on your kitchen's overall aesthetic. Replacing hardware completely changes the face of your cabinetry. Between knobs and pulls, smooth and rough textures, metallic finishes, and more, it can be hard to narrow down the best selection. Regardless of your kitchen's style, there will surely be plenty of options to choose from. If your kitchen has more of a coastal theme, you could choose an ornate, irregular knob in the shape of an anchor; or for something more subtle, a handle with a pearly, shell-like sheen. If your kitchen decor is on the simple side, you have more freedom to incorporate as much or as little extra personality as you want. With a blank canvas, you can choose a traditional brushed nickel t-pull, a trendy leather drawer pull for a more masculine vibe, or elegant crystal knobs for a tasteful amount of sparkle and glam.
Not to mention, you can always mix and match your hardware as well, which will give your cabinetry even more dimension. However, it can be tricky to navigate the correct combinations, so we do recommend reading our guide to mixing and matching hardware, if that's something you're looking to incorporate within your kitchen!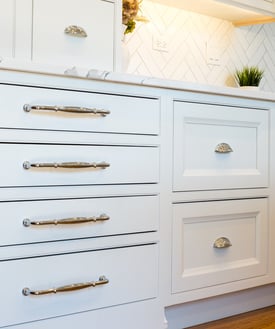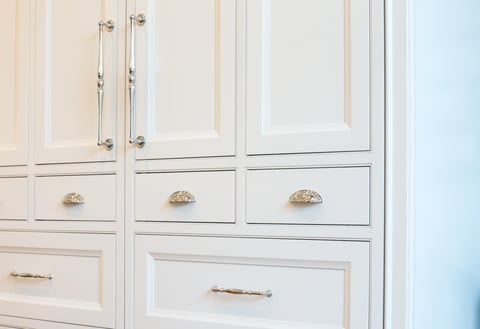 Above: Mixed & matched chrome handles and bin pulls in a Prospect Heights kitchen. See more from this project here.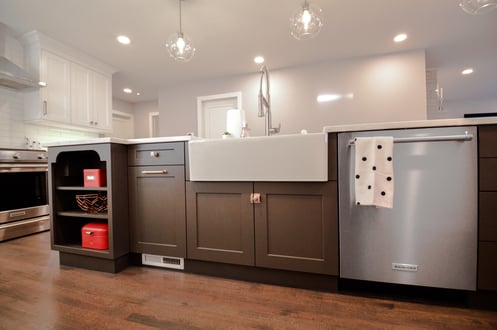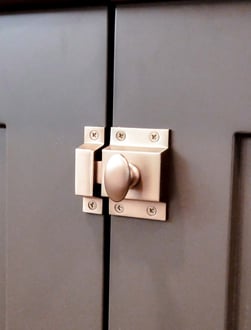 Above: Unique cupboard latch amongst a gold variety in a Mt. Prospect kitchen. See more from this project here.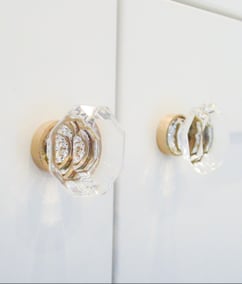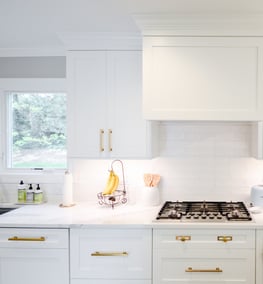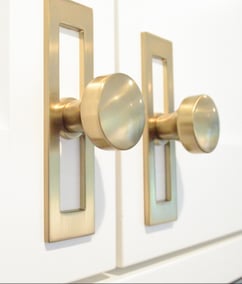 Above: Darling crystal and dynamic gold hardware in a Palatine kitchen. See more from this project here.
Lighting
When designing your new kitchen, one of the most important functional features to select is lighting! Choosing the right type of lighting is important as it showcases your space, sets the mood of the room, and helps make everyday tasks, like chopping vegetables, easier! From recessed lighting to oversized pendants to under cabinet lighting, there are multiple fixtures which can beautifully illuminate your kitchen!
In addition to adding an element of glamour, lighting helps set the right mood at the right time. For example, relaxed, warm lighting in the morning to help slowly adjust your eyes as you wait for your cup of coffee; then, shifting to a more awake, cooler scene that will help keep you focused throughout your work day.
Lighting also plays a specific role in accentuating certain aspects of your kitchen. For example, if you have an open concept eat-in kitchen, you can use lighting to help create separation between different areas. Typically, we see this done by using recessed lighting throughout the entire space, and then a decorative chandelier over the dining table to divide the dining area from the kitchen. Another example would be to include under cabinet or in-cabinet lighting to draw attention to certain areas. This is especially common in glass-front cabinetry or in a hutch where you typically put your fine china, crystal, or other decorative pieces on display.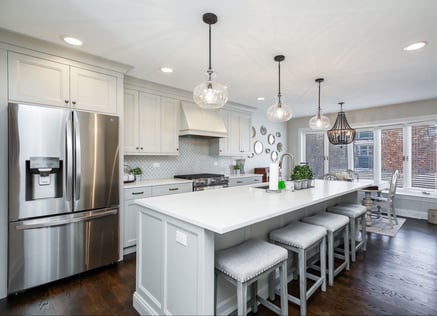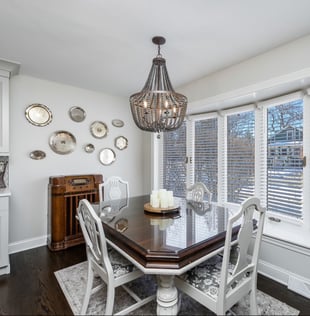 Above: Multiple layers of lighting throughout an eat-in kitchen in Arlington Heights. See more from this project here.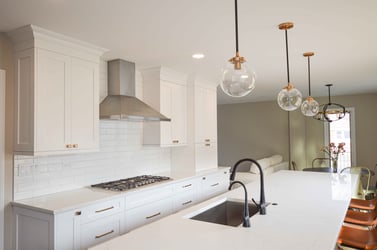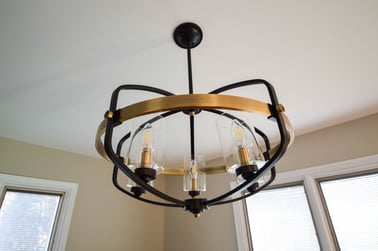 Above: Trendy matte black and gold light fixtures in an Arlington Heights kitchen. See more from this project here.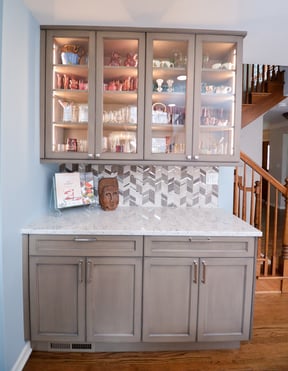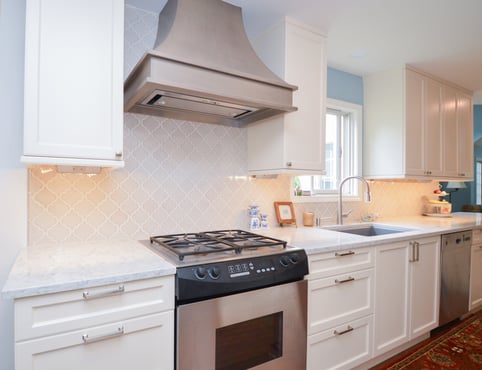 Above: In-cabinet and under cabinet lighting in a kitchen in Arlington Heights. See more from this project here.
Backsplash
If you want to add a more permanent wow factor to your kitchen, look no further than the backsplash! Adding backsplash to your kitchen can completely change the whole look and feel of your space, making a substantial impact, without having to fully remodel. Similar to hardware and lighting, there are endless options available for any style kitchen. Whether you want your new tile to seamlessly fit in and complement your current aesthetic, or if you're looking to totally revamp your space, new backsplash will surely do the trick.
Backsplash tile has come a long way in the design industry with numerous materials, colors, sizes, and textures to choose from. With literally thousands of options available, it can feel impossible to narrow it down, and ultimately select the best one for you and for your kitchen. For example, if you love to cook, you should choose either a glass, ceramic, or porcelain tile that will be easy to clean and more resistant to staining than natural stone. If you want a more uniform or seamless look for your backsplash, you could choose a large format tile which would illustrate fewer grout lines than a subway tile or a mosaic would.
If grout lines aren't important to you and you want to make your backsplash the focal point of the kitchen, you should choose a dynamic tile with texture or a bold pattern or color. For a more custom look, you could even choose two tiles: one simpler, basic tile to stretch along the majority of the wall, and then a trendy accent tile to frame the stovetop.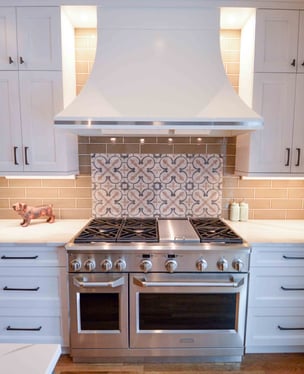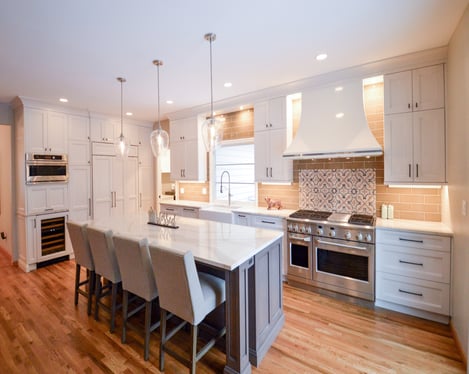 Above: Traditional subway tile with a painted ceramic accent tile in a Roselle kitchen. See more from this project here.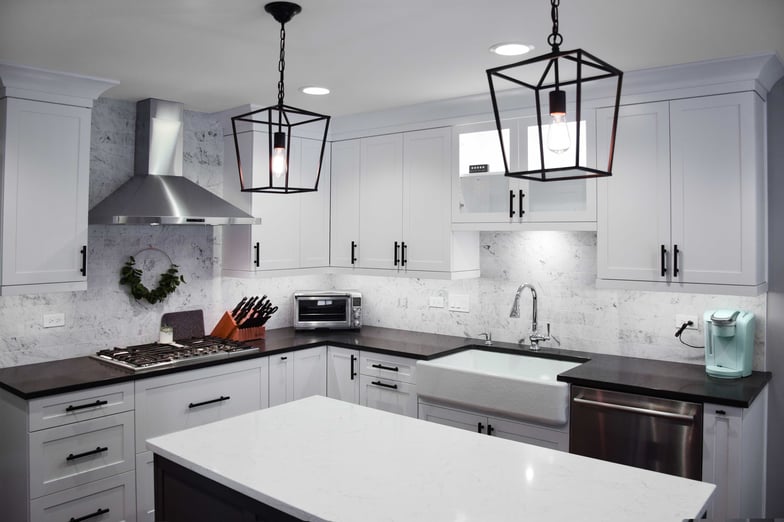 Above: Black and white marble backsplash in a kitchen in Arlington Heights. See more from this project here.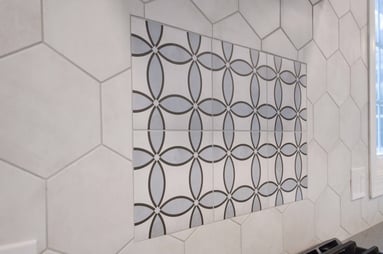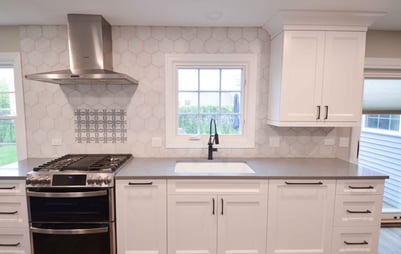 Above: Matte hexagon tile with a floral accent tile in a Schaumburg kitchen. See more from this project here.
Whether you choose to update your kitchen using hardware, lighting, backsplash, or all three, coordinating colors and choosing the right products can be a difficult task to tackle on your own. Luckily, you don't have to! Our team of experienced designers are ready to help you update one of the elements above, or reimagine your entire space!
Regardless of your current kitchen setup, there are many options available when it comes to remodeling and designing your future space. Ultimately, be sure that you choose the option that makes the most sense for you and your household! There's no shortage of ideas when it comes to beautiful designs! If you're considering a remodeling project, fill out a project discussion form or give us a call! We are excited and ready to get to work on your dream space!
If you're not quite ready yet to discuss your project, download one of our investment guides to learn more about the costs associated with remodeling. Or, for more design inspiration, download our 2021 Lookbook.
Article Categories:
Kitchen Remodeling
,
Countertops
,
Kitchen Cabinets
,
Cabinetry
,
Remodeling
,
Home Remodeling
,
Tile
,
Lighting
,
Home Improvement
,
Interior Design
,
Backsplash