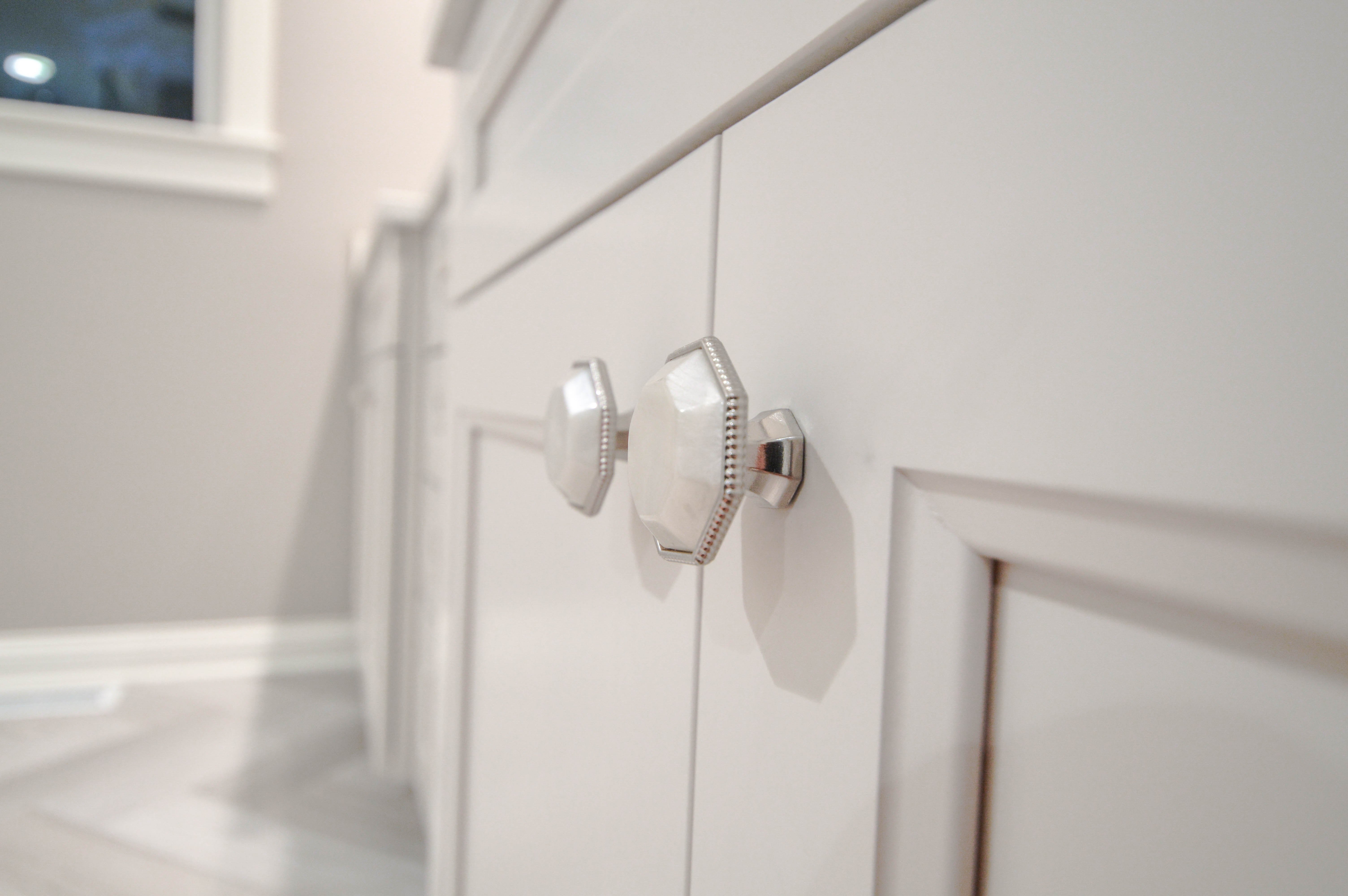 When you walk into a newly remodeled kitchen, often you're in awe of the perfect trio: countertops, cabinets, and backsplash. After that, you may get an "ooh" over the appliances, and an "ahh" for the flooring. Rarely, however, will the hardware on your cabinets captivate anyone's attention until you either point it out or they grab hold of it to open one of the gleaming, new cabinets. Considering this is such a small detail, you may find yourself questioning if it is even necessary to spend time making this selection. Can you just skip it and leave it solely in the hands of your designer? While doing that would save you from sifting through countless samples and decision fatigue, to sit out of hardware selections completely would be a mistake. Don't worry though! With the help of your designer, you will choose something that captures your personality and ties the whole room together. Perhaps if you go into selections knowing a little bit more about hardware, not only will this decision be easier, but you may be able to master the most complex, but totally optional, aspect of hardware: mixing and matching.
Types of hardware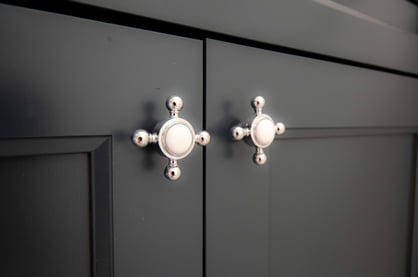 First and foremost, it's important for you to know the specific types of hardware. Although it's pretty straightforward, we've made a simple key for you to reference as needed.
Knobs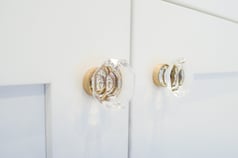 A name most are familiar with, these are the smallest form of hardware. Often, they're round, but you can also find knobs that are more angular, such as squares. Despite their size, they can still be very detailed and glamorous. A popular knob for those who love bling, is a crystal knob. For our clients who wanted a nautical themed bathroom, they chose knobs that looked like the helm of a ship. All knobs are attached to a cabinet using a single screw.
T-Pulls
Technically, these are a specific type of knob, categorized by its defining T-shape. They tend to be easier to grab due to their shape. However, they can also be overly edgy for some homeowners.
Bars or Handles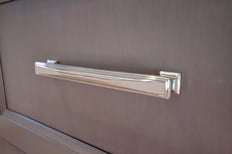 Often used on drawers or larger cabinets, these are another well-known form of hardware. They're typically shaped like a table and attached with two screws. They vary in length to accommodate different size drawers or tall vertical cabinets. They can be extremely elaborate or super simple. For a contemporary style kitchen, you'll often see plain bars installed horizontally to give the room the strong line that style is known for utilizing.
Bin Pull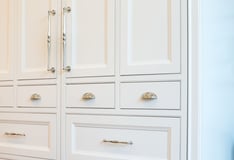 Also commonly found on drawers, these tend to create a cup-like space for you to grab with your fingers. Unlike handles, they aren't open on the top, therefore creating an awning-like shape.
When to Mix and Match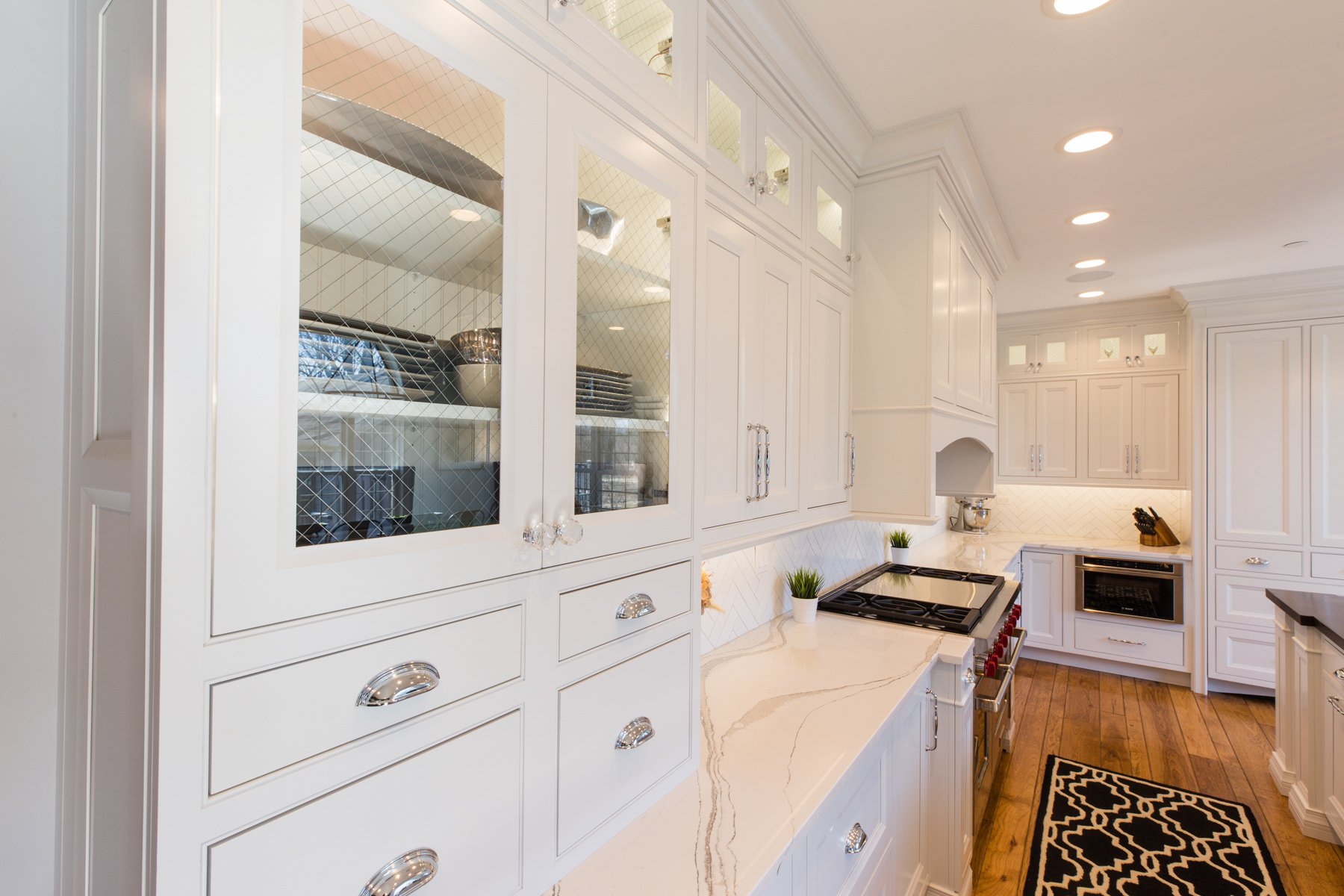 Now that you've mastered the vocabulary, it's time to learn the trick to successfully mix and match. Hardware really does come down to personal taste. For some, you may have always envisioned an orderly, symmetrical kitchen fashioned with consistent hardware throughout, which is great! For others, however, they want to mix and match the type of hardware they're using. Why? Well, mixing and matching often adds more texture and dimension to a room, while also bringing out the homeowner's personality in a subtle way. The challenge with mixing and matching is that if it is done poorly, it can ruin the whole space. It could feel chaotic, or create the perception that you are incapable of matching things! This is why there are a few general ways to mix and match hardware.
Cabinet Functionality: This is probably the most popular way people mix and match. For this method, a specific type of hardware is chosen for swinging cabinet doors (usually knobs), a type for basic drawers (usually handles), and then a different type for pullouts or taller cabinets, such as pantry-like doors.
Cabinet Location: For some people, they'll mix and match hardware based on lower and upper cabinets. Technically, it borrows from the idea of functionality because in this model, many times the uppers will all be cabinet doors, while the lowers will usually consist of drawers. This creates texture, while still giving it a very clean-cut and organized atmosphere.
For the Anomalies: While this one may be used less, or combined with the other two, it is a popular way to draw the eye to special or unique cabinets. For example, if you have a few glass-fronted cabinet doors that showcase special dishware or pottery, consider adding a special knob, such as crystal, to those doors. Or, if you have two cabinets beneath your kitchen sink, maybe add a unique handle like a latch. It's a little detail that goes a long way.
Other Tips and Tricks
Now that you know the basics of mixing and matching, there are a few other things to consider while making your hardware selections.
Make it Sizable: Be sure that the different types of hardware are noticeably different sizes. For example, if you use knobs on the upper cabinets, don't choose another type of knob for the lowers, especially if it's the same size. Or, if you're utilizing bars, be sure that they grow in size depending on the functionality they are attached to. The bars on drawers shouldn't be the same length as the bars on tall pantry doors.
Always Match the Finish: Be sure that no matter what type of hardware you're using, that the finish is the same throughout. For example, if you buy a knob in brushed nickel, then your bar needs to also be in brushed nickel, not polished nickel. Polished and brushed finishes look very different and will throw off the cohesion of your whole space if you mix the two.
Brushed vs. Polished: Apart from not mixing these two finishes, know that brushed is easier to clean than polished, because polished tends to show smudges, dirt and fingerprints easier.
Get a Sample: Always, and I mean always, ensure that you order a sample for the hardware you want. You need to be sure it is comfortable in your hand, and that the texture won't bother you if you open your cabinets multiple times in a day.
Consider the Safety: If you have children, or are aging in your home, consider vetoing any option that has the ability to catch clothes on it. These can be dangerous, and can also accidentally jab you when you least expect it.
It's Easily Replaceable: Hardware is a great place to try out a trend or to fully embrace a look only you would love, because it's affordably replaceable and relatively easy to change out. Just be sure to realize if you had bars on a drawer, it will create two holes, and that you will need another bar to replace the old one. While you could use knobs, it would most likely look weird due to the fact that the bar holes may be close together.
Ultimately, your hardware selection is up to you and your taste preferences. Do what you like with the hardware and use it as a way to make the space completely yours.
Related Articles