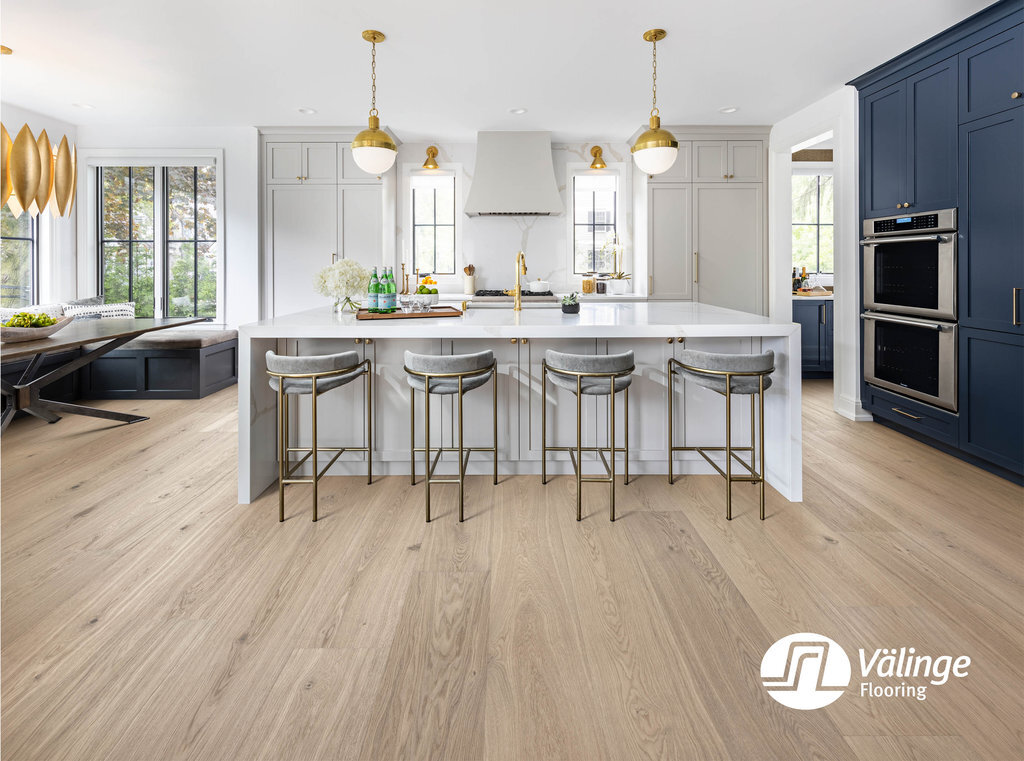 Photo rights and credit belong to Valinge Flooring and can be found on their website at www.hardenedwood.valingeflooring.com
Pet owners and families with children rejoice! You no longer have to settle for vinyl floors if you're in love with the look and feel of hardwood. We have finally found a hardwood floor that can withstand the frequent wear of pets, chaotic toddlers, and moisture. It has become our latest obsession.
Valinge Flooring Company has created a revolutionary new category of floors called "Hardened Wood Flooring". It has the feel and appearance of a natural wood floor made with patented Woodura® surface technology and 5G® Dry™ fold-down system. This innovative technology allows their natural wood floors to be 3-5 times more durable than traditional hardwood and waterproof while still being 100% real wood.
The "Hardened Wood Flooring" has several features that we at OHI are excited about.
Waterproof
One of the biggest downsides to installing hardwood flooring in your home is that it is not waterproof. This makes it a less-than-desirable choice for families with kids, pets, or bathrooms where there is a high concentration of moisture. Spills would often be absorbed and leave deep stains; water would lead to warped floorboards. Valinge's waterproof technology has a high moisture resistance Compositek™ core, making those fears a thing of the past. They have cracked the code and created a hardwood floor that is entirely waterproof while still maintaining the integrity of the hardwood.
XXL Sizing
This collection comes in 11 distinctive designs to fit well in any home. The collection even includes XXL dimensions up to 11" width and 8' length, perfect for a continuous flow through your home. While most manufacturers have started to increase the width of their floorboards to meet the current trends, some hardwood flooring options only come in the industry standard 5" width.
Durability
It has three times stronger impact than traditional hardwood. They outperform conventional solid and engineered hardwood floors for dent and gouge resistance. This way, you don't have to worry about damaging your floors whenever the kids drop something or when you move furniture.
Sustainable & Multifunctional
The "Hardened Wood Flooring" gives you ten times more flooring from the raw material than traditional wood floors, making it a better option for the earth. It also has multiple uses, as the 5G® Climb™ technology can convert it from flooring to a glueless wall covering.
Easy Installation
It uses a 5G® Locking System, the strongest locking strength in its class. This allows for two times faster, easier, and stronger installation. If something happens to the flooring, you wouldn't have to worry because Valinge offers a limited lifetime warranty for residential use and a 10-year warranty for commercial.
We're thrilled to be able to offer our clients the newest and best products in the industry. If you'd like to explore more materials, visit our one-stop-shop showroom in Elk Grove Village where we have eveyrthing from flooring and tilw to cabinets and countertops. If you are interested in having "Hardened Wood Flooring" in your home, contact us today!
Related Articles