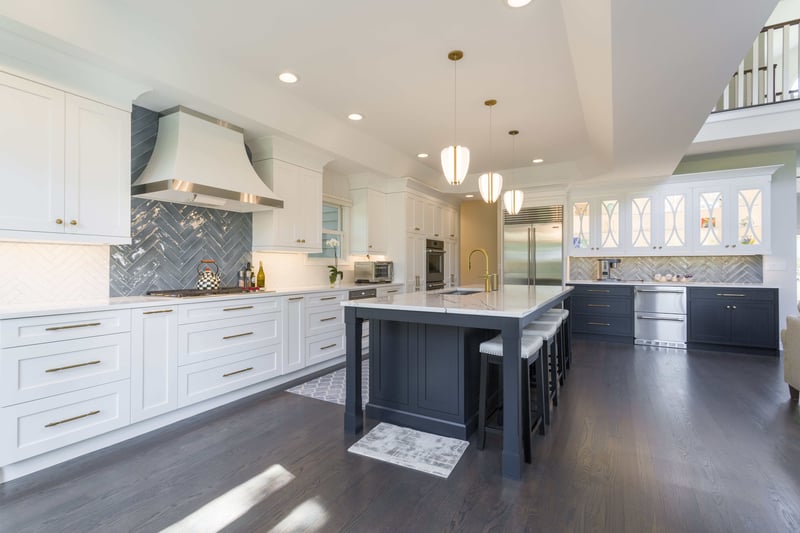 A decision that every homeowner has to make during a remodel is what flooring suits your family best. There are a variety of different options to choose from. Today, we dive into hardwood flooring options; raw hardwood, engineered hardwood, and prefinished hardwood. What wood you choose for your next home remodel?
Raw Hardwood
The versatility and value provided by raw hardwood flooring is undeniable. It provides a unique and stand out appearance for your home remodel. The textures, colors, and finishes that can be applied to raw hardwood flooring are plentiful and ultimately depend on your budget. The install time that comes with raw hardwood flooring is typically longer than a few of the other choices. Your carpet and vinyl flooring need to be replaced after a certain duration but wood flooring just requires to be refurbished or re-sanded. This helps to refresh the flooring to its original state while maintaining its luster and finish. Wood flooring is less prone to damage and looks more graceful with age.
Engineered Hardwood
Engineered hardwood flooring provides a strong finish and solid product to put into your home remodel. There are several reasons to choose engineered over solid hardwood flooring. There is a wider variety of style options and color choices with typically lower installation costs. Engineered hardwood has a layer of hardwood on top of high-density plywood, so it usually doesn't cost as much as solid hardwood flooring. Additionally, engineered hardwood uses less lumber, making it a more environmentally friendly option. The plywood provides additional protection from moisture. Plywood is engineered to withstand certain elements with coating and other attributes. It doesn't flex or warp as easily as raw hardwood and engineered hardwood will hold it's shape better if moisture does come in contact with it.
Prefinished Hardwood
Prefinished hardwood flooring is sold in planks. It is the most economical and most popular choice for DIY'ers. Durability is one of the most notable differences when comparing prefinished hardwood to unfinished hardwood flooring. During manufacturing, prefinished hardwood floors are treated with an aluminum oxide crystal sealant. Prefinished flooring coated with these types of sealant have the capability of lasting over twenty five years without losing any quality or change in look. One of the biggest negative differences with prefinished hardwood versus raw hardwood and engineered hardwood is that it is possible that flooring irregularities can show up. If you are remodeling a home that has uneven foundation or other types of issues, prefinished hardwood can't cover these up. Another common negative that arises with prefinished hardwood is the seam visibility. Even an expert flooring installer will not be able to cover these up.
As the summer rolls to an end, it is a perfect time to discuss flooring options with one of our finishing touches experts! If you're ready to make some changes in your home, give us a call or fill out our project discussion form. Our team members are excited and prepared to work on your dream space!