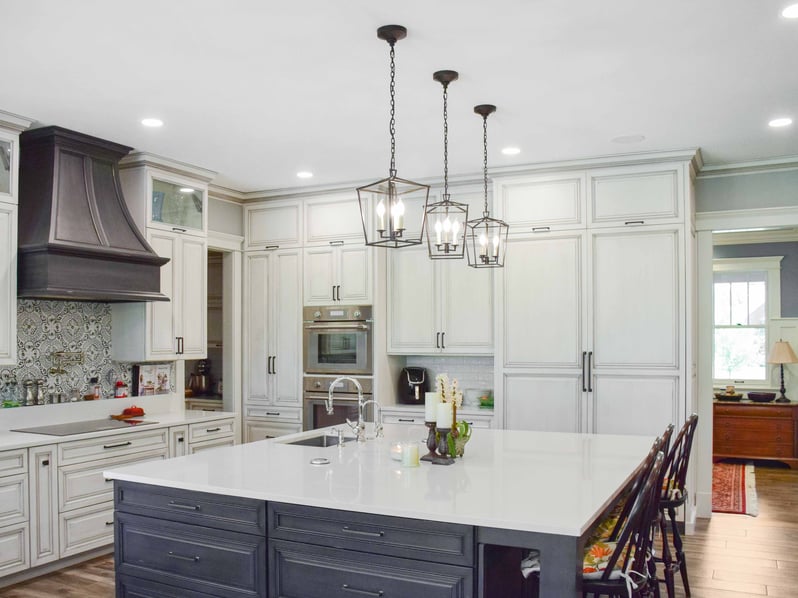 As trends continue to change, there is still one feature that remains popular for homeowners everywhere…and that, is to have an eat-in kitchen. It's no secret why eat-in kitchens are at the top of so many homebuyers' wishlists! In addition to the functional perk of having a casual dining area with ease of access to the pantry, the fridge, and other kitchen staples like plates, cups, silverware, etc., eat-in kitchens also make your space feel larger and less seclusive.
Even though true completely open concept layouts are seemingly being phased out, the demand for an eat-in kitchen isn't suffering. With a steady rise in partially open concept layouts, an eat-in kitchen is one of the "open" features that remains a staple, even in modern design. Customarily, an eat-in kitchen meant having a casual dining table within or adjacent to your kitchen. Nowadays, there are more diverse options available to achieve an eat-in kitchen, with or without a table and chairs.
Here's a look at three different ways to achieve an eat-in kitchen in your home.
Timeless, Traditional Table
The most common design for an eat-in kitchen is to include a designated open space for a casual dining table. Although a table and chairs is the most traditional option, it is also the most timeless! This option is best for growing families who might need more seating as time goes on, or for those who love to host and need flexibility when it comes to seating arrangements. This option is also the easiest to change if (or when) you decide to swap out your table and chairs for a new one. You'll be slightly limited in space, but you can still change the table shape, height, style, etc. with very little inconvenience!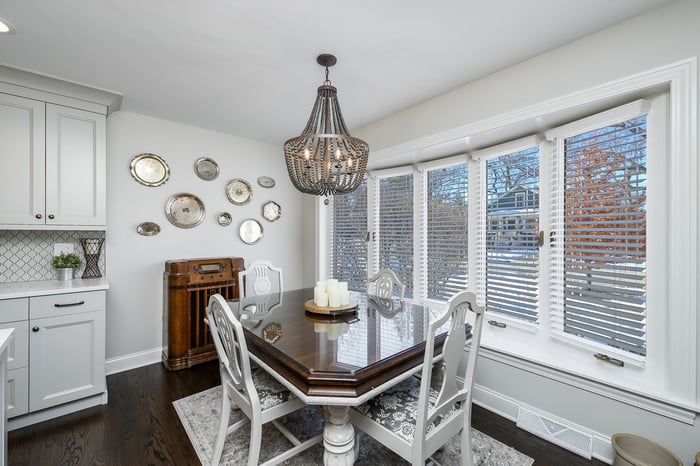 Above: Chic, classic table in an elegant kitchen in Arlington Heights. See more from this project here.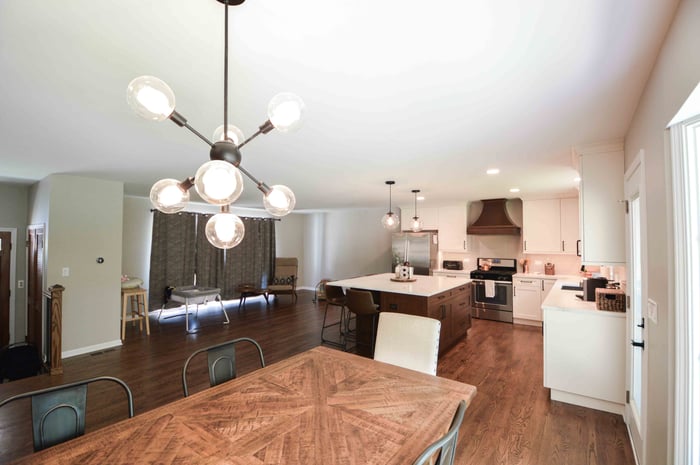 Above: Industrial farmhouse table in a modern kitchen in Palatine. See more from this project here.
Bold, Balanced Banquette
A less flexible, more bold option for an eat-in kitchen is to do a banquette. A banquette is similar to a traditional table and chairs, but the seating includes a bench that is usually built in alongside the wall. Banquettes are a great option if you have a breakfast nook or if you're looking to add a more welcoming, cozy vibe to your kitchen. Banquettes radiate a unique charm that will give your space a sense of familial warmth with each and every meal.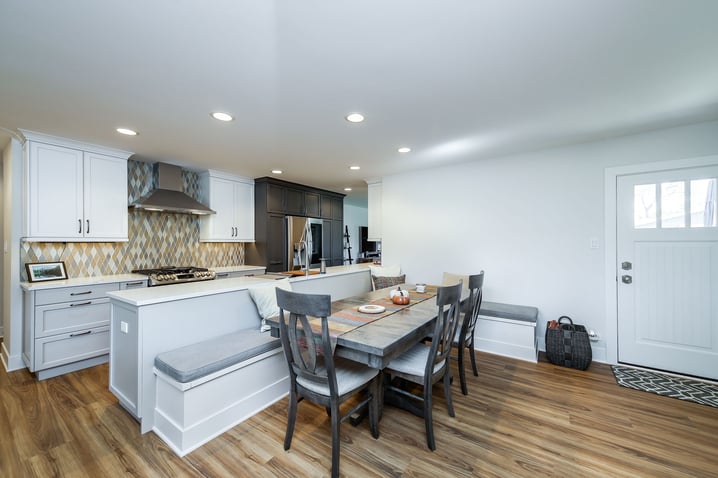 Above: Extensive banquette built on the backside of a kitchen in Elk Grove. See more from this project here.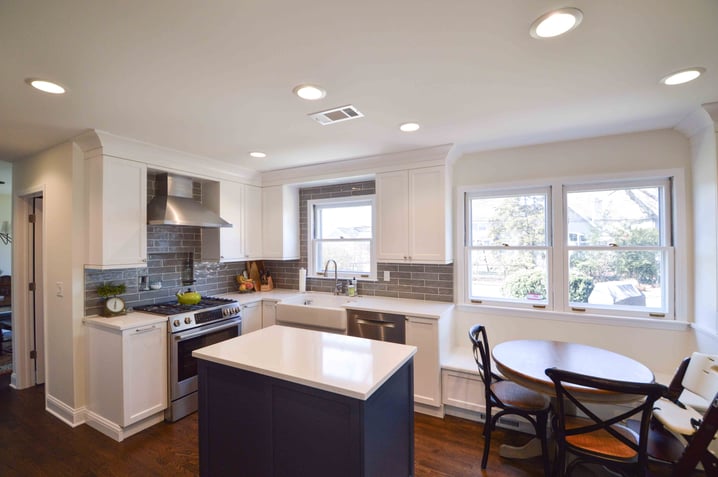 Above: Casual banquette nestled in the nook of an Arlington Heights kitchen. See more from this project here.
Captivating, Convenient Countertop
The most modern twist on an eat-in kitchen actually features a countertop surface with barstools as the "dining table." You can achieve this posh design using a peninsula, an island, or even just a standalone, fixed top mounted to the wall. If your current kitchen has a traditional dining set, simply replace it with a sleek countertop component. This is a great way to modernize your space and give your home a fresh, new look, while gaining more countertop space at the same time!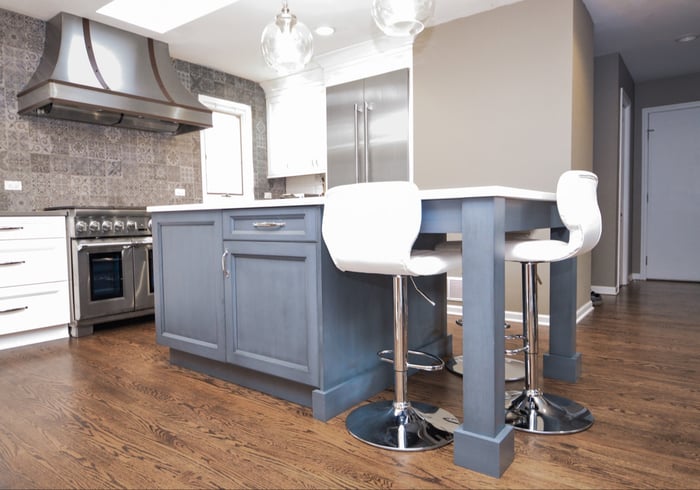 Above: Cool, blue-grey kitchen island in Arlington Heights remodel. See more from this project here.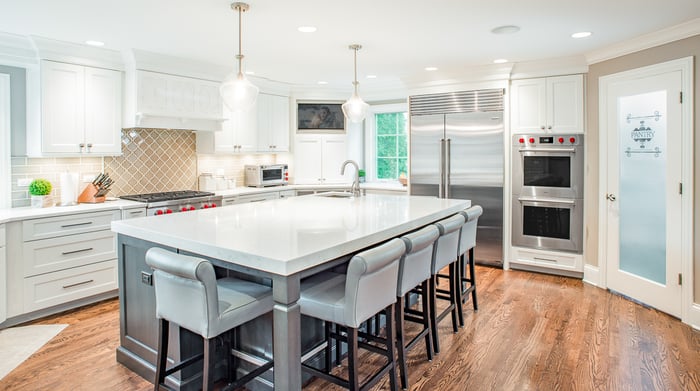 Above: Impressive island with seating for 6 in Arlington Heights kitchen. See more from this project here.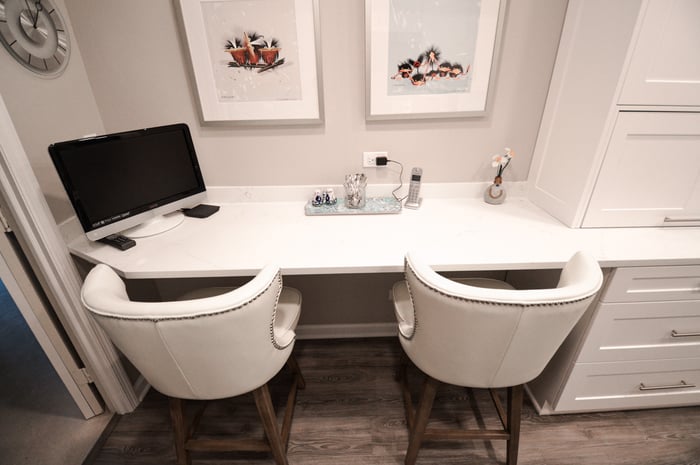 Above: Sleek bar style seating in a galley kitchen in a Northbrook condo. See more from this project here.
Open-Ended Options
If you have an abundance of space available, you could incorporate double islands in your kitchen design, and use one island for cooking and food prep and dedicate the other island to dining, being sure to include ample seating with barstools. Or, you could incorporate island or peninsula seating in addition to a traditional table and chairs. If your kitchen is small or closed in, a popular solution to achieve an eat-in kitchen is to knock down a wall or two, opening your kitchen up to the rest of your home. More often than not, this means getting rid of your formal dining room. Fortunately though, if you're creating an eat-in kitchen, your dining room would most likely become obsolete anyways.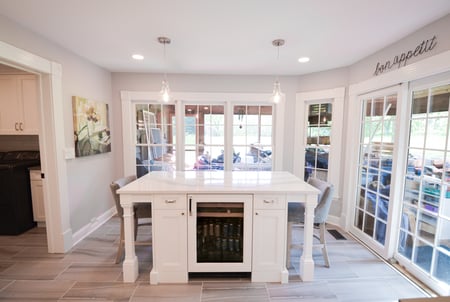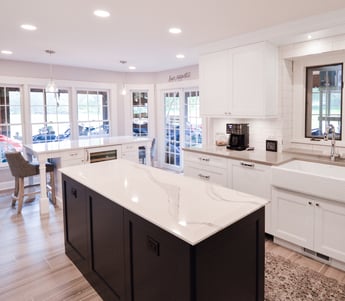 Above: Perpendicularly placed double islands in divine Deer Park kitchen. See more from this remodeling project here.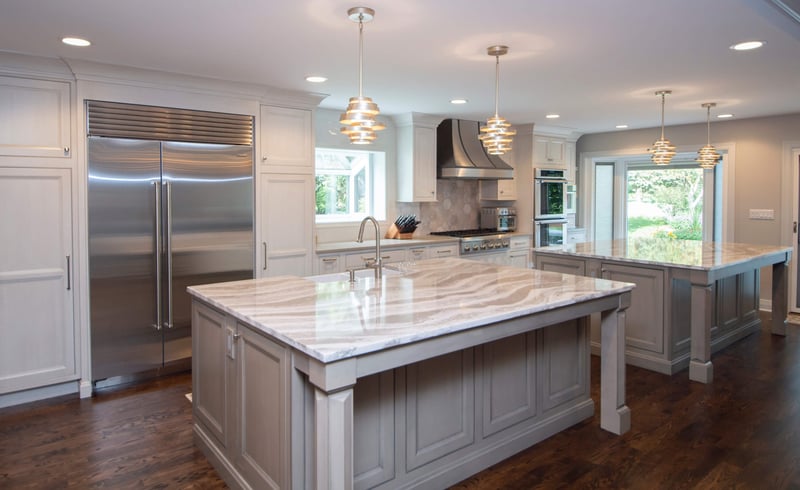 Above: Parallel double islands in luxurious Arlington Heights kitchen project. See more from this remodeling project here.
Regardless of your current kitchen setup, there are many options available when it comes to remodeling and designing your future space. Ultimately, be sure that you choose the option that makes the most sense for you and your household! There's no shortage of ideas when it comes to beautiful designs! If you're considering a remodeling project, fill out a project discussion form or give us a call! Our team members are excited and ready to get to work on your dream space!
If you're not quite ready yet to discuss your project, download one of our investment guides to learn more about the costs associated with remodeling. Or, for more design inspiration, download our 2021 Lookbook.