Not even the exuberance of our sales team could compensate for the eerie ghost town that overtook the back offices at OHi last week while many of our team members attended the Kitchen and Bath Industry Show (KBIS) in Las Vegas. This show, the largest in our industry, provides miles of convention center walkways and allows us to learn about the latest trends and innovations in the kitchen and bath world.
Associate Designer Morgan Schabilion gives a brief rundown of the trends she and our designers saw while in Las Vegas at the National Kitchen and Bath Show this year.
Trend 1: Live Life Colorfully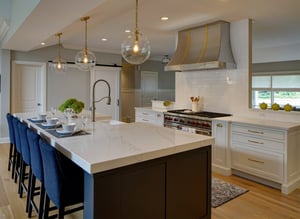 We will always love the timelessness of a white kitchen, but we're ready for a change. We welcome any splashes and pops of color the design trend gods give us, so you could imagine our excitement when we caught a sneak peek of the unexpected colors revealed at KBIS in the form of various products.Don't worry white kitchen lovers, you can keep the pristine foundation… just maybe add a lavender sink. Yes, we're serious! Kohler has introduced a lavender sink!

Ultimately, color is the biggest trend change this year whether it be in accessories, appliances, cabinets or even countertops. From the way we think about color to unexpected uses, you can be sure the colors of the rainbow will be in your home shortly. To learn which specific colors are trending, attend our Design Trends Event in April. See Trend 4 for more details.
Trend 2: Turning Our Back On Gray Cabinets
Life is full of a lot of gray areas, but your kitchen will soon no longer be one of them. In fact, the previously popular gray neutral cabinets took a back seat this year to the dark horse color taking over: Matte Black.

This soulful, deep, and unexpected paint choice will give your kitchen or bathroom a dark twist. If you feel that choosing all black cabinets would be too big of a step for you, start small by using it as your island cabinet accent color. Not only will it add a perfect dollop of contrast, it will also allow for you to see if this is the right color for you. For those who have all white kitchens, switching to all black may give you whiplash or it may be just the risk you've been looking for.
Trend 3: Technology
Every commercial seems to feature robots, Alexa, or some other form of artificial intelligence. We get it, technology is huge and constantly changing the landscape of our lives.This trend comes as no surprise seeing as how technology will continue to evolve year after year. In fact, one day your manual sink faucets will be, like, so yesterday. Can't imagine it? At KBIS, we were introduced to smart mirrors, smart faucets, and tech heavy commodes that blew our minds.

One specific tech innovation that caught our eye included Grohe's Sense and Sense guard Water Management systems. These systems help detect a leaking pipe and can even shut the water off if a pipe bursts. We swear, this isn't an episode of the Twilight Zone where technology is going to turn against you and harm you. Instead, it will be there to aid you in life's messiest and most stressful moments.
Trend 4: Visiting OHi
Well, we can't reveal everything we've learned quite yet. We need to save some exciting details for our 2019 Design Trends event on April 6, 2019 from 10 A.M. -12 P.M. Don't worry, of course you're invited! All we ask is that you take a few minutes to register for the event here. Not only will you receive priceless knowledge on which style direction to take your 2019 remodeling projects, but you'll also get to hang out with our fun-loving team. Plus, it'll finally give you a reason to stop by our showroom. A complimentary lunch will be provided following the panel discussion.
Now What?
There are endless possibilities for creating your dream home, and OHi has been helping families in Chicago and its surrounding suburbs remodel their homes since we founded our family business in 1900. Our expert team members will help you find design inspiration and carry out your vision. We've been improving our neighborhood one home at a time through expert advice, exclusive products, and exceptional service. Check out our portfolio, or contact us to speak with an OHi family member about your remodel!
Article Categories:
Kitchen Remodeling
,
Countertops
,
Surfaces
,
Kitchen Cabinets
,
Cabinetry
,
Remodeling
,
Home Remodeling
,
Tile
,
Bathroom Remodeling
,
Showers And Tubs
,
Vanities And Sinks
,
Lighting