Today's farmhouse kitchen usually consists of three factors: modern features, rustic elements, and industrial-inspired accents. Although colors vary, the trends in farmhouse kitchen remodeling are blends of white, black, and wood tones. Read on to learn how to create a modern farmhouse kitchen, courtesy of Designer Kim Malito.
Kitchen Cabinets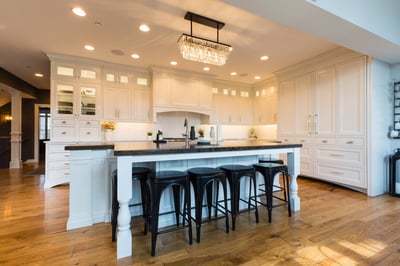 White paint brings a clean, traditional appearance to farmhouse kitchen cabinets. If stained cabinets are preferred, a medium stain with slight distressing will work. The goal of any modern farmhouse kitchen remodeling is the overall appearance of adorned simplicity.
Cabinet Hardware
Hardware brings the finishing touches to kitchen cabinets. Old-fashioned cup pulls are ideal for the cabinet drawers, and a simple knob covers each door with a matching finish. Bar-style pulls offer a more contemporary spin to the modern farmhouse kitchen.
The Sink And Faucet
Today's kitchen sink with an apron is reminiscent of times long ago. Choosing a classic porcelain version reinforces that look, while a stainless steel model will produce a sleeker, more contemporary appearance. In a modern farmhouse kitchen, a gooseneck faucet fits perfectly with either sink style.
The Backsplash
Most farmhouse kitchens tend to have a subway tile backsplash. Adding some black or gray grout can make it truly pop, and backsplashes made from a mixture of glass and stone are an appealing departure from the more traditional tile.
A glass backsplash is another way of introducing a little more color to the kitchen. Consider glass subway tile, or, if you're feeling adventurous, run your countertop all the way up to the bottom of your upper cabinetry!
The Lighting
Lighting is the "jewelry" for any space and will complete your farmhouse look! Most kitchens select simple glass pendants or small industrial style pendant lights over the island or peninsula countertop.
Now What?
There are endless possibilities for creating your dream home, and OHi has been helping families in Chicago and its surrounding suburbs remodel their homes since we founded our family business in 1900. Our expert team members will help you find design inspiration and carry out your vision. We've been improving our neighborhood one home at a time through expert advice, exclusive products, and exceptional service. Check out our portfolio, or contact us to speak with an OHi family member about your remodel!
Related Articles