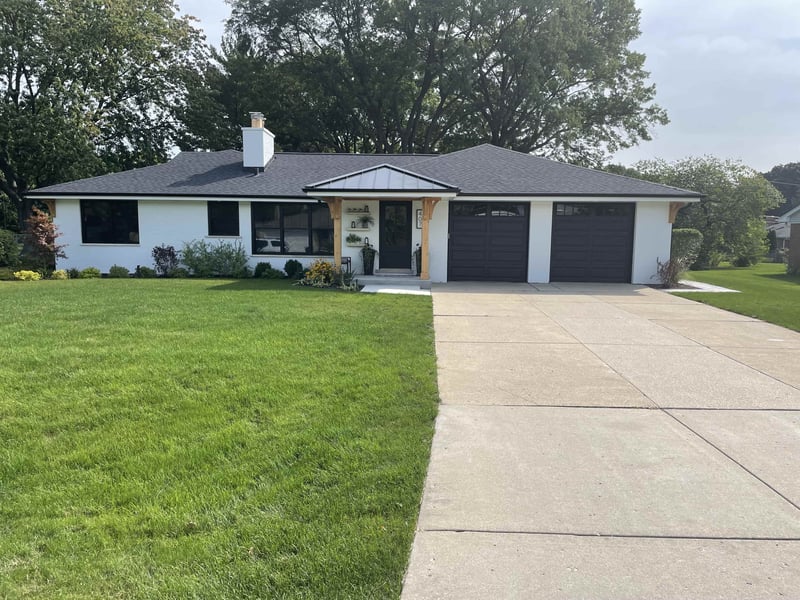 Anyone who has kids or has been a kid knows the fight for which kid is the favorite, but as a parent, we always say that we love everyone equally, and it's impossible to choose between them. At OHI, our projects are like our children, and we swear we love them all equally. However, our audience tends to have a few favorites! Here are our four most viewed first-floor remodeling portfolio pages.
Farmhouse Chic
Our team turned this 1950s ranch into a contemporary farmhouse. We kept the original bones but opened the floor plan to enlarge the kitchen. This kitchen is an at-home chef's dream, with a professional range and ample storage space. We did light, wide plank flooring throughout and kept the color palette classic with blues, whites, and touches of gold hardware. One of the key elements in this kitchen is the beautiful 4-seater island, perfect for the client's grandchildren to sit at while they cook. The original space had a breakfast nook that was no longer needed after opening the floor plan, so we turned that into a highly functional laundry room, mud room, and powder room combo keeping the farmhouse theme with boho touches in the tiles. Lastly, we whitewashed the brick out front, updated their roof, and replaced the windows and garage doors with black ones to continue the farmhouse feel from the inside out.
Mid-Century Glam
This client had recently purchased their grandma's home, which was full of dainty wallpaper, laminate, wood cabinets, and closed-off space. We helped them turn it into a glamorous, open, subtly vintage space. To open the kitchen, we moved the sink from facing the wall to the island and strategically removed a wall so now whoever is cooking can be a part of the party as it overlooks the living and dining room. We refinished the hardwood floors with a darker stain and contrasted them with white, which seamlessly flowed through the three spaces. One of our favorite touches is the updated fireplace front that went from an outdated tan to a beautiful fresh white.
Custom Oasis
This client opted to rebuild their home to have it customized to their preferences. The design has a traditional-leaning craftsmanship style and universal appeal. Special features of this remodel are an elevator, wide doorframes, and a first-floor master bedroom to make aging easier for this client. They also wanted a three-season room with a fireplace, a pet-friendly laundry room, and plenty of guest bedrooms. The kitchen is the crown jewel of this project, as this client is an avid baker and cook. It has not one but two dishwashers, a large fridge, freezer units, and a secondary sink. The focal point of this room is the stunning ventilation hood. The coolest kitchen feature, in our opinion, is the custom baking pantry that is enclosed by a pocket door and includes storage for all of the client's baking supplies and a small sink. In the living room, we put built-in shelves with base cabinets, a custom fireplace mantle, and coffered ceilings.
Open Flow
For this project, we created a modern transitional space and updated many mechanical issues to help with functionality and bring the house up to code. The original space was cramped and closed off, so we removed the dividing wall between the kitchen and living room and added a peninsula. Built into the peninsula are a sink, mini fridge, dishwasher, and space for seating. Not only did we open the kitchen, but we also absorbed the space of an unused linen closet to increase the size of their bathrooms. To create a seamless flow, we added a built-in banquet seat in the dining room to compensate for the original floors being uneven.
Which of the four is your favorite? If you're thinking about doing a first-floor remodel, contact us today! We'd love to help make your vision a reality, just like we did for these clients.