When it comes to kitchen remodeling, you often think about two things: the "before" and the "after." You're tired of your old space and are excited to enjoy a freshly renovated kitchen. You might expect stress, but the excitement outweighs the painful reality that the kitchen will be out of commission during construction.
A lot of stress comes between those "before" and "after" photos, but the result is always worth it. With these tips from OHi President John Kautz, any family can survive their kitchen remodel!
Clean and Declutter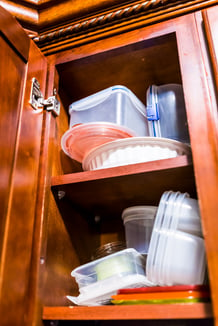 Remodeling offers a great excuse to clean out those kitchen cabinets thoroughly. Items can be sorted into four piles: trash, donate, store, and daily necessities. Daily necessities should be moved to the temporary kitchen (we'll get there in a minute), which will serve as mealtime HQ during the remodel.
While you're cleaning things out, think through your new design. Will you have new storage options? Are you removing any cabinetry to make way for an open concept? Be sure you don't throw anything away that you'll have more room for in your new space. Your increased capabilities for hosting parties post-remodel may require you to hold onto that third slow cooker!
Set Up A Temporary Kitchen and Stock It
It's not practical to eat takeout for every meal, so be sure you set up a temporary kitchen to get you through the weeks of construction that will accompany your remodel. The best location for your temporary kitchen is in a room near a sink, like a laundry room or a bathroom. It should have enough space for either a mini refrigerator or your old kitchen refrigerator. I always tell my clients (if they're not keeping the same appliances, that is) to hold onto their fridges during construction. You can put it in the garage or basement. Who knows, you might wind up keeping the old girl long-term. Having a second fridge and freezer just means more options for food storage!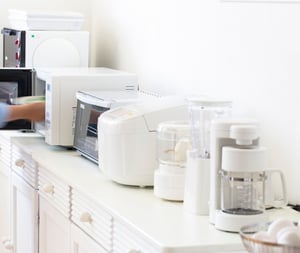 You also want to hold onto a few small appliances, like your coffee maker, microwave, slow cooker, and toaster or, better yet, a toaster oven, which can be used in lieu of the oven itself. I've even seen some clients buy a single induction cooktop and keep a skillet handy...why didn't I think of that? Finally, stock your kitchen with disposable plates, cups, and silverware. While the cashier at Costco might give you the side eye for all those red Solo cups you're buying, we all know you're using them for water... most of the time.
Make a Meal Plan
Gourmet food won't be on the menu during construction, so plan for some easy, convenient meals, like sandwiches, salads, fruit, cereal, and "grab and go" items. I always recommend making some meals ahead of time and freezing them, so you can just pop them into the microwave or toaster oven to defrost and reheat. It will save you a lot of money and a lot of extra calories to have pre-made home cooked meals. There's no shortage of foods that freeze well, and with all the craze surrounding meal prep these days, your meal plan is a mere Pinterest board away!
Clean Out Your Garage
The garage may serve as headquarters for the construction team, and it will probably house some of the tools, equipment, and products they're using for the job. It might get dirty, so important stuff should be moved or covered. If the garage turns into construction central, your cars will need to be parked outside temporarily. If this is the case, be sure to contact your village regarding street parking permits if needed, for instance, if there's a large dumpster in the driveway for demolition debris!
Make sure you communicate with your project manager to ensure your construction team has the space they need, and that they get set up in a place where you're comfortable they leave their tools and equipment.
Don't Forget The Pets
Pets underfoot can make the remodel difficult, so they should be kept out of the kitchen. They should have somewhere safe, like a kennel or a carrier, to escape with food, water, and a favorite blanket or bed. For families with anxious or aggressive animals, or with pets that normally freely roam, you might want to consider having a friend pet-sit or making other arrangements for your furry friend while construction is underway.
Now What?
There are endless possibilities for creating your dream home, and OHi has been helping families in Chicago and its surrounding suburbs remodel their homes since we founded our family business in 1900. Our expert team members will help you find design inspiration and carry out your vision. We've been improving our neighborhood one home at a time through expert advice, exclusive products, and exceptional service. Check out our portfolio, or contact us to speak with an OHi family member about your remodel!
Related Articles