One of the most exciting aspects of remodeling is seeing the stunning transformation take place within our clients' homes. Not only does remodeling improve the look of the space, but it also improves how it functions! Sometimes a client's main goal of remodeling is to update the eyesore of a bathroom that guests frequently use when they come to visit. For other clients, their main reason to invest in a bathroom remodel is because their plumbing is old and they can't flush a toilet without scalding someone who's taking a shower. Regardless of why someone chooses to remodel or how large or small the project is, we're a sucker for a remarkable before and after.
With that being said, here are some of our favorite Boast-Worthy Bathroom Remodels:
Powder Rooms:
1. From Plain & Preserved to Enchanting Elegance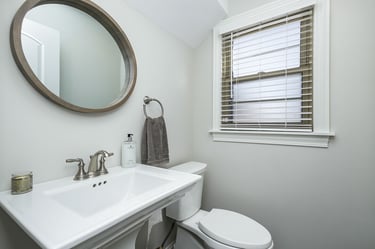 The Short Story: The powder room was only one of the many rooms we remodeled in this home. After deciding to move to Arlington Heights, this out-of-state couple wanted their dream home to be picture perfect prior to move-in day. We were able to reshape the layout of the home to make it friendlier to their lifestyle by increasing the size of the kitchen, transforming the fifth bedroom into a luxurious master bathroom, and more. Read More →
2. From Grandma's House to Forever Home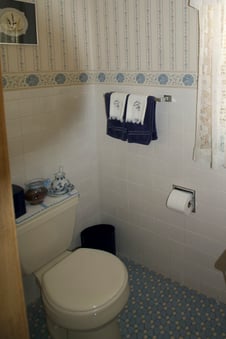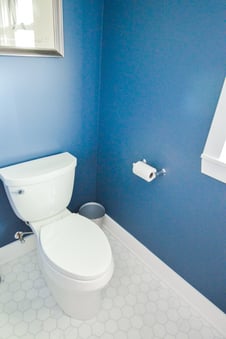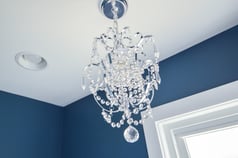 The Short Story: This powder room was once again part of a larger remodeling project. A young Mount Prospect family recently purchased their grandma's home and opted to open the space up and create a glamorous, subtly vintage environment perfect for their family to make their forever home in the years to come. Read More →
3. From Basic & Bold to Black & Gold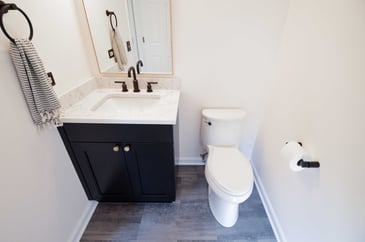 The Short Story: While the powder room wasn't the main reason for remodeling, it sure stole the show when these Palatine homeowners decided to transform their laundry room, which also happened to be the only existing entrance to their house from the garage. While both spaces are on the smaller side, the impact is huge, both in style and function! Read More →
Hall Bathrooms:
1. From Blasé to Polished Modern Farmhouse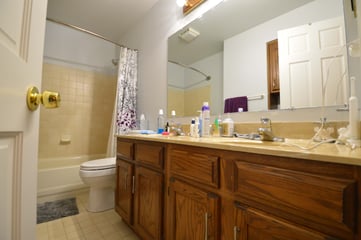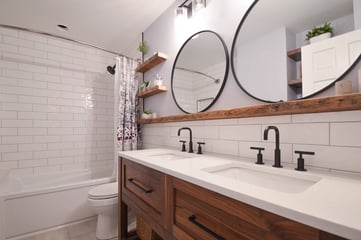 The Short Story: After remodeling the rest of their home, these Elk Grove Village clients decided it was time to remodel their upstairs hall bathroom. To freshen up the space and match the rest of the home's design, we incorporated fun details like rustic floating shelves, matte black faucets, and built in towel storage. Read More →
2. From Dramatically Dark to Cool Elegance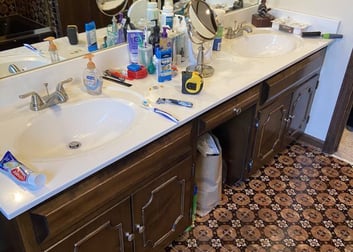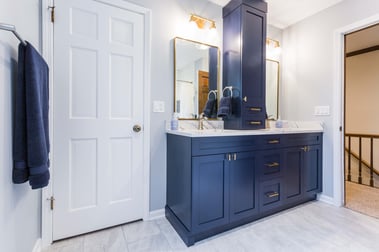 The Short Story: Eager for a change, these Northbrook homeowners were delighted to ditch the dark, outdated tile that dominated their children's bathroom. Now, with a fresh design that incorporates a new color scheme, more storage, and environmentally-conscious plumbing and light fixtures, this bathroom finally got the glow-up it deserves! Read More →
3. From Lost in Wallpaper to Winsome Details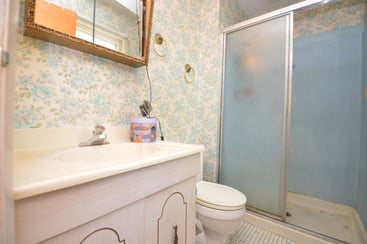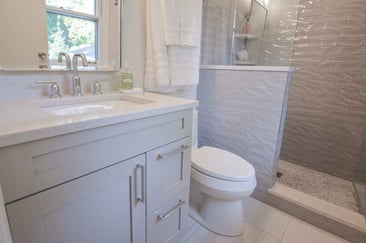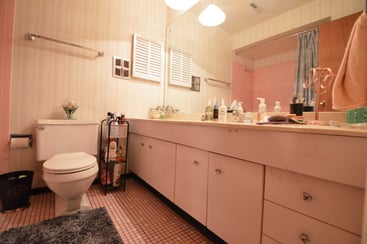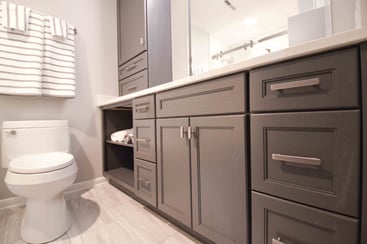 The Short Story: These Rolling Meadows clients decided it was time to give both of their bathrooms, one covered in blue floral wallpaper and the other in Pepto Bismol pink tile, a brand new look. With a desire for a clean, attention-grabbing space, we leaned into a gray palette, textured tiles, and a mesmerizing accent mosaic. Read More →
Master Bathrooms:
1. From From to Ceiling Tile to New & Tranquil Style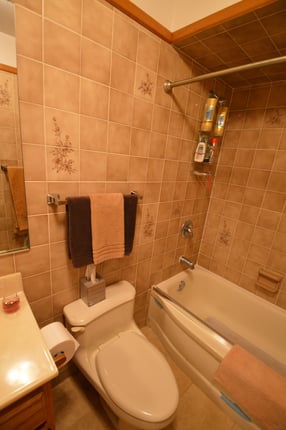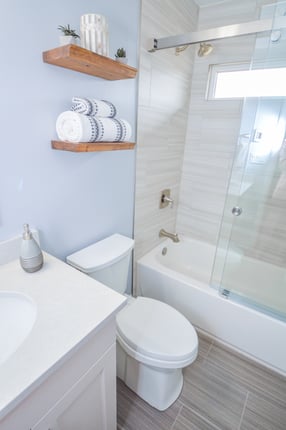 The Short Story: Everything in the bathroom of these Elk Grove Village clients felt tired and old. After years of trying to make simple cosmetic changes to this super sixties bathroom, like painting the blue tub white or replacing the vanity, they decided it was time for a complete overhaul to achieve the tranquil space they desired. Read More →
2. From Spec Home to Spectacular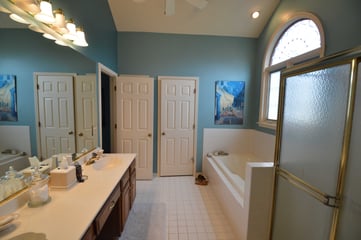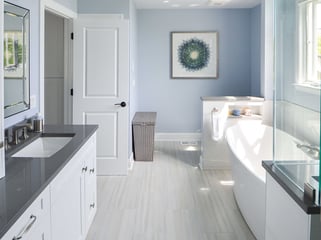 The Short Story: After deciding to stay in their current home instead of buying a new one, these Deer Park clients were ready to transform almost every part of their home. While their home was still largely functional, it was dated and didn't capture the impeccable style of the homeowners. Read More →
3. From Total Chaos to Marbled Splendor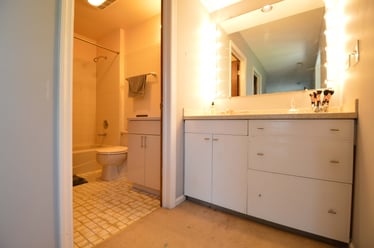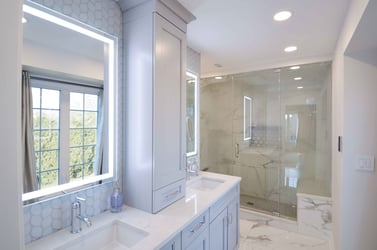 The Short Story: After remodeling their kitchen, this Prospect Heights couple decided they also wanted the master bathroom of their dreams. The original layout was awkward, with the only entrance to the closet located in the bathroom. Not only did we rearrange the entrances, but we also better utilized the space with a luxurious vanity and expansive walk-in shower. The finished product achieves an unmatched level of sophistication. Read More →
We have no shortage of ideas when it comes to beautiful bathrooms. If you're ready to make some changes in your bathroom or any other part of your home, give us a call or fill out our project discussion form. Our team members are excited and ready to get to work on your dream space!
Related Articles