One of the most exciting aspects of remodeling is seeing the stark contrast between the room we walked into at the beginning and the sparkling, new space we present the client with in the end. This is true, especially for kitchen remodels, since the kitchen is the heart of the home.
For some clients, they choose to remodel solely because their kitchen doesn't fit in with the rest of their home's aesthetic. For others, the biggest reason is because their kitchen functions horribly for their family. Whether its layout is a mess or there's a lack of countertop space, or it has minimal storage, a poor functioning kitchen can cause enough frustration to spoil even the sweetest of meals. No matter what the reason is, knowing that we get the opportunity to improve such a vital part of someone's home is what keeps us inspired each and every time.
As with every remodel, there is nothing quite as rewarding as when we take an unsightly space, create an incredible, custom-tailored design and bring it to life. And in the end, helping our clients discover a newfound love for a piece of their home that has been missing.
With that being said, here are 10 of OHi's Most Marvelous Kitchen Remodels:
1. From Grandma's House to Forever Home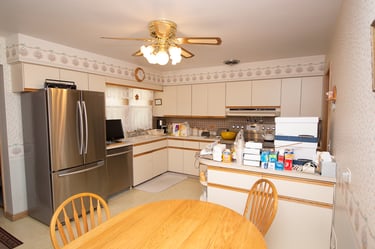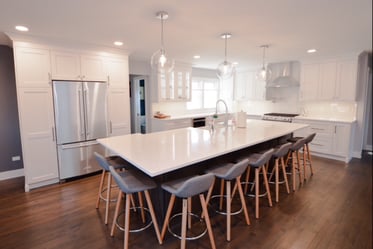 The Short Story: The dainty wallpaper, laminated wood cabinets, and closed-off space distressed our Mount Prospect clients who had recently purchased their grandma's home. They reached out to us to help create a glamorous, subtly vintage environment perfect for their family to make their own in the years to come. Read More →
2. From Suffocating Galley to Generously Spacious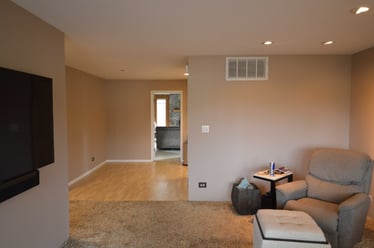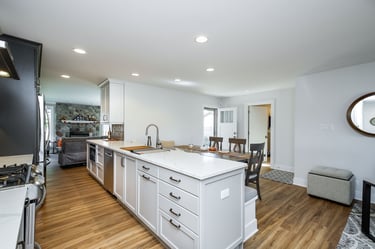 The Short Story: After living in their home for over 35 years, instead of selling, these Elk Grove Village clients decided to revitalize their space to make it their forever home. The remodel involved major kitchen layout changes to improve functionality, multiple cabinet storage accessories, and a large banquet-bench combo for playing cards with friends and hosting family for both the holidays and Sunday Bears games. The final result was an open, storage friendly, kitchen perfect for forever. Read More →
3. From Wretched Retro to Ultimate Update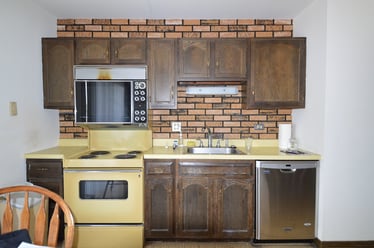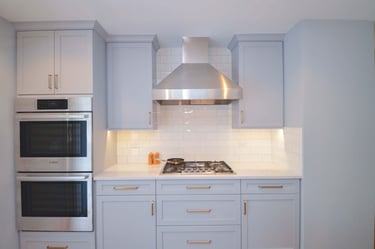 The Short Story: The rickety, wood cabinets, yellow appliances from the seventies, and closed off kitchen was not cutting it for our Elk Grove client who craved a clean design that would allow space for brand new appliances. Read More →
4. From Paneled and Preserved to Enchanting Elegance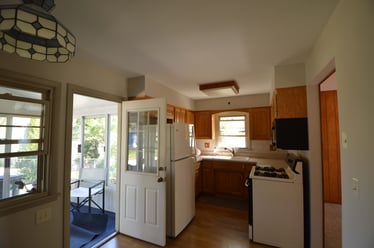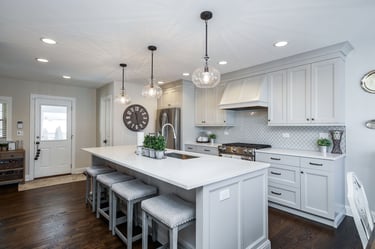 The Short Story: After deciding to move to Arlington Heights, this out-of-state couple wanted their dream home to be picture perfect prior to move-in day. They turned to the experts and asked OHi to help make their home dreams come true. Not only did we help create a new look for the space, but we were able to reshape the layout of the home to make it friendlier to their lifestyle by increasing the size of the kitchen, expanding the closets, and transforming the fifth bedroom into a luxurious master bathroom. Read More →
5. From Plain and Lonesome to Rugged and Handsome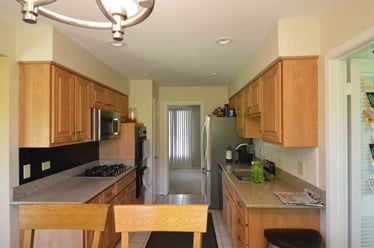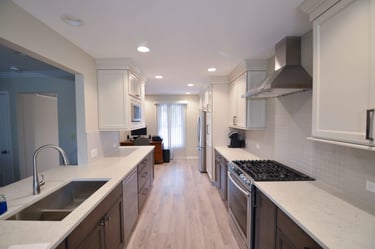 The Short Story: For this Elk Grove Village client, he dreamed of wide open spaces, a timelessly masculine look, and clean lines. Sick of the isolating and barren space he had, he knew it was time to get his dream space. The end result helped the entire area feel more open, increased storage, improved the functionality of the layout, and added a splash of fun with a surprise bar. Read More →
6. From Pesky Division to Perfect Peninsula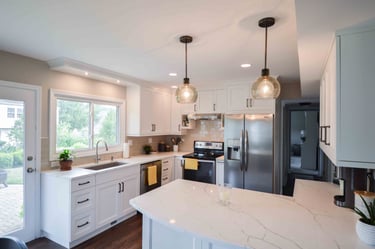 The Short Story: Hoping to make their kitchen and dining room more cohesive, this Schaumburg client approached OHi to help her make a few updates. With creative shelving by the range and an improved peninsula, this kitchen finally became the space of this homeowner's dream. Read More →
7. From Closed Floor Plan to Open-Concept Layout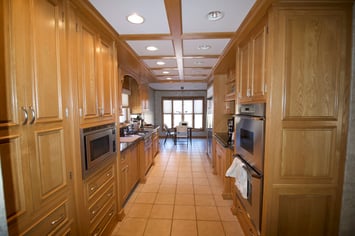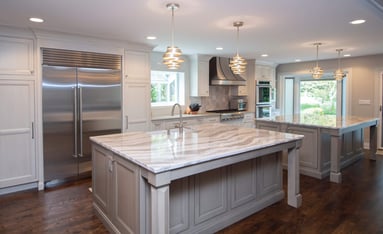 The Short Story: By removing walls that secluded the dining room from the kitchen and relocating the powder room, our team made room for a larger kitchen with not one, but TWO islands, transforming this 1990s-style Chicago-area home into the ultimate space for entertaining family and friends. Read More →
8. From Withering and Wallpapered to Updated Upgrade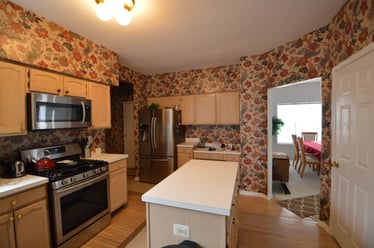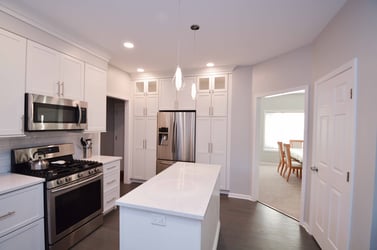 The Short Story: With hopes of downsizing, this homeowner approached OHi to help reinvigorate her space in order to sell it. For resale value, we needed to select durable, accessible products that could be loved by many. The final selections include a white color palette for the kitchen, improved storage in both bathrooms, and an overall element of cohesion throughout the entire home. Read More →
9. From Limited Views to Aahs and Oohs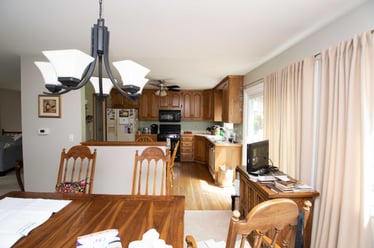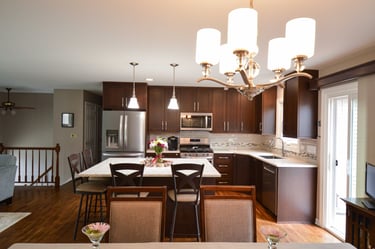 The Short Story: After years of enduring a claustrophobic kitchen, these Schaumburg clients finally had enough. They wanted a space that allowed them to breathe while also bringing in additional natural light. The space had limited storage, dated cabinets, and created a deep sense of isolation. When they decided to work with OHi, they had no idea just how heavenly their new space would be. Read More →
10. From Helplessly Dull to Transitional Classic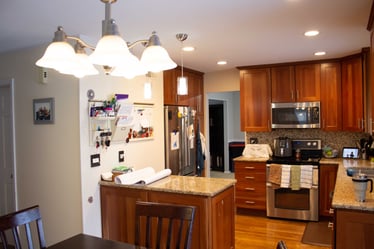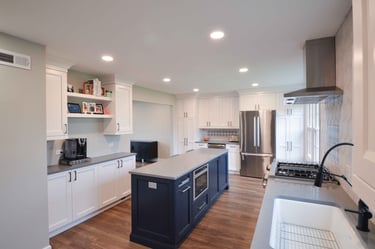 The Short Story: For this young family, creating a spacious, open-concept kitchen was a top priority. With dreams of ample storage, an island, and durable materials to stand the test of young children, OHi delivered that and more after tearing down a wall, sprinkling in fun splashes of tile, and creating a layout perfect for this family's lifestyle. Read More →
We have no shortage of ideas when it comes to beautiful kitchens. OHi has been helping families in Chicago and its surrounding suburbs remodel their homes since we founded our family business in 1900. We've been improving our neighborhood one home at a time through expert advice, exclusive products, and exceptional service. Our team members are excited and ready to get to work on your dream space!
If you're ready to make your kitchen marvelous, give us a call or fill out our project discussion form.
Related Articles