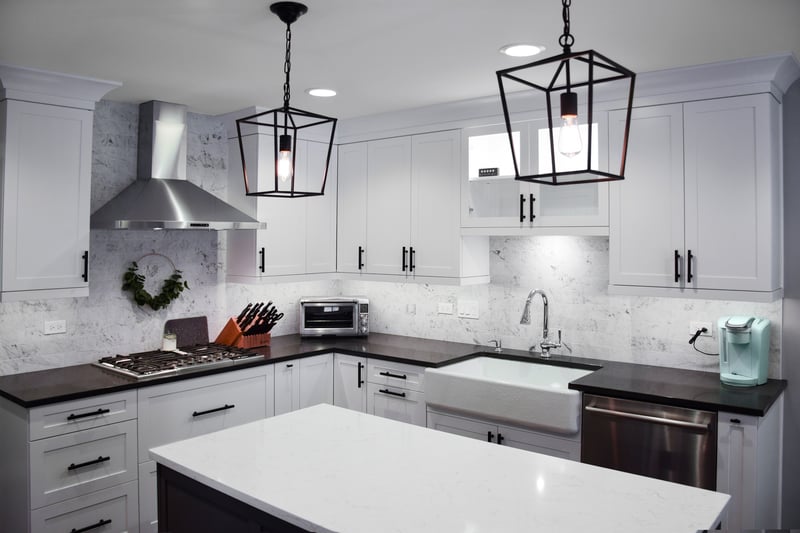 One of the most important decisions made by a homeowner when remodeling their kitchen is which style of cabinets to choose. Cabinetry adds a variety of dimension, while also adding an immense amount of storage and functionality. Here are some different options to consider when you decide to undergo a kitchen remodel.
Shaker Cabinets
Shaker cabinets are the most popular choice for cabinetry in a kitchen remodel. The simple yet classic look offers a sturdy construction while increasing your cabinet functionality. The wood commonly used for shaker cabinets is cherry, maple, hickory, and quartersawn oak. (Pictured in the photo above too)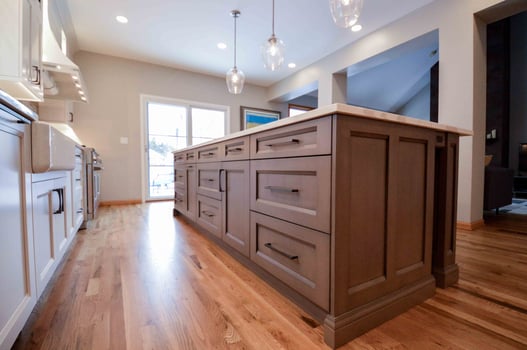 Slab Cabinets
In contemporary or modern style kitchens, a great choice to complete your look is to incorporate slab cabinets, also known as flat-panel cabinets. These cabinets can be constructed in numerous ways as they do not have any frames. This style of cabinetry is also very popular in European countries.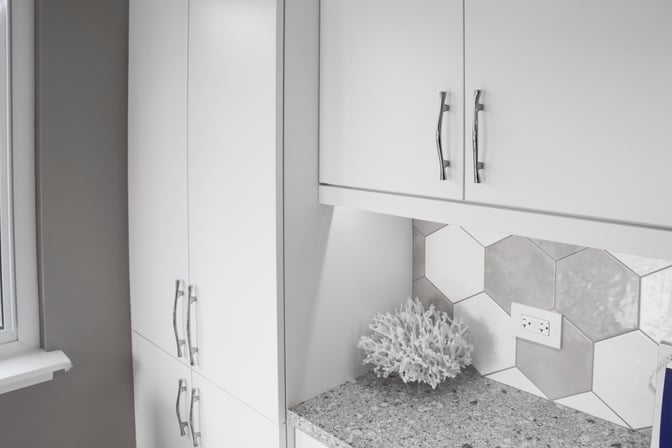 Inset Cabinets
Inset-style cabinets are made up of an inset door set inside the cabinet frame, instead of outside the frame like typical cabinet doors. While carrying a higher price tag than some other cabinet options, inset cabinetry is easy to customize to create unique cabinets with either beaded or non-beaded inserts.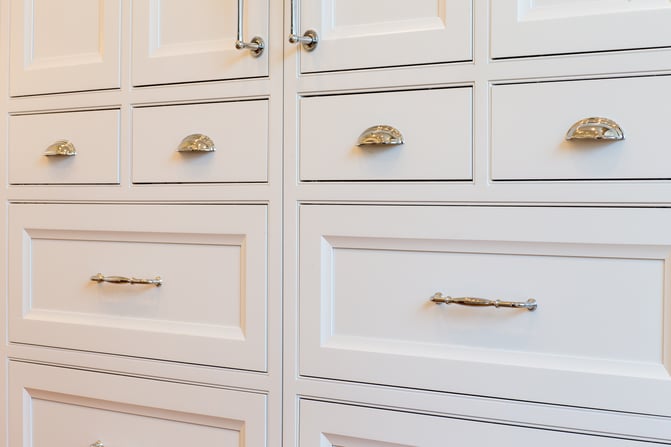 Distressed Cabinets
Distressed cabinetry offers a vintage and rustic feel for your kitchen remodel. Distressed cabinets can come in any door style with the corners rubbed off and other distressing techniques done to create an old feel.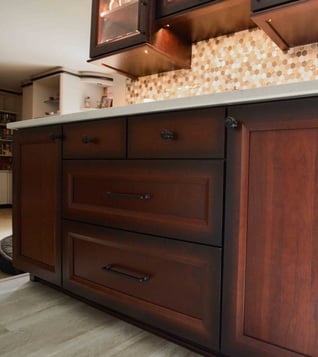 Louvered Cabinets
Louvered cabinetry is a great choice for areas that may require air flow or ventilation. With slats built into the cabinet, Louvered cabinetry offers a contemporary feel to the kitchen remodel. Typically Louvered cabinets will be higher on the price spectrum.
Custom Cabinets
Custom cabinetry is a unique offering that will bring your ideas to a reality. If you are struggling to find a kitchen cabinet door style that really works well in your kitchen remodel, custom cabinets are the option for you.
Whichever style you dream of for your kitchen remodel, there are endless possibilities of styles, colors, textures, materials, and more. We have no shortage of ideas when it comes to beautiful kitchens. OHi has been helping families in Chicago and its surrounding suburbs remodel their homes since we founded our family business in 1900. We've been improving our neighborhood one home at a time through expert advice, exclusive products, and exceptional service. If you're considering a remodeling project, give us a call or fill out our project discussion form. Our team members are excited and ready to get to work on your dream space!
Related Articles