Today's kitchen trends are focused completely around the cabinets. From kitchens with bold colored cabinets throughout, to a classic white cabinet kitchen, or a combination of the two, cabinets are the fundamental feature in kitchen design. We caught up with Designer Kim Malito to get her thoughts on kitchen cabinet trends for this year!
Eye-Catching Color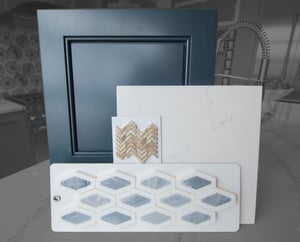 In kitchens, cabinets occupy the most surface area, which is why they are the perfect feature to update in order to add a burst of color. Current design trends are showing a lot of soft blues, deep marine, and green colors. These colors pair well with a neutral backdrop making it a seamless transition that adds style and color to any kitchen.
Two-Tone Trend
Classic white cabinets are always a strong front runner in kitchen trends. They are crisp, clean, and timeless. However, even white cabinet kitchens are adding in color by choosing a different colored cabinet for the island.
Fifty Shades Of Beige
Due to the increasingly popular open concept design, homeowners are finding it more and more difficult to add color that transitions well from living room to kitchen. In order to avoid clashing colors, homeowners cautiously stick to shades of beige, grey, and taupe. However, neutral color palettes tend to look bland if they are not executed correctly. Luckily, our team of designers are here to help your kitchens from a fifty shades of beige disaster.
Now What?
There are endless possibilities for creating your dream home, and OHi has been helping families in Chicago and its surrounding suburbs remodel their homes since we founded our family business in 1900. Our expert team members will help you find design inspiration and carry out your vision. We've been improving our neighborhood one home at a time through expert advice, exclusive products, and exceptional service. Check out our portfolio, or contact us to speak with an OHi family member about your remodel!
Related Articles