With the holiday season upon us, we'll all be spending excess time in our kitchens. Whether we're decorating cookies, preparing a meal for family, or hosting a Friendsgiving, a majority of our gatherings take place surrounding the heart of our homes. In order to take your kitchen from blah to beautiful, think about adding one of Designer Teri Meiners' favorite luxury features to your space.
Waterfall Countertops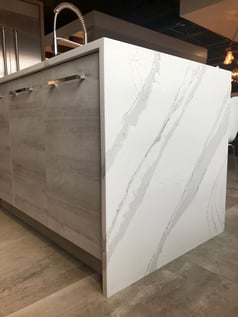 To set your kitchen apart from the rest, a truly remarkable feature to include in your design is a waterfall countertop. Waterfall countertops are countertops that continue vertically down, flush against the side of the cabinets until reaching the floor. Considering this trend is on the upswing, this countertop design remains particularly eye-catching as it is not the norm. Modern and sleek, waterfall countertops bring a sense of elegance to kitchens, consequently creating a refined atmosphere.
Double Ovens
Whether you're hosting your first Thanksgiving or you've been doing it for years, preparing a feast for a surplus of guests is no easy feat. On top of entertaining guests, you're simultaneously cooking, trying to get everything done on time, and finding ways to keep it all warm until it's time to sit down and eat. Although it's possible to cook such a large spread with one oven, let's be honest, it's a lot easier with two!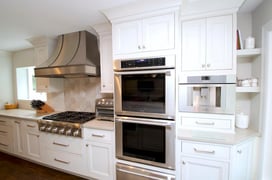 One of the most requested amenities for the ideal kitchen is double ovens. Double ovens provide kitchens with the option to bake, broil, or roast a multitude of items at once AND at different temperatures. However, if you don't have the space for full double ovens, there are plenty of compact options with one full-sized lower oven and a smaller oven on top. Typically, the smaller top oven can double as a microwave, which will save you space by eliminating the need for both appliances.
Glitter Grout
The most common way to give your kitchen a facelift is by installing a backsplash or replacing the existing one. When redoing a backsplash, typically, the most exciting part of selections is picking out the new tile because there are so many options for colors and styles, plus you can mix and match numerous tiles to create a truly magnificent design. Although redoing your backsplash in any capacity will give your kitchen a new look, take it to the next level by choosing a sparkly grout. Glitter grout will make the backsplash tiles pop as well as providing an element of sophisticated glamour, without being gaudy.
Now What?
There are endless possibilities for creating your dream home, and OHi has been helping families in Chicago and its surrounding suburbs remodel their homes since we founded our family business in 1900. Our expert team members will help you find design inspiration and carry out your vision. We've been improving our neighborhood one home at a time through expert advice, exclusive products, and exceptional service. Check out our portfolio, or contact us to speak with an OHi family member about your remodel!