After an exhausting day at work, you come home, plop yourself on the couch, and as soon as you kick your feet up...DING! Your phone lights up with yet another email from work. Upon unlocking your phone, you're immediately flooded with mostly meaningless notifications. We're in an age where we are more connected than ever, yet, statistically, we feel more disconnected from our friends and family.
A simple way to spend more time with friends and family is to find hassle free activities and conquer your fear of inviting people into your home. OHi President (and current patriarch) John Kautz offers some ideas to help you keep your resolution by remodeling both the space you choose to gather in and your choice of activities to entertain.
Block Out Time To Show The Latest BlockBuster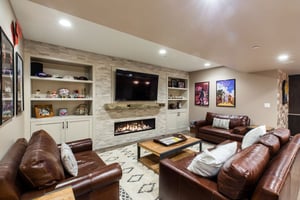 There's nothing like movie magic to transform your home into a place where you can travel time, soar on the wings of a dragon, and defeat the ominous villain. A movie night is just the thing to create a sense of togetherness and adventure, without breaking the bank. It can be as extravagant or as modest as you like. Channel your inner Martha Stewart by basing the entire event off a specific theme, or keep it casual by wrapping yourself up in a blanket and enjoying a bowl of popcorn on the couch. The key here is to set aside the time with your friends or family, making them a priority.

Remodeling your living room or basement allows you to be the director setting the scene. We suggest including adjustable lighting, so when the horror movie gets too scary, you can add a gentle glow to the room without overly distracting your guests (but still shining enough light in the creepily shadowed nooks). If adjustable lighting isn't your aesthetic, consider adding a fireplace for the perfect spark of coziness and warmth. You can also open-up your floor plan to allow for optimal seating and movie fort making for families with kids. To make your space feel more like a theater, you can install a surround sound home entertainment system. Now, every triumphant music score in your favorite film will surely bring tears to your eyes.

Mix It Up In The Kitchen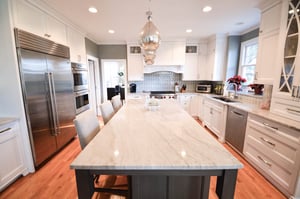 Sometimes the time crunch of life causes us to isolate ourselves in the kitchen, working to get meal prep done quickly and efficiently, especially if your kitchen is cramped. However, you can kill two birds with one quartz slab by remodeling your kitchen to encourage both healthy eating and family time. By opening your floor plan, increasing organization, hidden storage, and counter space, you can willingly invite your kids and spouse to join you. Try tackling a kid-friendly recipe - our personal favorite is the No-Bake Fruit Pizza.

In this space of creativity, you may open the doors of communication between you and your children, finally breaching the barrier of the monosyllabic response of "fine" when you ask them about their day. For an added dash of fun and silliness, film your cooking as though it's a Food Network show, or better yet, create a Chopped-like challenge by giving each family member random ingredients found in your cabinets to make a (hopefully) delicious meal. Each person could be challenged to make a different course (the appetizer, entree, side, and dessert). You won't be embarrassed to re-watch the family films because your kitchen is going to look so darn good as the backdrop. If your kids weren't so cute, it just might steal the show.
Get Your Game Face On
Connect Four or more friends with a Heads-Up in a group text or a Facebook invite to spice up your Game of Life . It doesn't have to be a huge Operation to create joy with a fun game night for all your long-lost adult friends. We've Scene It surprisingly Twist(er) the sourest face into a smile. Serve food and beverages prepared in your remodeled kitchen, but maybe leave out the gin rum(my). We don't want people's minds too Scrabbled. Soon enough, you will have a Monopoly on fun and be dubbed the coolest hosts in your group. It won't be a Trivial Pursuit of connection, as the laughs will be constant in your spacious living room. Your friends will never want to leave so be prepared to Clue people in on when they should head home.

Often, we dread inviting people over because we're anxious about the messes they'll create. However, if you remodel your living room to include vinyl flooring, any spills and messes will be easily cleaned with little hassle. Carpet is still a viable option, especially if you're going for a cozy feeling, however, be sure to familiarize yourself with the care and maintenance guide, that way you're prepared in the case of emergency spills.
Now What?
There are endless possibilities for creating your dream home, and OHi has been helping families in Chicago and its surrounding suburbs remodel their homes since we founded our family business in 1900. Our expert team members will help you find design inspiration and carry out your vision. We've been improving our neighborhood one home at a time through expert advice, exclusive products, and exceptional service. Check out our portfolio, or contact us to speak with an OHi family member about your remodel!