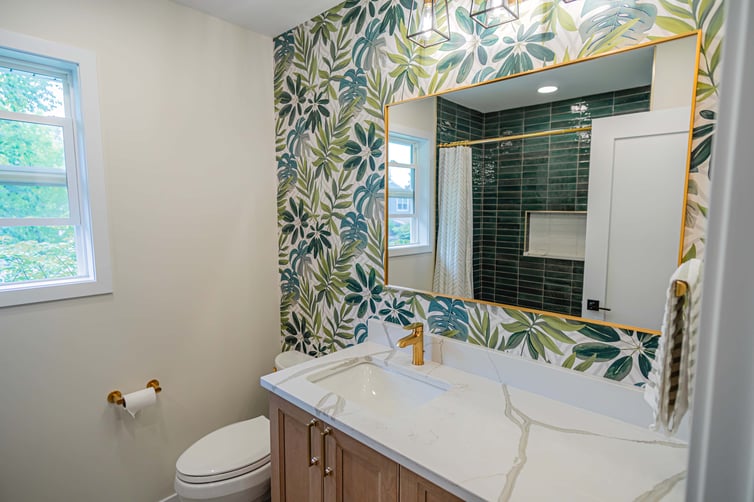 Bathtime with kids can either be a hassle or make a splash. The environment makes the difference; when kids feel like it's a special place just for them, they'll be more apt to comply to taking a bath or brushing their teeth. Giving them a space of their own gives you the privacy to relax in the tub while their bathtime becomes so much fun. Creating a playful and practical space can be challenging, so we wanted to share a few tips for designing a kid's bathroom that are sure to make a splash!
Safety
Safety first, we always say, especially when creating a space for kids. Using slip-resistant flooring like textured porcelain tiles helps to ensure kids won't wipe out when they get out of the tub. Proper ventilation in the ceiling helps with the extraneous moisture from those long, hot showers and keeps the floors dry. Another way to keep your floors from getting slippery is to install overflow drains in the tub and sinks. Another way to keep kids safe is by adding step stools to the space to avoid them climbing on the vanity. You can add regular movable step stools or install pull-out ones to the bottom of the vanity.
Decor
When designing for kids, you want to create a fun space that reflects their personality. Having them help you pick a theme for decor gets them involved in the process and makes the space feel their own. You can show the theme by adding patterned wallpaper, a cool shower curtain, a wild bathmat, or framed photos. If you want to design a bathroom that has playful elements but that can age up with them as their tastes change, consider choosing colorful materials, such as pink cabinets, colors grout, or a bold decorative tile. Our designers are experts at creating spaces that maintain a timeless nature, even with playful elements.
Adding different lighting elements like a custom LED wall light with their name or an inspiring phrase can be a great personal touch. Kid's bathrooms are a great place to let your creativity flow. Don't be afraid to implement a pop of color on the countertop or use whimsical hardware.
Storage Stations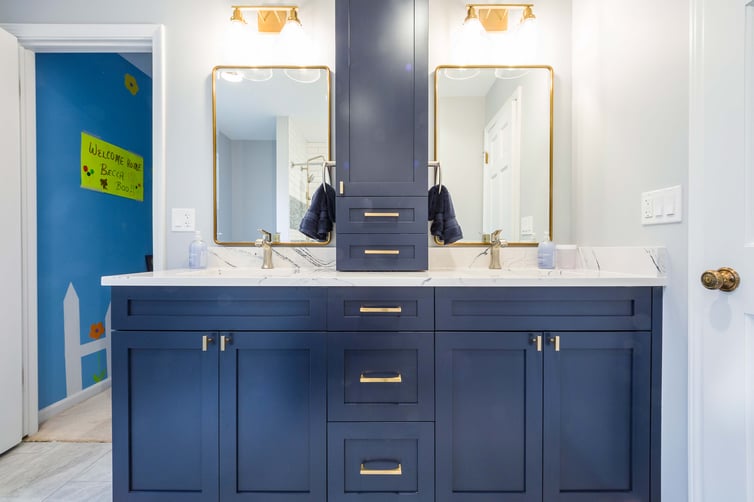 The key to designing a kid's bathroom is making it as functional as possible. You can create separate stations if there is more than one child in the family. A great way to do this is with double sinks. Installing double sinks gives each child their own space to get ready and be in charge of cleaning up.
With the double sinks, you can either use a vanity with enough drawers and cabinets for each kid or have open shelving at the bottom with baskets for each kid. Built-in storage cabinets on the wall or counter are a very functional way to increase storage space. Along with the sinks, adding shower hooks for each kid is a simple way to ensure their towels don't wind up on the floor and can be put at their height for easy access.
Bathtime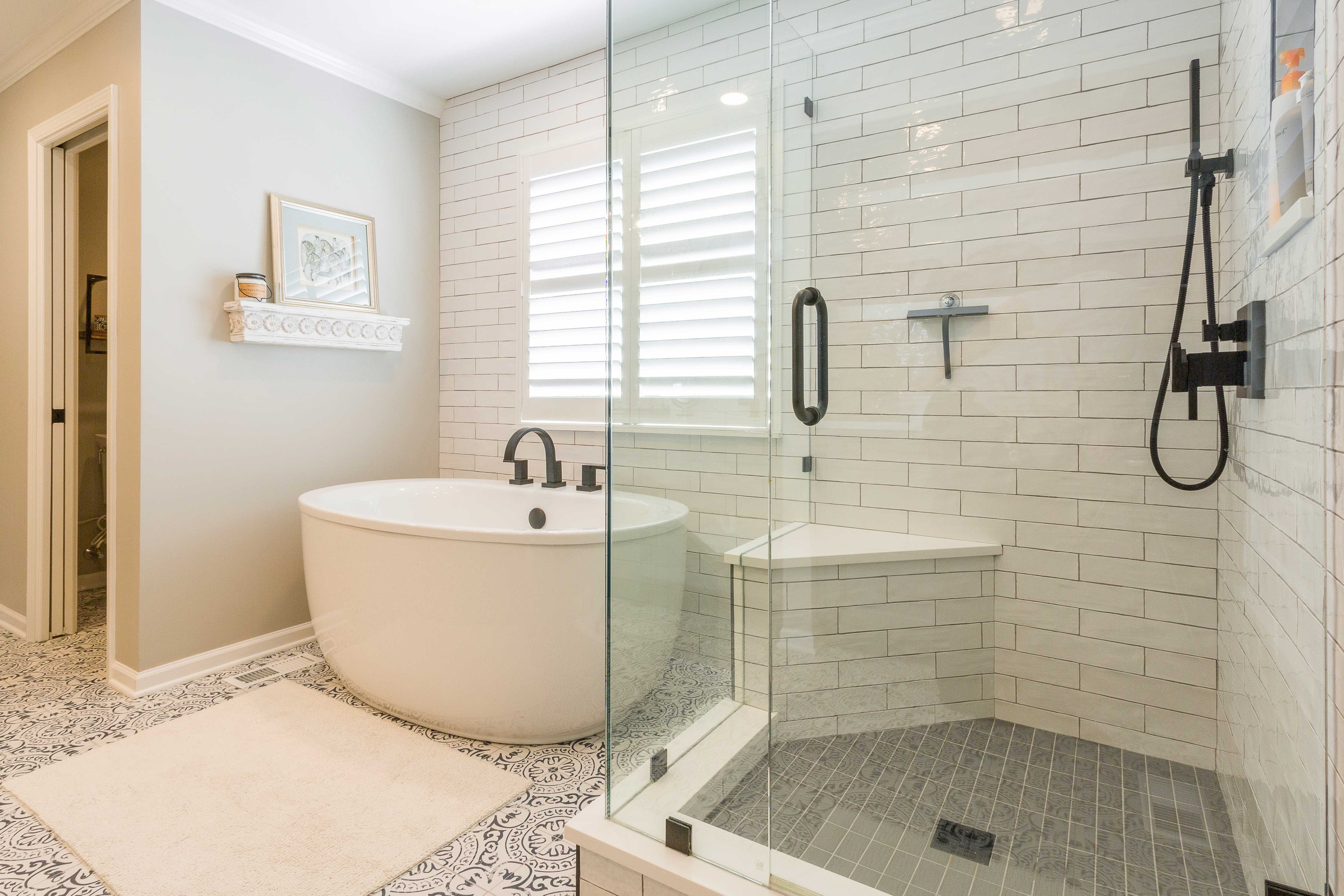 Depending on the kids' age, having a tub in their bathroom is always beneficial. If the kids vary in age, having a tub and shower unit is best, or if space allows, you can do a walk-in shower with a stand-alone tub. For the shower head, having one that includes a spray nozzle and flexible handheld will make bathing kids easier for the parents. A nice touch for the tub or shower is adding a lower shower niche that is accessible to the kids. If the bathroom only allows for a walk-in shower, building in a bench can make bathtime go smoother and act as a bonus shelf for storing toys.
From potty training to bubble baths, having a functional and fun bathroom should be a priority for your family! If you're interested in remodeling your child's bathroom, contact us or schedule an appointment to visit our showroom!