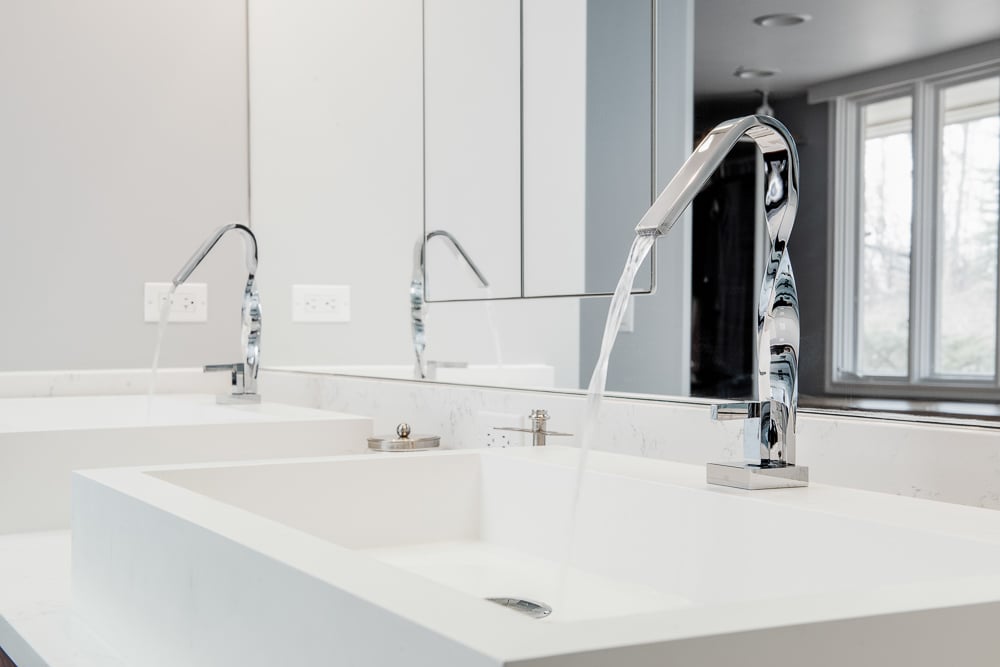 When faced with a bathroom remodel, generally, there is less space, less cabinetry, and less flooring than a kitchen. Yet, while you're in the selections process you may want to pull your hair out when your realize just how many intricate details need to be determined to construct your dream bathroom. There are the easier decisions, such as if you're keeping your bathtub or simply leaving the shower. Then, there are the harder decisions, such as which flooring material will work best for your look and lifestyle. Finally, there is the super challenging, frustratingly exhaustive decision: choosing the right plumbing fixtures. These fixtures are often taken for granted in our day-to-day use of the bathroom. We're talking the vanity faucet, showerhead, and bathtub faucet.
When we go to turn our water on, we rarely think about the fixture in our hand. Sometimes, we can't even recall if our vanity faucet is a single handle or double handle (commonly referred to as a widespread mount). Yet, one of the most noticeable details when you finish your bathroom remodel will be the sink faucet, as it often acts as an accent to highlight the entire design of the bathroom.. With all that pressure, it can feel too draining to even start. Splash a little cold water on your face and follow along, because we're about to let our knowledge flow.
Finishes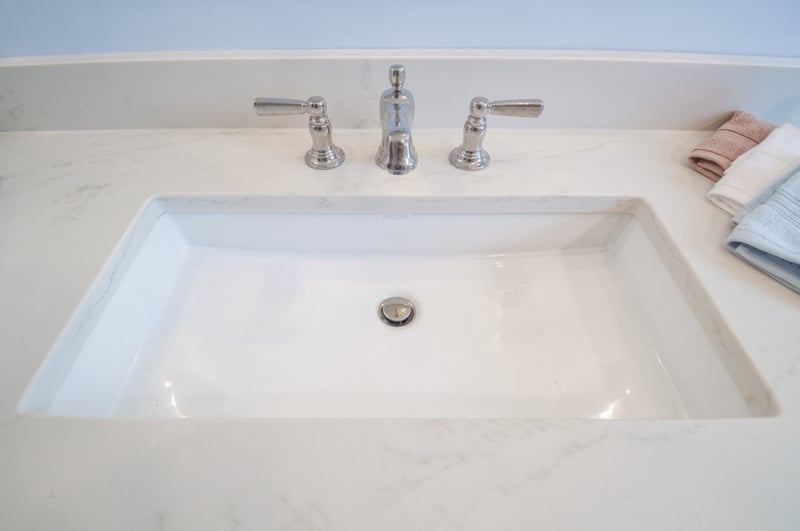 This can be a very touchy subject because clients often can't decide between trendy and timeless. Hence, whenever I'm asked what the most popular finish is, I break out the tried and true 'It Depends' phrase. If you mean the trendiest, and what will be featured in every HGTV show, I would say gold, black, and polished nickel. Of course, this may not be the case five years from now. But for the moment, these are the 'it' colors sure to wow your guests.
If, however, you're looking for a safer choice, a plumbing fixture you won't have to change out when the tides change, then I'd recommend chrome. It's the only finish that you can successfully mix and match brands with a guarantee that the finish will look the same across all features. For example, if you buy a gold finished sink faucet and showerhead from two different brands, the gold of Kohler is different than the gold of Brizo. For some people, this doesn't bother them, but for many, the slightest inconsistency is frustrating, as it may disrupt the seamlessness of the design.
Size and Style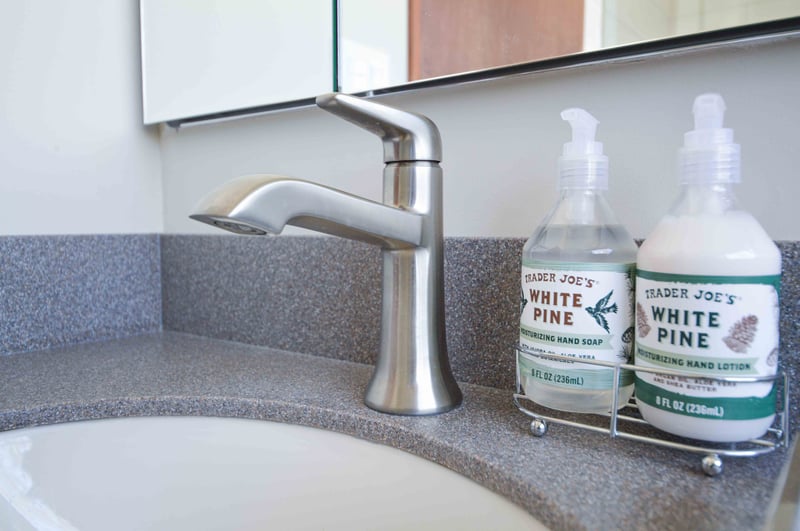 Do you love smooth, curved faucet necks and little details, such as ridging or other texturized elements? Then you're probably looking for a more traditional style faucet to complement your ornate design. Selecting a traditional faucet will elevate your already decadent bathroom's elegance and class.
Perhaps you want sleek, straight lines and a clean design, second to none. Choosing a contemporary or industrial style faucet will help you accomplish just that. Your bathroom will feel like a sanctuary of order and peace.
Of course, there are a variety of faucets that go beyond simple function and act as a statement piece, meaning they have more unique details or concepts. There are countless faucets made for all styles and rooms. For example, our clients who went for a strong minimalist look chose a faucet with a twisted neck. Sleek, graceful, clean, and it still accomplished the contemporary style while having slightly more detailing than a standard straight-lined industrial faucet.
In this same client's home, you may notice that their sink basins are slightly larger than normal. When that is the case, it is important to choose a faucet to scale. Choosing a smaller faucet for a large sink basin will make the vanity feel off-putting or imbalanced. Often, this isn't an issue because most people select a standard sink. However, then it is important to not choose an oversized faucet as well. An improper faucet for a basin could lead to excessive splashing.
Another detail to consider in order to reduce splashing is the angle of the faucet spout. Many spouts point directly into the sink at a 90 degree angle. However, some are angled a bit, and depending on the basin type, have the potential for more splashing.
Budget + Brand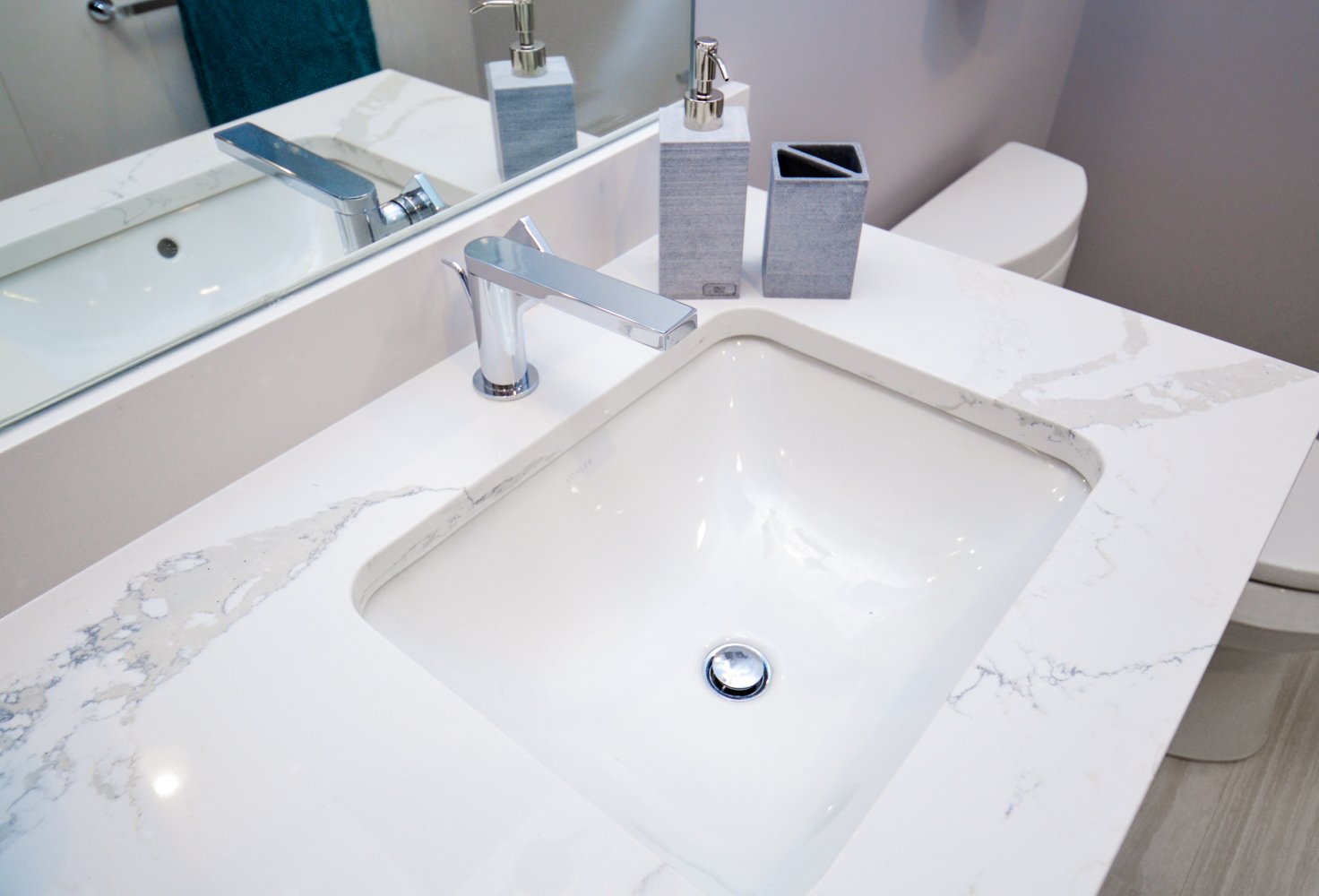 Now comes the most complicated, but crucial, aspect of selecting your plumbing fixtures: budget. This can be especially tricky because most brands offer a range of prices and products. Which is why it is best to consult your designer before falling in love with any specific fixture. They'll be able to direct you to the specific options within your price point.
However, it never hurts to know a little bit about the brand and their potential price point, beforehand.
Brizo
High End
This brand draws their inspiration from fashion and nature. When they create a new design, they often lead with beauty, but ensure functionality to the highest degree.
Rohl
High End
A brand that took the world by storm in the eighties, they have continued to refine their craft and ensure the highest quality product is delivered every time. With branches across Europe, their fixtures are often inspired by the great architecture surrounding their designers.
Kallista
High End
A brand known for pushing boundaries, this iconic brand will be sure to have something you love as they concrete custom finishes and designs. They offer everything from antique-inspired to modern and sleek looks.
Kohler
Mid Range
If you're looking for something specific, you can most likely find it at Kohler. They have a wide range of prices as well as products with a variety of finishes and styles.
Grohe
Mid Range
This European company is known for leading in innovation. Their look is clean and contemporary with many straight lines. However, they only offer two finishes: chrome and brushed nickel.
Hansgrohe
Mid Range
Similar to Grohe, these fixtures have a very European look and offer simple elegance for any space. They also only come in chrome or brushed nickel finishes.
Moen
Mid Range
A very popular brand, Moen is similar to Kohler in that it has many options at many price points. They lead with functionality, safety and innovation.
Delta
Mid Range
If you're looking for a unique design, but with more affordable prices, look no further than Delta. They offer faucets with intricate details and great functionality.
A few other things to consider that also drive up costs, regardless of brand, are as follows:
Any finish other than chrome will increase the cost
A single handle faucet is often more affordable than a widespread mount
Different materials can cause a faucet to be pricier
Certain brands that may be higher end, have shower technology that brings down labor costs and potentially evens out with other brands
If you're head is reeling from too many details, I recommend that you book a showroom appointment. Not only will you be able to engage with one of our designers to ask questions, but you can also see a wide variety of faucets featured in our plumbing center. You can see the range of finishes and styles, as well as test what the fixture may feel like in your hand.
Related Articles