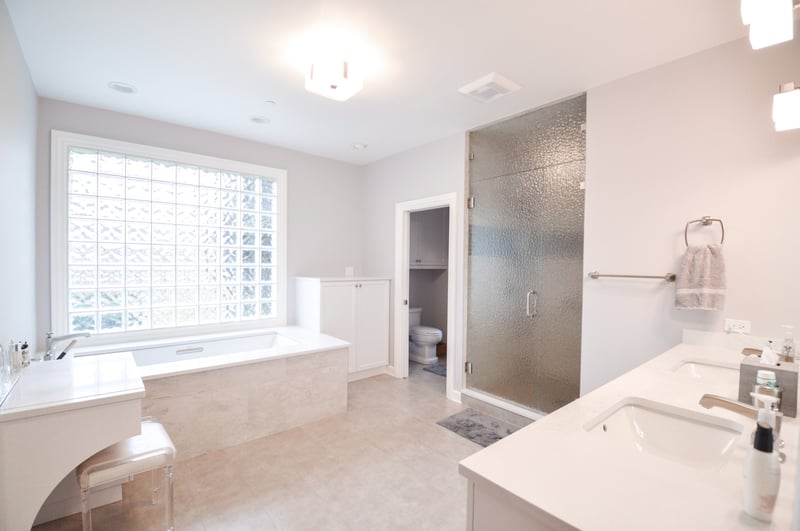 It might be time to say goodbye to your rubber ducky. Increasingly, our clients request the removal of their bathtubs in favor of a luxurious, spacious, walk-in shower. While I personally love a good bubble bath, for many on-the-go people, bubble baths tend to be an excessive amount of work for little output. The gained "relaxation" or "me-time" will inevitably be interrupted by family, or feel counter-intuitive as you start stressing out more while you mentally re-write your to-do list.
Additionally, a walk in shower is far more practical for the elderly and families with young children. With numerous injuries caused each year by slipping, bathtubs pose a huge risk when one tries to enter or exit, even with bath mats. Furthermore, if your child sneaks away to fill the bathtub, they open themselves up to the risk of drowning as well.
Of course, there are people like me who want it all. They remodel to include a soaker tub and a spacious shower, often resulting in the Taj Mahal of bathrooms. For a perfect example, check out this remodel we completed in Long Grove. For clients with less space but a love of tubs, consider combining the tub and shower head to help conserve space. While you don't necessarily solve the safety factor, you still get the best of both worlds.
The decisions don't end once you determine what type of shower you want. Instead, you'll be sprinkled with new decisions. Luckily, I'm here to share some steamy facts that just might help you wash away the other choices.
You May Have to Curb Your Enthusiasm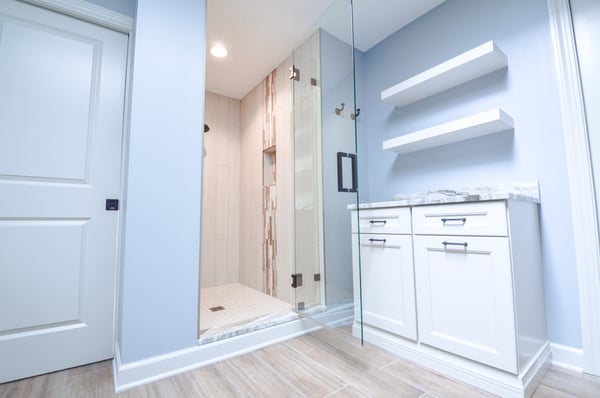 A quick Google search or episode of HGTV might lead you to think that curbless showers are the clear cut winner when deciding between curbed and curbless. After all, curbless is ADA approved, and creates a safer entry and exit point with the removal of the lip. From a cosmetic standpoint, it creates a clean, open look that many people are dying to achieve with their shower. It seems the obvious selection.
We hate to burst your shampoo bubble, but sometimes it simply isn't possible.
If you're worried about the structural integrity of your home, you'll need an experienced team to inspect your space to determine the viability of adding a curbless shower. Every shower installed has a slight pitch to it allowing the water to move towards the drain. In order to achieve a proper pitch, you have to build it up around the sides, which is what the curb usually hides. To achieve a shower perfectly flush with the ground, the joists below need to be big enough, and oftentimes, on the second floor, they just don't cut it.
But don't worry! A curbed shower has it's benefits, such as keeping more water in the shower. Sometimes, with a curbless shower, more water escapes the enclosure making the surrounding ground slippery. You'll still be able to achieve an open airy look with a curb; you simply need the right designer and possibly a little more glass than expected.
All Glass Isn't As Scary As It Seems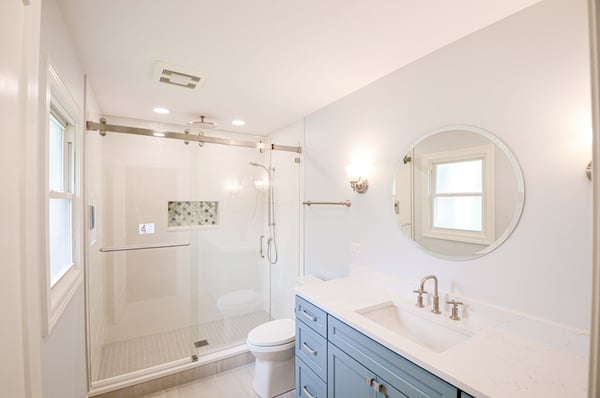 Don't continue to clutch at your potentially mildewed shower curtain. Instead toss it to the wind and embrace the freedom of an all glass shower enclosure. While the installation of a glass shower door may be slightly more of an investment than a shower curtain from Target, it saves you the hassle of continually replacing the dirty liner and having to wash the actual curtain. Plus, an all glass enclosure allows for more light to brighten your day while you scrub-a-dub-dub.
It also allows the beautiful design you select to be showcased better for guests to see. Often, with a glass shower, that space becomes an accent for the rest of the room. Between the shower niche, fun floor tile, and intricate accent mosaics, it truly becomes a work of art that should be shared.
This sounds like a great idea, until it hits that you will be completely and utterly exposed.
Trendy or not, you are a staunch advocate for shower privacy. Before you break out into a cold sweat, just know that innovative designers have approached this fear with a couple of solutions.
Consider adding a half wall on you shower enclosure. This way, you feel slightly more enclosed than when in a completely glass shower.
Your designer can simply try to spread out the different stations of your bathroom. When the vanity and toilet are positioned away from the shower, it may provide the privacy you're looking for.
Consider installing a frosted or rain glass. This will block external vision, while still allowing for more light.
You Can Go For Complete Spa or Basic Elegance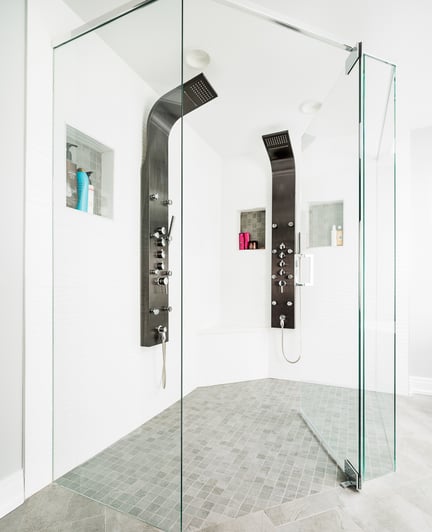 Now comes the fun part. I know, your head is probably spinning from all the decisions that are involved with a simple shower that it seems impossible for there to be more details. But what shower would be complete without accessories? There is a spectrum of add-ons for you to consider ranging from simple to extravagant.
We'll start with the most common add-on that can be found in almost every single one of our bathroom remodels: the shower niche. This heavenly innovation has blessed us ever since its inception. No longer will your thorough collection of colorful bottles clutter the edge of your tub or floor of your shower. No longer will you invest in a shower caddy that seems to overcrowd your already limited space. No longer do you have to suffer. Instead, you can add a niche in the wall to perfectly house all your shower care items without taking up space or making it feel cluttered. Plus, this niche often allows for a touch of decadent tile to give the whole space a splash of fun!
If you're looking to turn your bathroom into a one-stop spa, you can go wild with products ranging from smart devices to luxurious fixtures. For instance, consider installing a few body sprays. A body spray is a nozzle installed in your shower wall that allows for increased water pressure, and a more thorough cleaning experience. We once had a client who chose to have 6 body sprays, because they wanted a relaxing shower experience every time.
If you're looking for a unique shower head, consider a rain shower head. It releases water straight down in the style of rain. Not only does it look cool, but it also provides a gentle and more relaxing experience than a standard shower head. At the same time, the water pressure is significantly reduced.
We have no shortage of ideas when it comes to beautiful bathrooms! If you're ready to turn in your rubber ducky and get started on your luxurious bathroom, give us a call or fill out our project discussion form.
Related Articles