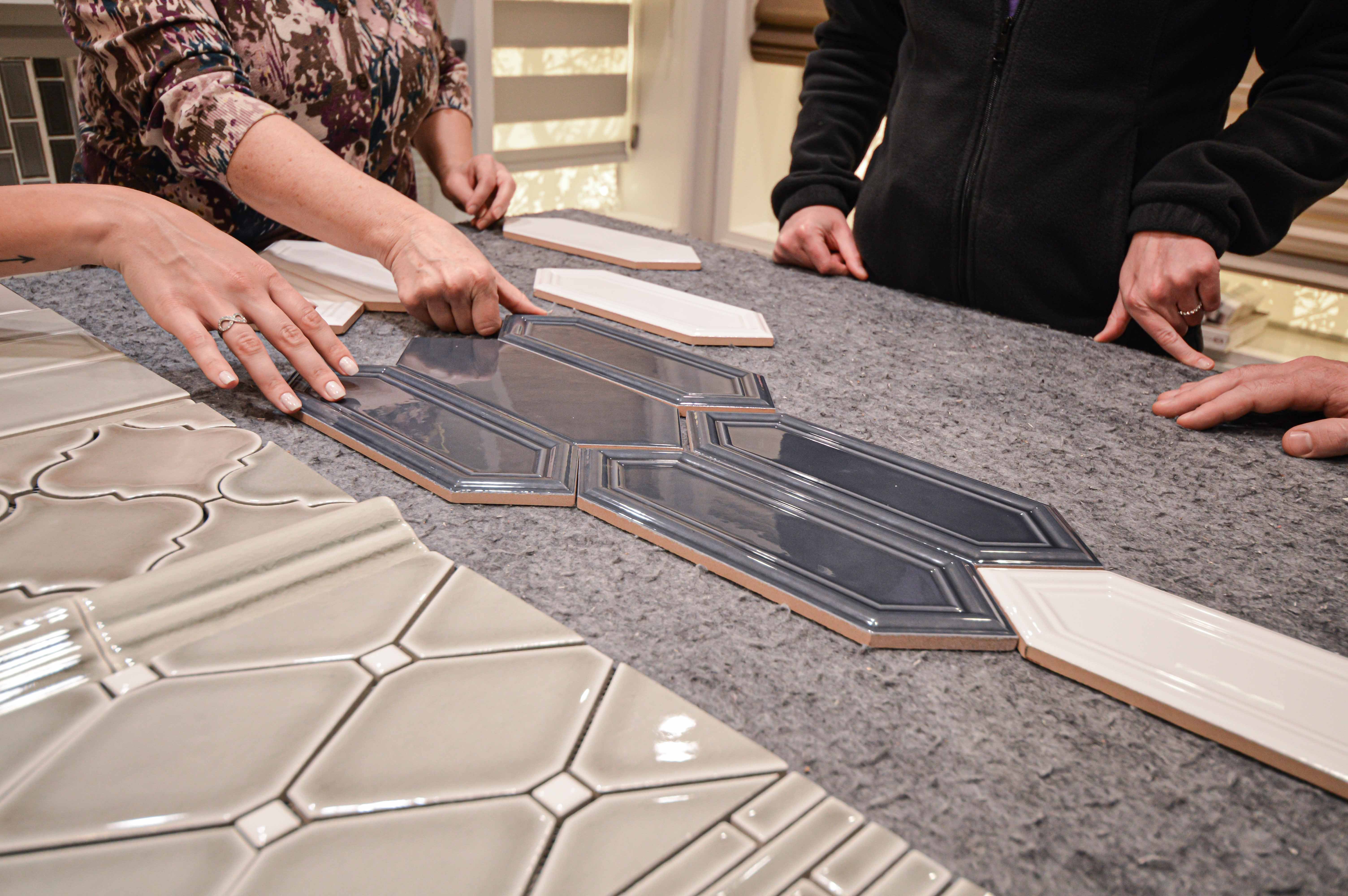 Your kitchen is "meh", your bathroom is hardly functioning, and your unfinished basement makes your skin crawl. Everyday you trudge through your home and settle for living a life in black and white.
That is, until the day you finally decide to visit the OHi showroom. When you step inside, everything bursts into technicolor. When your brain finally catches up to your eyes, the thoughts in your head will be colliding. Thought one: Can I live here? It's gorgeous, there's free coffee, and the people are so kind! Thought two: There are so many things to choose from, how would I ever make a selection? As a husband you might find yourself with a third thought: My wife shouldn't be here, this is too dangerous. While each thought is valid, you'll most likely lean into feelings of excitement as you're finally making the changes you want to your home. After the presentation and design deposit, you come face to face with selecting your materials. All of a sudden, it can feel like a house was dropped on you out of nowhere. You realize you've been struck with a crippling case of decision fatigue.
Decision fatigue happens when your brain becomes overloaded with choices. Everyday we make thousands (if not millions) of decisions. In a field where decisions are paramount to the completion of every project, I've seen countless clients freeze during the selections process. It can sometimes extend the timeline of a project by months if they are unable to land on which exact products they want for their new design.
To me, the stress makes complete sense.You have to choose tile, and cabinets, and countertops, oh my! One day as I was watching The Wizard of Oz, I realized it offered the perfect solution to defeat the metaphoric Wicked Witch: decision fatigue. Paired with a little research, I've determined three ways to overcome brain fatigue during the selections process of your remodel.
1. If You Only Had a Brain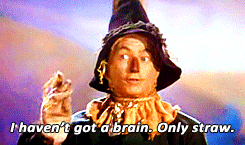 Source: Giphy
As you journey down the yellow brick road of remodeling, during the selections step, you may find the options are tricky to navigate when you try on your own. Afterall, Pinterest, The Mart, and Houzz all have great ideas… but they also all have millions and millions of ideas. You can start to feel brainless. Much like the Scarecrow in The Wizard of Oz, you feel lost and directionless. The whole process would be much simpler if you only had a brain that could remain unclouded by decision fatigue.
Luckily, part of our process at OHi is to give you an extra brain. Your designer is tasked with and trained to help narrow down the selections for you. Your designer will look at any Houzz or Pinterest board you share with her and try to find samples that are uniquely perfect for you. She will also be able to find a combination of samples that compliment one another while also meeting the needs of your lifestyle and budget. This way, you won't fall in love with a tile that has a price tag that will break your heart and the bank.
They're also there to keep you on track. Trust me, you don't want to get lost in selections. We've had a few clients where they become so paralyzed with decisions that they've taken a year to finalize selections. Often, it's because they know this is most likely a once in a lifetime investment and so they want to do it right. They want to make sure every floorboard and countertop slab is seen before they decide. I get it, however, I also know that our team won't steer you wrong. They've studied and practiced their trade for years. They're experts who also want to ensure that your home is perfect for years to come. With all that in mind, your relationship manager is going to set goals and deadlines for you to make decisions for each selection.
You're not in this process alone. You have a whole team that you can link arms with and skip around singing, "We're off to see the quartz, the wonderful slabs of quartz!"
2. Every Project Needs a Heart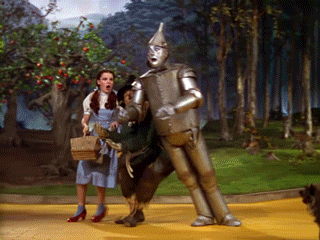 As I mentioned, even with the help of the OHi brain power, some clients can still stall out during the selections process. Apart from feeling like they're missing out on a great selection, some people hastily agree to whatever the designer pulls, even if they hate it. This causes a hooplah when they come to terms with hating what they've picked out. We then circle back to making new selections which is a huge time buster! It's all because when we're under the curse of brain fatigue, we forget that we need a heart. Every client should make their selections with their heart because the space we're designing isn't for us, it's for you! Although we love to show off our projects in our portfolio, we want to make your heart stop with excitement and awe.
Unfortunately, this is another side effect of decision fatigue. When we have so many decisions to make, we tend to slip into autopilot, even for the big decisions. If someone makes it easy for us, we'll take that route, even if we hate it. We become like the Tin Man: a hollow shell with stiff, mechanical movements.
And yet, while having heart in every decision might be challenging and add to the fatigue, it's also the only way to land on selections that you actually care for. You need to know your boundaries and come prepared knowing the following three things: budget, lifestyle needs, and taste.
Budget is the most straightforward. Knowing how much you want to spend will determine the quality and type of product you can get. That being said, if there is something you value in your kitchen's construction most, make that known to your team so they can make that aspect a priority. For example, if you are prioritizing your countertop materials over cabinets, your team may be able to bring you down a tier in the quality of your cabinets so you have more money to spend on high quality quartz.
As for lifestyle, we don't need an hour-by-hour description of your activities. Maybe just note the big things such as if you have kids, pets, how frequently you cook or how many people do you often have congregating in your kitchen. Sometimes, we have clients who give us small details about their lives that may seem extraneous to an outsider, but actually allows us to create a space that meets all of their functional needs. For example, we had a client who traveled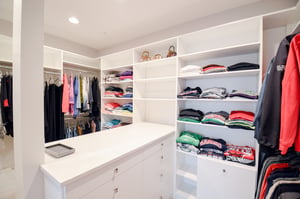 frequently and would have to walk back and forth between his bedroom and closet when packing. When we redesigned the closet, a small island was included to allow for him to pack inside of the closet. This also created a space for the laundry to be folded, or clothes to be laid out for the next day. It's something you might never think to bring up that can spark inspiration for the design team.
As for taste, this one can be complicated. For some people, this isn't a problem. These are the people that know exactly what they want and usually surpass design fatigue. For most, this just means knowing a general style you tend to lean towards. For example, you could start with determining if you want your space to be traditional, transitional, or contemporary. If those words mean nothing to you, try to express the way you want your space to feel. Many people want a lighter and brighter space. This helps send the designer in a direction with materials that would help create the illusion of more light.
Overall, remember to not lose sight of your heart amidst the seemingly endless decisions you're making. This is a work of art being created specifically for you. Don't become so mechanical that you rust up and get stuck during the rainstorm of options, as the Tin Man did.
3. Take Courage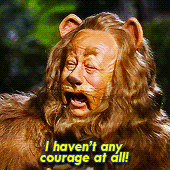 Source: Giphy
So often in this journey, we behave exactly as the cowardly lion. We start with a tough as nails exterior, ready to fight every decision, but end up in a blubbering mess when something unexpected happens or when decision fatigue overcomes us. We forget to have the courage to keep making decisions. Sometimes it may be psychological. Actually starting the construction process of remodeling is a HUGE step. People will be in and out of your house, it will be messy, loud, and disrupt your daily routine. It's so much easier to hide out in the selections stage, however, you'll never get the home you deserve. It takes courage, something decision fatigue tries to convince us we don't have.
But you are the king or queen of the forest!
You can do anything you set your mind to, and with the help of the many humans before you who have experienced decision fatigue, we have gathered the best tips and tricks that will hopefully give you the courage to push through the decisions and into the construction phase.
Schedule Your Appointments Earlier: Business Insider reports that it is proven that our minds have more focus and decision making capabilities in the morning. Mainly this is because we haven't been overburdened yet by too many decisions
Develop a Routine: In general, developing a routine will decrease brain fatigue because you will already know exactly what you're doing and therefore alleviate many extraneous decisions. For many people, this would just be enhancing your morning and evening routine, such as the order you shower, brush your teeth and pick out your clothes.
Small Doses are Key: This is why relationship managers are so helpful. If you have numerous selections to make, they will be able to direct you in determining what exactly needs to be decided upon in that meeting. Maryland designer, Anthony Wilder, suggests scheduling meetings to make very specific selections. It doesn't have to be everything, but it does have to be something.
Avoid Important Days: schedule your appointments for days that will require minimal big decisions. For example, if you know Wednesdays at work are always the busiest and most stressful day, avoid scheduling an appointment for that day.
Do a little research: as we mentioned before, knowing your taste is extremely helpful. Set aside a little time, and add stuff to a Pinterest or Houzz board to share with your designer… and then walk away. Once you actually make a selection, don't keep researching alternate options or else you'll end up with too many ideas.
At the end of the day, we want you to stand in your remodeled space with awestruck excitement. Your disbelief that you could live in this magical wonderland might move you to close your eyes, click your heels three times, and utter the phrase "There's no place like home" with equal parts anticipation, nerves and excitement. When you open your eyes, you'll find the space is perfectly tailored to you, and exactly as OHi built and designed it. It's home.
Related Articles