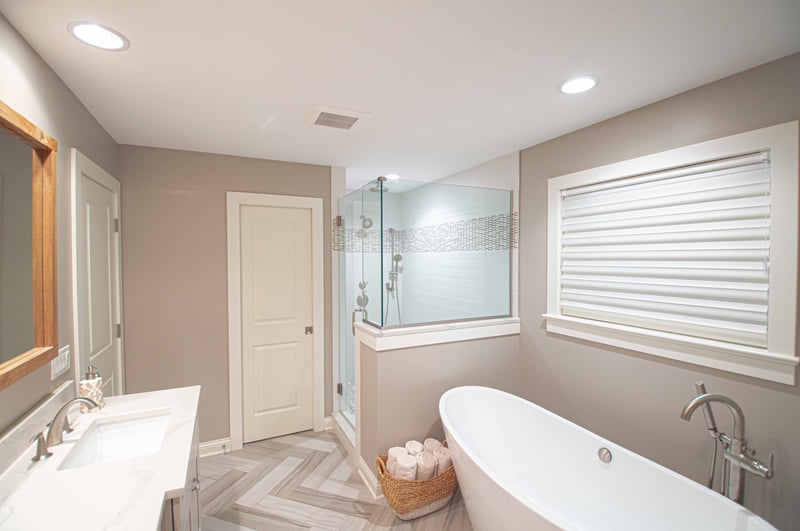 One of my favorite experiences is seeing the joy on a client's face when their remodeling project finishes. After putting in the work of researching, saving up, and investing in their kitchen, bathroom, or home remodel. From flooring to countertops, every detail is exactly what they imagined. Often they'll tell me they want to freeze time so that their home will always look as perfect as it does on that first day after finishing the remodel.
Unfortunately, we can't freeze time. But we can share our favorite ways to protect your home from natural elements like sun, the wear that comes from heavily trodden footpaths, and scratched from furniture.
1. Window Treatments
While I love sunshine, I don't love what it does to flooring, countertops, walls, and furniture. Over time, direct sun exposure fades the colors you handpick for your home. That wood stain you painstakingly debated for two months? It will eventually start to loose it's shading. Your walls will become duller. And that vibrant blue couch will loose its luster. While there is no way to completely stop sun fading, there is a way to drastically slow the process: window treatments.
Window treatment have the ability to block the sun, and investing in high quality window treatments allows you to have precise control over when they block the sun. Not only do window treatments help protect the materials you selected for your remodel, but they have the added benefit of reducing your energy costs. With proper use, they help keep the heat in during winter months, and the cool air trapped in the summer months. Save the color of your home, and save some money while doing it.
2. Area Rugs
The Even though most people are looking for practical ways to prevent damage to their home materials, it is important to remember the integrity of style. After investing in your dream space, the accessories should enhance the space, not detract. A great option that provides both incomparable protection and unbelievable style? Area rugs!
This finishing touch comes in such a wide array of options. Not only can you play around with the size and material of the rug, but you can choose a playful pattern. Perhaps you made conservative decisions for your remodeling material so the look would be more timeless. An area rug is the perfect place to be playful and add vibrant colors to help add a pop.
Most importantly, area rugs help protect your floors from various types of damage. Especially on hardwood floors, furniture can often scratch and gauge your floors. An area rug helps provide a barrier to prevent that from happening. It can also help reduce scratches that come from animals.
Furthermore, area rugs can help prevent the flooring from getting worn, especially in heavy traffic area, like by a couch.
While we are on the subject of area rugs, we should point out that it's a good idea to invest in door mats as well. Not only do they help reduce the floor from being worn at common entry ways, but they help trap moisture and outdoor debris from being tracked into your home. I recommend you station one at every outdoor entrance in your home.
3. Stair Runners
One investment that our clients often overlook until we do their in home consultation is remodeling their stairway. For some clients it's a complete overhaul. For others, it's simply updating the flooring used on the steps. Either way, a new stairway calls for a new runner. Not everyone realizes the importance of having a carpet runner on their stairs.
Stairs are easily one of the most used pathways in a home, which leads to quicker wear than other paths. A stair runner can help reduce that and protect the material you select, giving it a longer lifespan. However, the protection of your materials is not the most important reason you should consider investing in a stair runner. The fact is, a stair runner makes your home safer. They help create a friction that prevents slipping down your stairs. When stairs are an exposed hard surface, they are for more slippery, which can lead to an increased risk of falling. While we want to protect the materials you invest, we value you and your family's safety more.
On a lighter note, like area rugs, runners can add a lot of personality to your space. From the colors to the patterns, they have the potential to make a statement or to ground a room. They add warmth, coziness, and character. Even if you aren't interested in updating your stairway base, you should consider updating your runner, especially if the original one is worn.
While we love the above three products, and strongly suggest you consider them to help protect your home from natural wear and tear, there is something everyone can do to protect their home without investing in these finishing touches, which is providing the proper care and cleaning to your home. Taking care of your home by using the correct cleaning solutions and tools to keep your space clean is paramount to giving your home the longest longevity. If you aren't sure where to start for proper cleaning protocol, download our complimentary Care and Maintenance Guide.
If you're considering investing in one of the three products mentions above,, schedule an appointment with our Finishing Touches Consultant and they will help guide you through the process.
Related Articles