They say the kitchen is the heart of the home, and we'd say the pantry is the heart of the kitchen. It houses all of the ingredients and tools necessary to make home-cooked meals that everyone gathers for. Pantries often dictate the entire organizational system for your kitchen, which explains why there is an age-old debate on whether to opt for a walk-in pantry or a pull-out cabinet pantry. Both options have their perks and shortcomings. Ultimately, it depends on how you use your kitchen, so we've put together the pros and cons of both features to shed some light on your decision.
Walk-in Pantries
Every at-home chef's dream is a walk-in pantry. Think of all the appliances and ingredients you can store in a whole room allotted for food.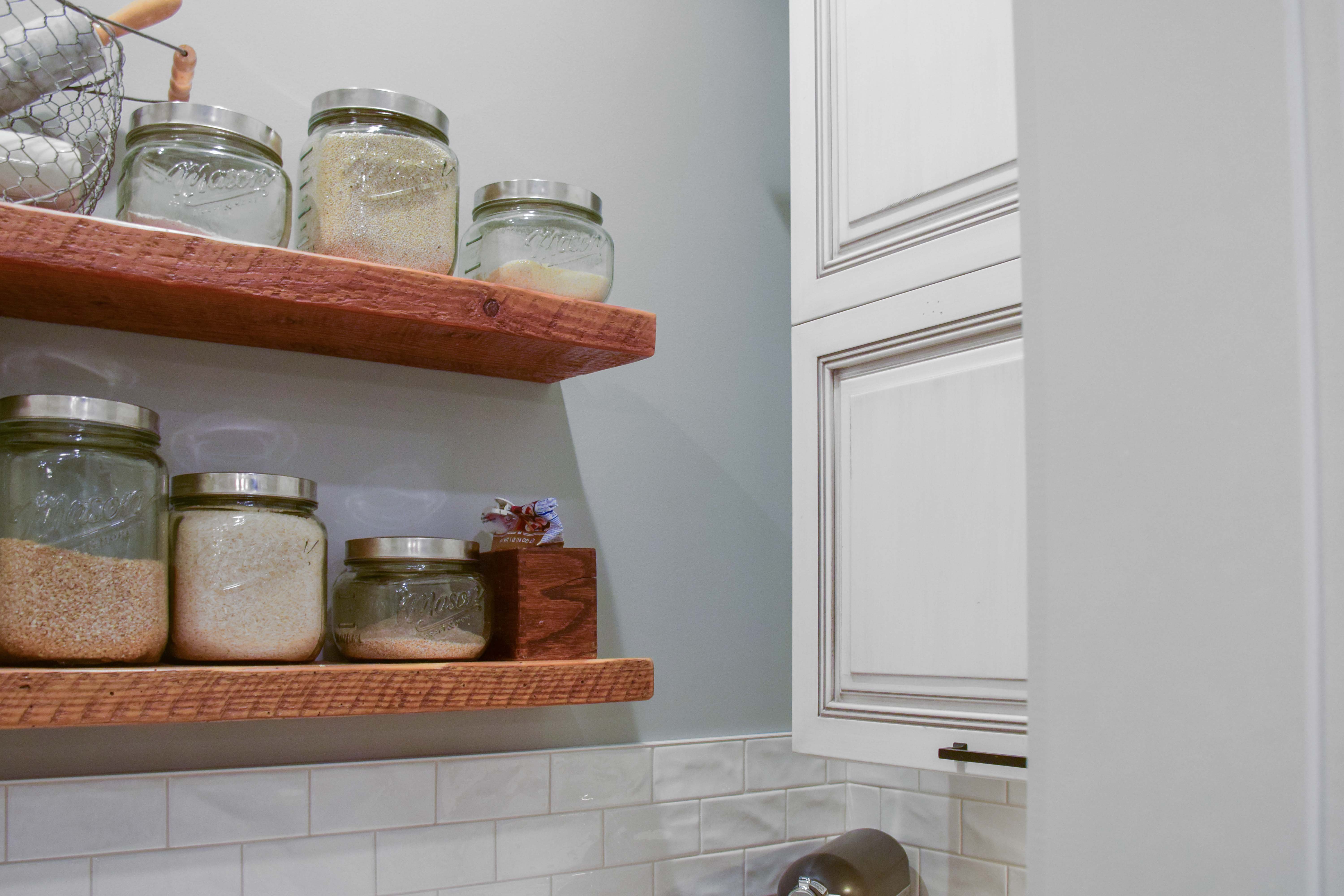 Pros: Walk-in pantries are a dream come for the organizer in you. Open Shelves allow easy access to all of your items. You can install floor-to-ceiling shelves, extra cabinetry, or custom inserts. You can use clear or labeled storage containers for flour or cereals to no longer have to look at boring packaging. Open shelves allow you to store larger appliances easily and still have room for food.
Cons: There are a few downsides to the walk-in. For example, due to space constraints, walk-in pantries can be further removed from the primary cooking area. By nature, they are separated from the kitchen by a door, adding extra steps to grabbing vital supplies and ingredients, which can be a hassle while cooking. Not to mention a bigger space requires more upkeep. Open shelving collects dust faster and can lead to more clutter in your space as items get shoved onto the shelves and forgotten about over time. Lastly, walk-ins require a decent amount of square footage, whereas pull-out pantries fit nicely into your existing floor plan. Walk-ins are not always viable options for every home.
Cabinet Pantries
While the walk-in is most chefs' dream, the cabinet pantries are a more practical choice.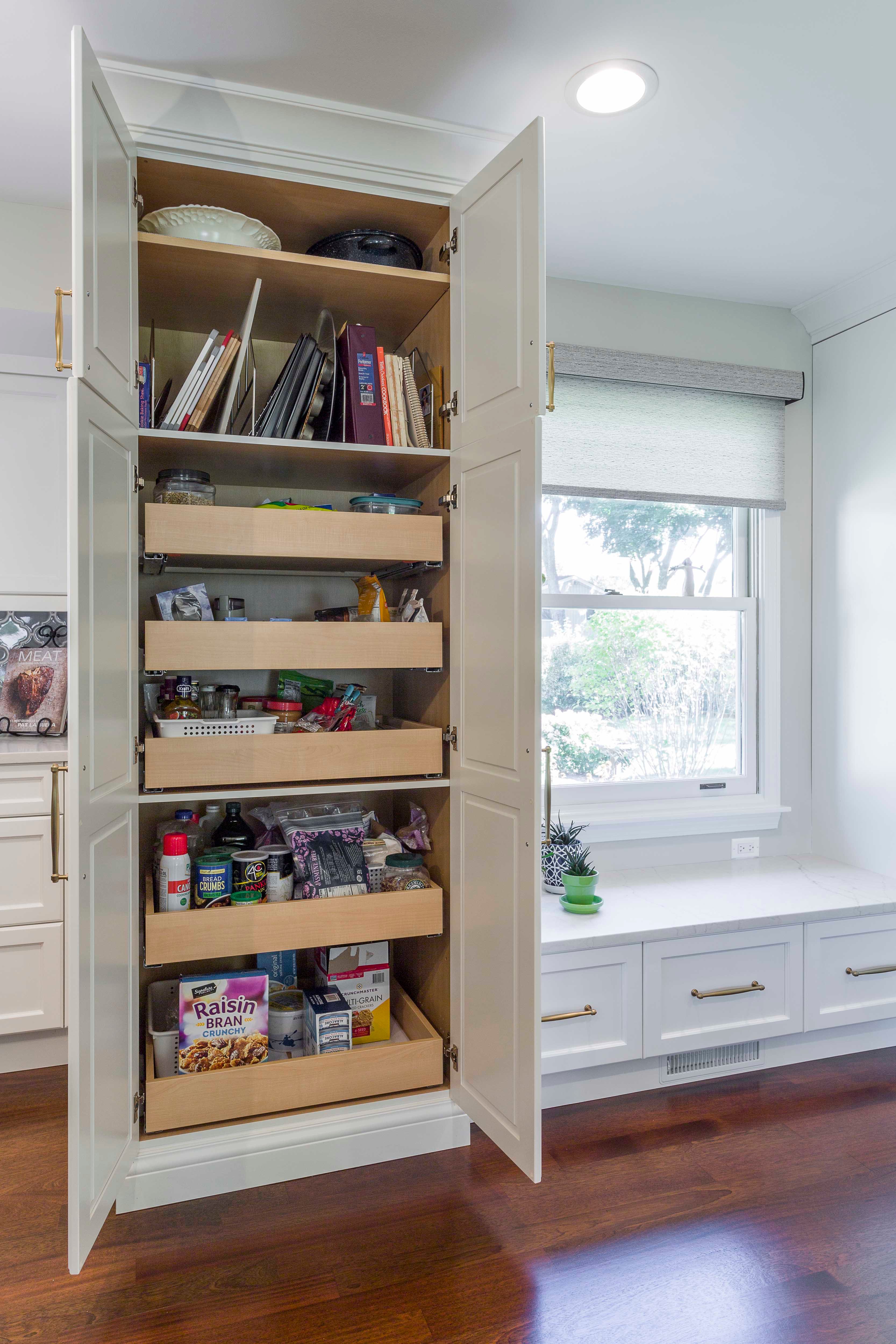 Pros: Cabinet pantries are more accessible as you can install pull-out shelves, spice racks, or even door shelves, which bring the items to you instead of having to move things and reach in the back like on open shelving. They allow for centralized storage, which is convenient when cooking because your ingredients are right next to you. Centralized storage is better for parents who may be multitasking while cooking and reduces prep time. They also are a more aesthetically pleasing design choice compared to the walk-in. Overall, cabinet pantries don't take up as much space because they are built into your existing floor plan.
Cons: They have limited storage space, especially for bigger appliances, since you are working with standard cabinet depths. Additionally, they can cut into your available countertop space, especially if you opt for floor-to-ceiling pantry cabinets. Like any kitchen, feature cabinet pantries can be on the more expensive side. While they remain cheaper than building a walk-in pantry, adding pull-out pantry components can still be pricey as they are considered an upgrade.
Both options can be functional and add aesthetic appeal; it ultimately depends on your personal cooking needs, budget, and the space available in your home. If you're looking to add a pantry or update your kitchen, call us today or schedule an appointment online.