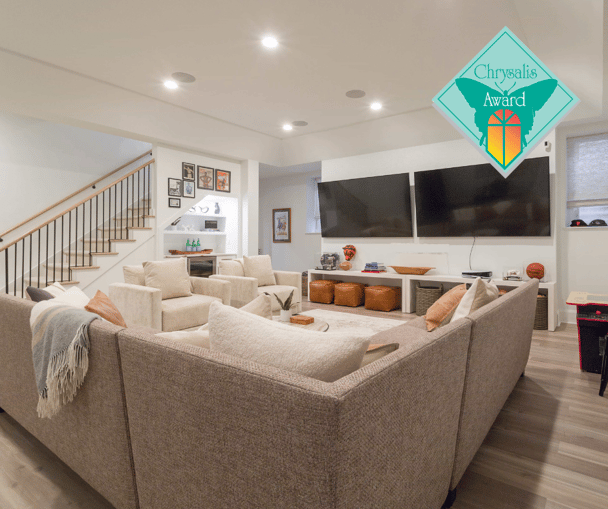 Continuing to set new standards of professionalism, 72 companies from across the United States were named winners at the 2023 Chrysalis Awards for Remodeling Excellence. The entries were judged on overall design, the creative use of space and materials, and the degree to which the project enhanced the original structure.
When these clients built their new home, they left the basement unfinished with the intention of finishing it sometime after they moved in. Knowing that they wanted to fit their golf simulator in the basement, the clients opted to include 10ft tall ceilings when originally digging the basement out. The clients' main priority was to create multiple functional spaces, including an extra bedroom, bathroom, gym, playroom, and a secondary family room. By strategically sectioning the existing open space, we were able to successfully create each of these areas for the clients.
"To win an award in this highly competitive category is quite an achievement," says Ken Kanline, Director of the Awards.
The Chrysalis Awards program, begun in 1994, recognizes the nation's best work in fourteen general categories of residential and commercial remodeling. The Chrysalis Awards are open to every professional remodeler and design professional in the United States.
If you're interested in working with our award-winning design-build team for your next remodel, contact us today to schedule your complimentary in-home consultation.
Pictures and summaries of the 2023 award-winning projects can be seen on Chrysalis website www.chrysalisawards.com beginning in July. For more information about the Chrysalis Awards, contact Ken Kanline at 850-544-3773 or at ken@buildingsongs.com
Article Categories: