Due to Father's Day this past weekend, let's take a break from the typical "quit leaving the toilet seat up" conversation that we have (far too often) with the men in our lives and take a look at a new conversation - a Man Cave Bathroom! Designer Andrea Shoop outlines a few ways to give them a bathroom fit for a king, but with designs that you can love too!
Style Comes First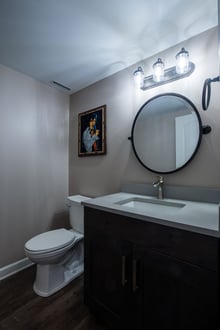 In general, man caves tend to be a mishmash of styles usually including sports memorabilia, novelty signs, and even taxidermy mounts. While there is nothing wrong with an eclectic "man cave" style, sometimes women are a little cautious about letting that style bleed into a bathroom, especially if it's regularly used by guests. Fortunately, there are plenty of tasteful ways to continue the man cave style, but with a less intense approach.
Consider a darker palette, one that just emits "guy" from the minute you set foot in the space. Avoid glitzy details like glitter grout or sparkly tile, and consider more modern finishes for your plumbing fixtures and lighting. Your bathroom can still look welcoming and relaxing, even with these more masculine-charged finishes.
Ceramic or Vinyl Hardwood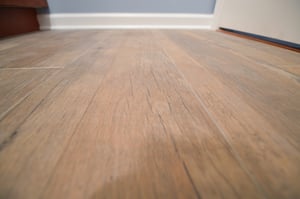 One trend that is popular in all aspects of home design is ceramic tile or vinyl planks that look like hardwood. This allows you to use the look of hardwood in your bathroom without worrying about the high exposure to moisture that it will inevitably endure. Since, stereotypically of course, many men like the "outdoor" look and feel (my dad actually hates it!), bringing the look of a natural element like wood into the space can make a big impact. You could use it on the floor, as a backsplash, or my personal favorite - in the shower! Furthermore, there are many style and color options available to help you achieve the precise look you're shooting for.
Urinals - Yes, I'm Serious!
Another way to let the man cave style leak into the bathroom (pun intended) is by adding a urinal. Typically urinals are only seen in public mens' rooms, however, due to its increasing popularity in homes, there are more aesthetically pleasing designs, making it a no-brainer when designing your man cave bathroom. While it's one more thing to clean, it also might help improve aim... just saying...
Repurpose The Clutter
Arguably the most critical guideline to keep in mind when completing any project is that function is just as important, if not more, than the design. Man caves tend to be full of objects that are purely decorative, but also hold sentimental value. As most of these said items are forbidden to be thrown out, you might as well make use of them! By repurposing items such as an old tool box into countertop- or floating shelf-storage for additional hand towels or washcloths, you are adding functional value while also clearing out a little of the clutter in your garage!
Now What?
There are endless possibilities for creating your dream home, and OHi has been helping families in Chicago and its surrounding suburbs remodel their homes since we founded our family business in 1900. Our expert team members will help you find design inspiration and carry out your vision. We've been improving our neighborhood one home at a time through expert advice, exclusive products, and exceptional service. Check out our portfolio, or contact us to speak with an OHi family member about your remodel!
Related Articles