At OHi, our family values are integrity, quality, dependability, transparency, adaptability, and pride - everything you'd expect when working with family. My great grandfather started this company over 100 years ago, and I'm proud to carry on his work, treating each one of our clients the way they deserve to be treated. It doesn't matter to us if you're spending $5000 on upgrades or $150,000 on your dream space. We want it done right, and we're in it with you to the end.
So let our family take care of yours during your remodel, and you can experience the difference of working with family.
Choosing a Partner for Your Project
We understand that letting someone into your home is not an easy decision by any means. It is important to work with a reputable company that you feel comfortable instilling your trust in them. At OHi, that is exactly the company that we strive to be for each and every one of our past, current, and future clients. If you decide to work with us, you become part of our family. Like any other family, we're in it for the long haul, together. As you go through each stage of your home improvement project, we want to be sure that we provide you with expert advice, exclusive products, and exceptional service. So when we say you become part of our family, it's true through and through!
Doing Things in the Right Order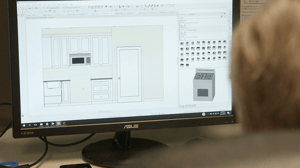 First, we'll work with you to learn more about your style and what you need functionality wise tailored specifically to you and your family. Your designer has already begun working on your space, but now it's time for you to get more involved. You'll work with your designer to perfect your design, determine any contingencies, and see your space begin to take shape with our state-of-the-art rendering technology. After finalizing your drawing, your OHi team will begin putting plans in place that will out your project in motion and bring your dream space one step closer.

Before your project manager and crew begin working through the permitting process, you and your designer will select the details that will bring your home goals into reality. Our expert designers have done the hard work of finding the best supplies to make sure your home looks fantastic. When this stage of the game begins, we'll spend as much time as you need making your selections, with your designer next to you throughout the process. We wanted to make things as easy as possible, which, in fact, is one of the reasons we built our home design showroom. Having a true one-stop-shop approach to home improvement, makes this part easy as you'll only have one place to go when it's time to make decisions. Your relationship manager and designer will work with you to make the best choices for your space, including flooring, cabinetry, countertops, backsplash, hardware, fixtures, lighting, and more!
Getting Things Done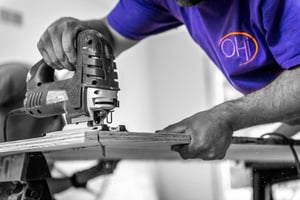 After you've finalized the decisions necessary to bring your space to life, your project manager and crew will begin the permit process, pre-work, material ordering, and demolition to keep your project on the right timeline. While we can't begin construction until paperwork and permits are on file, we can get the ball rolling and get the full working picture of your space, ensuring we know everything we need to meet your home goals.

Construction can begin as soon as permits have been issued and your OHi construction team is in place. Depending on the size and complexity of your project, you may spend up to several weeks with your crew in your home. However, we promise to be respectful of your space and time, and will be cleaning up each day before we leave. Your project manager will check in with you regularly during construction, ensuring we remain on time and on budget.
Finally, all your hard work, patience, and energy will pay off! Your home improvement project with OHi will come to a close, and your project manager and designer will review every inch of your space with you. As far as any family goes, honesty and communication are key as it is important to us that you're happy with your experience as part of the OHi family.
Now What?
There are endless possibilities for creating your dream home, and OHi has been helping families in Chicago and its surrounding suburbs remodel their homes since we founded our family business in 1900. Our expert team members will help you find design inspiration and carry out your vision. We've been improving our neighborhood one home at a time through expert advice, exclusive products, and exceptional service. Check out our portfolio, or contact us to speak with an OHi family member about your remodel!
Article Categories:
Kitchen Remodeling
,
Countertops
,
Surfaces
,
Kitchen Cabinets
,
Cabinetry
,
Remodeling
,
Home Remodeling
,
Bathroom Remodeling
,
Flooring
,
Additions
,
Ohi Family Traditions
,
Family