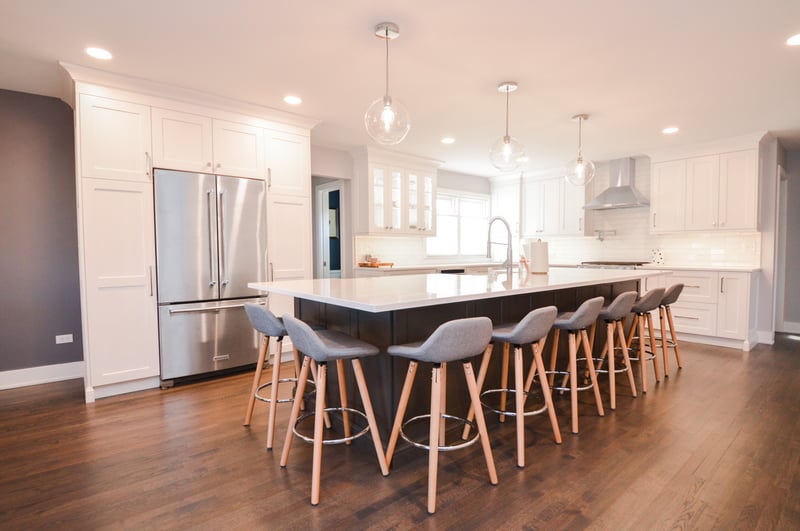 While designing your dream kitchen, it's easy to get swept away by the big things like cabinet color, how big the island should be, or which backsplash you plan to choose, and sometimes homeowners forget the minor details that can have the biggest impact on their space. Here are 6 must-have kitchen trends to consider adding to your kitchen remodel to improve both the functionality and style.
1. Hidden Pantries
Hidden pantries are very efficient and often used to solve the problem of insufficient space outside the kitchen floor plan. Open floor plans are great, but they can make it a little tricky to have both a functional and clean kitchen for entertaining guests, but with a hidden pantry, you get the best of both worlds: an uncluttered kitchen visible to guests and a highly functional space hidden from view. When designing a hidden pantry, keep the design elements the same as the rest of the kitchen for a cohesive look. Some key features in a hidden pantry include open shelves that make it easy to access items, countertop space, as well as closed cabinet storage.
2. Cabinet Storage and Organization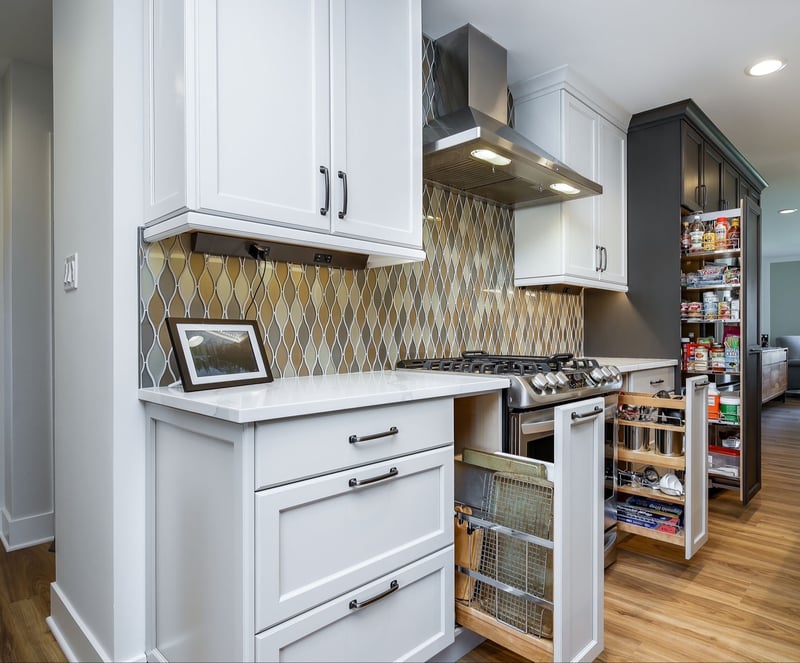 Organization is very important when it comes to the way a kitchen functions. There are many design options you can include in your kitchen to optimize storage. For example, placing a narrow cabinet with pullout storage for spices near the stove makes them conveniently accessible to use while cooking, without the cook needing to move about the kitchen. Utensil pull-outs are a great addition to your kitchen, as they help keep the counters clutter-free while offering easy access to spoons when needed. This type of cabinet is also useful for pot lids and holders.
3. Two Sinks - Prep work & Main Sink
One of the most popular kitchen trends right now is prep sinks. They are small sinks often found on the kitchen island away from the main sink. Prep sinks are extremely convenient and make cooking and cleanup easier. Prep sinks make cooking more social and communal. They are especially useful when hosting holiday dinner parties at a time when many people are in the kitchen working to prepare meals and clean up.
4. Base Cabinets
Drawer base cabinets allow you to organize items more efficiently. In one single motion, you can access the contents of the drawer without needing to move everything around to get what you need. Choosing cabinet drawers over doors allows for better storage and organization and eliminates the hassle of looking for things. They also are a great option if you are designing your home to universal living standards, as drawers or more accessible for all and don't require leaning over.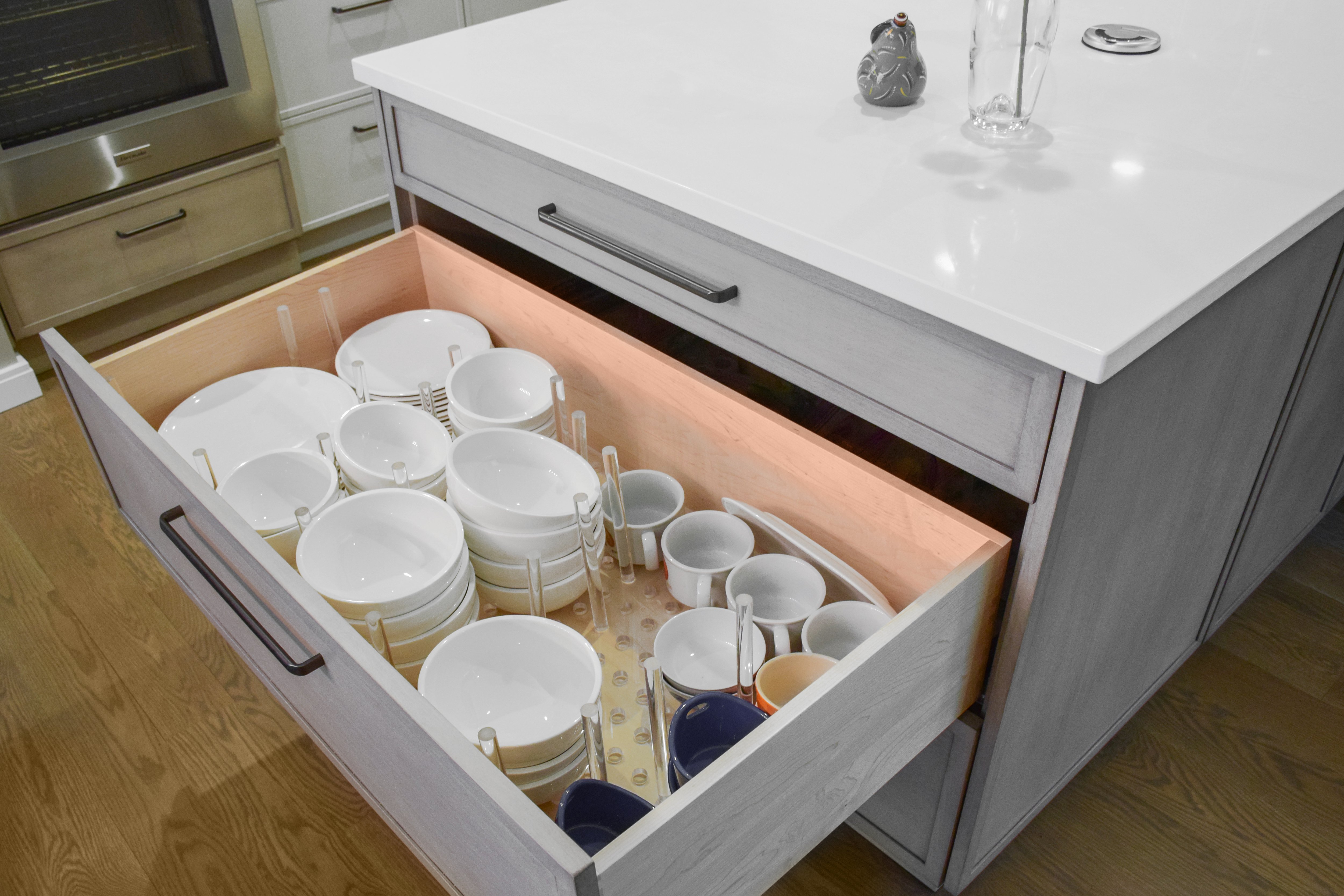 5. Built-In Refrigerators (Hidden Fridges)
A built-in refrigerator is enclosed within a cabinet, giving it a more personalized appearance while also taking up less room. There are two types of built-in refrigerators to familiarize yourself with: an overlay and an integrated built-in refrigerator. An overlay refrigerator has doors that extrude past cabinets. Integrated built-in refrigerators are designed to seamlessly match the surrounding cabinetry. With the refrigerator doors shut, it is nearly impossible to spot an integrated fridge in a kitchen.
6. Beverage Centers/Coffee Bars
A current kitchen trend is adding a beverage center. A beverage center is a place to make and serve drinks away from the kitchen area. Whether you want to store wine, beer, soda, or coffee, having a beverage center in your home is perfect for gatherings with family and friends. Having a beverage center offers many benefits while everything is all in one place, saving time and stress by having all your beverage supplies in one place. One location means everyone has access to it, even the younger members of your home.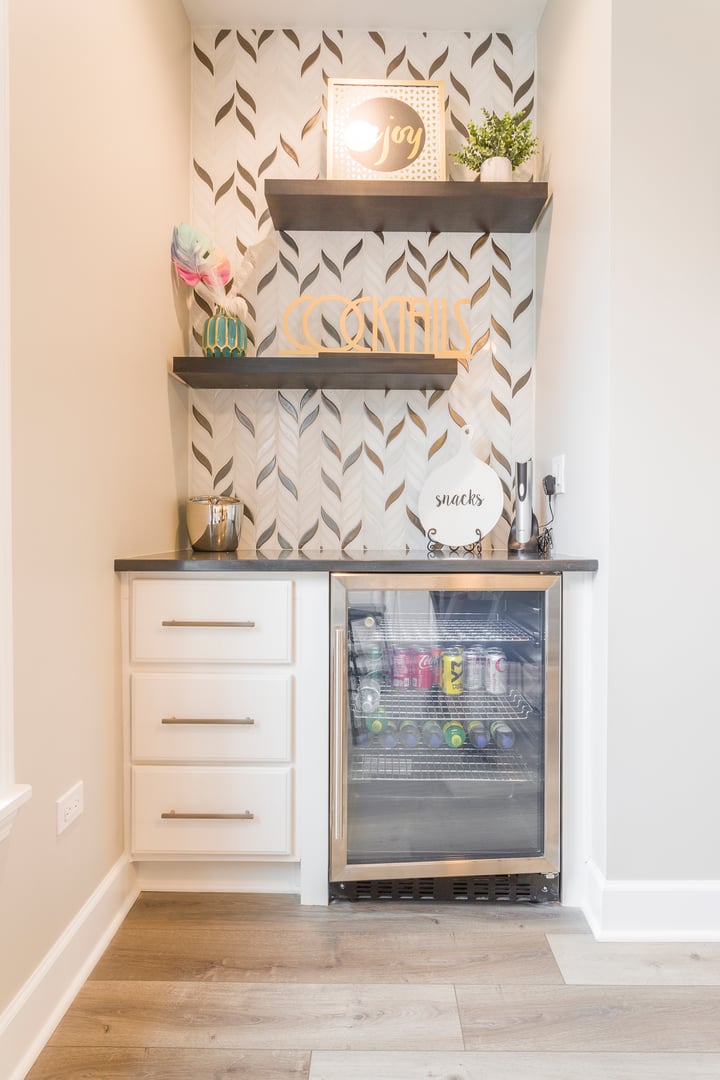 If you're thinking about a kitchen remodel and want to connect with one of our designers, call us today or schedule an appointment online. If you want a little more kitchen inspiration, visit our portfolio to see past projects.