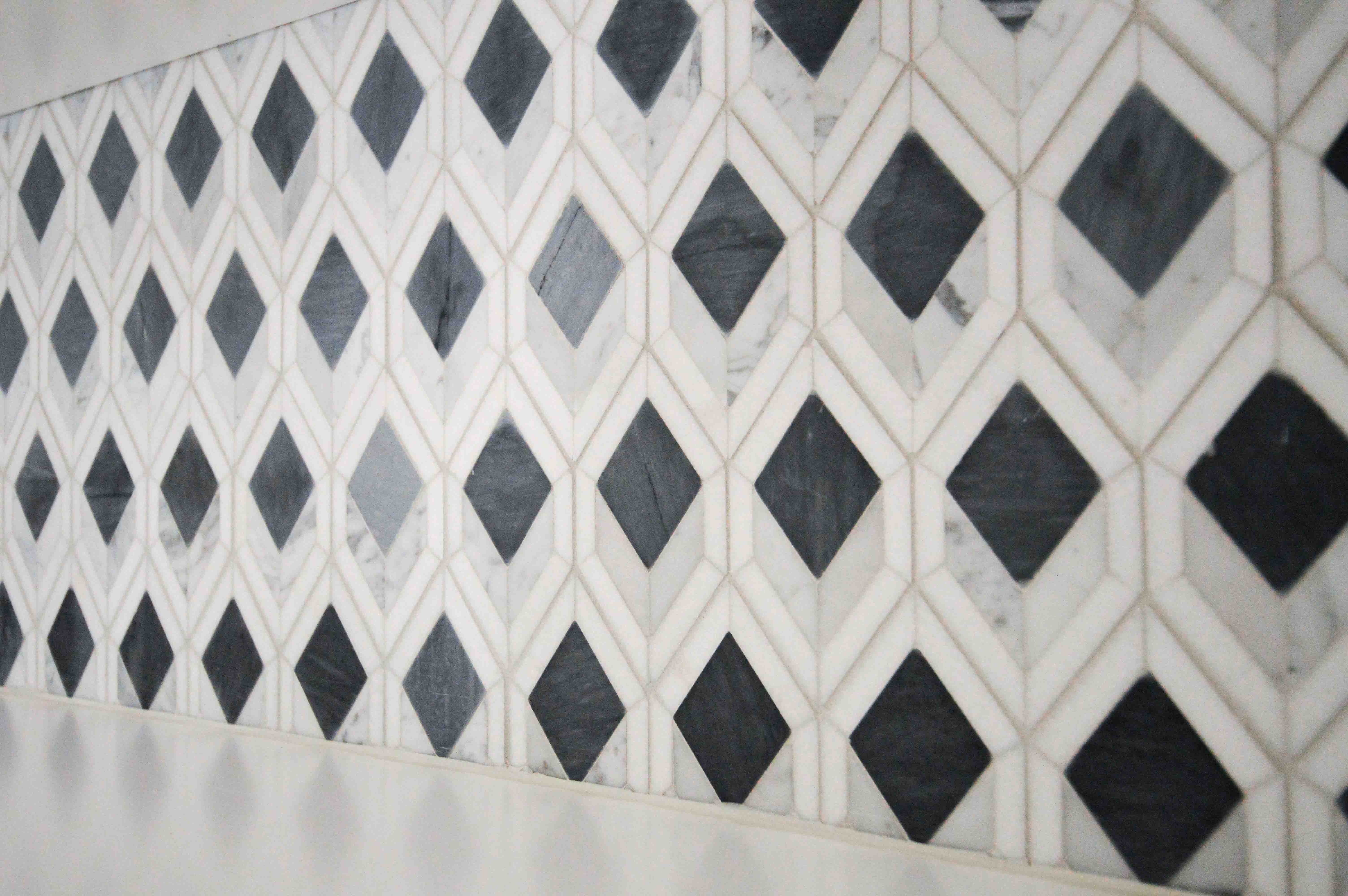 From walls to floors, kitchens to bathrooms, accents to focal points, tile has the potential to be installed in every room of the house. In fact, you'd be hard pressed to find a home that doesn't incorporate the sleek, durable material in some capacity. Although tile is highly utilized, the vast majority hasn't taken the time to learn how to properly clean and maintain it. Therefore, we've researched numerous tile companies to help compile this guide on how to best care for your tile, and inevitably, your grout.
It should be noted that there are three different categories of tile:
Ceramic and Porcelain
Natural Stone
Glass Tile
Each category recommends different cleaning products and materials to safely clean the surface, though they all share similar steps to achieve proper maintenance.
General Tips
While each category of tile has some minor differences, there are a few general rules to follow for any tile cleaning.
Never use products with acid or ammonia in them, as they can lead to discoloration or damage to the tile and grout. It is strongly recommended to select a cleaning product with a neutral pH.
Never use wax-based products, because they tend to create a film that traps dirt and dust, while also altering the appearance of your tile.
Avoid using steel wool or other products containing metal. They will scratch the surface, and as Emser pointed out, small fragments left behind could lead to rust.
For any cleaning product you use, first test it in a small area to ensure it won't damage the tile.
Place door mats or rugs at doors leading outside. This will prevent people from tracking in dirt and other outside particles that could build up on your tile.
In general, quickly wipe down tile with a wet towel every few days, then do a deep clean of both the backsplash and floors every two weeks.
Clean spills immediately. Any liquid or food remnants can cause discoloration or damage to the tile.
As for the cleaning process, the steps are generally the same, however, keep in mind, each tile type has different tips or tricks.
The Steps for Cleaning Floors
Sweep or vacuum your surface; if you're sweeping, sweep in various directions
Mop the surface with clean, warm water and the recommended cleaning product for the specific category of tile
Rinse thoroughly
Dry with a towel to prevent water spotting
The Steps for Cleaning Wall Tile
Wipe the wall down with a clean, dry towel
Wipe the wall down with warm water or cleaning solution
Rinse away the cleaning product
Dry with a clean towel
All in all, keeping your tile well cared for is easy, especially if you build it into your normal cleaning rotation.
Ceramic and Porcelain
When it comes to tile, often, the conversation arises of choosing between ceramic, porcelain, or a natural stone. Ceramic and porcelain tend to be lower maintenance because they do not require the occasional sealing that natural stone does. If you chose ceramic or porcelain, determine if your particular tile is glazed or unglazed, as that will have an effect on the specific cleaning solution you will use. Then, follow the cleaning steps mentioned above, but Eleganza Tile recommends you add the step of washing the surface down with water before mopping or wiping with a cleaning solution.
For glazed tile, depending on what surface you're cleaning, use a cloth, sponge, or cotton mop to spread the cleaning solution. A general, all-purpose, non-oil-based household cleaning solution is encouraged, so long as it doesn't contain bleach, ammonia, or acid.
If it is an unglazed tile, American Olean recommends creating a solution of water mixed with a soapless detergent, rather than store-bought cleansers. Then, follow the steps mentioned above.
Other Helpful Hints
For more specific spills and stains that resist the standard cleaning process, there are a few helpful tips and tricks to get the job done. Porcelanosa has a whole list of stains you might accrue on your tile, however, here are some of the most common household ones you might experience:
Food, fruit, coffee, tea, juice, and makeup: Use a normal detergent dissolved in hot water.
Grease: Use a mix of baking soda, water, and a neutral soap. Cautiously, use a scouring pad.
Inks: Cautiously, use a diluted bleach solution, testing it with a small blot at first.
If your tile floor has been neglected for some time, consider using a powder or liquid detergent, combined with a sponge or scourer. Even if there are sticky or hardened spills, do not use a metal spatula or blade, as it will damage the floor.
Natural Stone
While natural stone might be slightly more difficult to maintain, nothing can compare to the rich, unique look it provides. For many, it is worth the extra care. Homeowners who install natural stone need to be more precautious about tracking in sand or grit, as the surface is more susceptible to scratching. Emser Tile warns users to limit consumption of acidic liquids or foods, such as oranges and lemonade, due to the fact that spilling could cause discoloration.
Once your natural stone is installed, it needs to be sealed due to the fact that it is so porous. Over time, the seal wears off, and a new coat needs to be reapplied. This is the only additional step for maintaining natural stone. Check the instructions on the purchased sealer to know when to re-seal; it is usually one to two times a year.
As for a cleaning solution, use warm water and a mild liquid soap. Many manufacturers allow the use of mild detergents or tile solutions so long as it doesn't contain acids, waxes, or ammonia.
Glass Tile
Glass tile is often used for decorative purposes such as a shower niche or a backsplash. It's impenetrable surface also makes it a great choice for kitchens because it can even protect from grease. Regularly clean glass tiles using any non-abrasive glass or tile cleaning solutions. Continue to avoid acids and ammonia as it breaks down the glaze. Glass tile is one of the easiest tiles to clean, and often only requires a quick wipe down.
Start by wiping the surface with a dry clean towel
If it remains dirty, greasy, or stained, wipe the surface with a towel containing the cleaning solution of your choice
Rinse with clean water
Dry with a clean towel
Bathroom Tile
While you should follow the guidelines and product recommendations provided in the above categories for the tile found in your bathroom, due to the moisture and regular use, bathroom tiles need to be cleaned more consistently and thoroughly. Porcelanosa recommends the use of a multi-purpose spray cleaner, as it will be more effective in removing scum and preventing mildew.
Start with a clean, damp cloth or sponge containing the cleaning solution discussed above
Scrub the tiles in question
Let the solution sit for 5 minutes
Rinse with warm water and dry the surface
Leave the shower curtain or door open to allow proper ventilation.
If your bathroom contains textured or non-glazed tiles, follow the same step, but instead of a sponge or cloth, use a soft scrub brush or white nylon scrub pad, according to Eleganza.
Grout
Oftentimes, people ask for as few grout lines as possible. Reason being, it can be difficult to clean and some grouts require sealing, much like natural stone. However, with the use of tile, grout lines are inevitable. Luckily, many cleaners used for tile are also acceptable for cleaning grout. Simply be sure the cleaner also covers the grout while you're caring for your tile. If you notice your grout is particularly dirty, that's when you head for the toothbrush, although Emser Tile recommends you use a medium bristle brush to help scrub away those difficult dirt spots.
Care Guide and Warranty Terms
MSI
Click here to find the complete care & maintenance guide
Click here to find the complete warranty terms
Eleganza
Click here to find the complete care & maintenance guide
Click here to find the complete warranty terms
Emser
Click here to find the complete care & maintenance guide
Click here to find the complete warranty terms
American Olean
Click here to find the complete care & maintenance guide
Click here to find the complete warranty terms
Virginia Tile
Click here to find the complete care & maintenance guide
Click here to find the complete warranty terms
Porcelanosa
Click here and here to find the complete care & maintenance guide
Click here to find the complete warranty terms