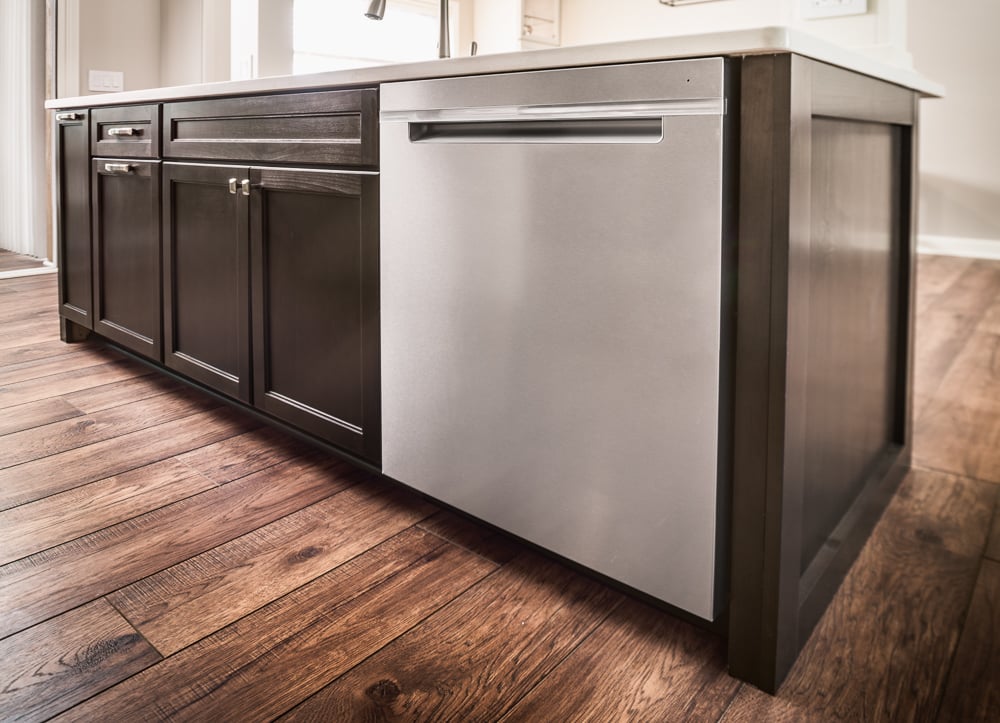 When a homeowner's number one priority for flooring is easy maintenance, we direct them to laminate or LVT. However, laminate is even one step simpler to care for than LVT. The affordable, durable material is a great choice for families with pets, children, and hectic on-the-go lifestyles. Here are our suggestions on how to care for and maintain your laminate floors.
Best Cleaning Practices
For most floors, there is a strict three step process of sweep, vacuum, and mop. However, for laminate, Manninton recommends vacuuming or sweeping regularly, implying that only one method is necessary. Reason being, laminate doesn't trap dirt and dust as easily as the other flooring types.
Before you throw your mops away, however, Mannington does recommend you occasionally wipe down the floors with either a cloth or traditional mop. Be careful not to get carried away with over saturating your mop and therefore, your floors. In fact, like other flooring types, too much water can cause severe damage. Instead, lightly dampen your cloth or mop with a cleaning solution. Mannington recommends the use of their Ultra Clean System product, however, other floor cleaning solutions are acceptable too, so long as you abstain from using soap-based detergents, abrasive cleaners, steel wool, and scouring powder.
Other Helpful Tips
Similar to other flooring types, in order to maintain laminate's simple care routine, be sure to wipe up any spills or messes on your laminate floors right away. This will help prevent any difficult staining, which can pose quite the challenge when trying to remove it. Furthermore, you should place doormats at every door leading outside to help minimize tracking in outdoor substances, which will inevitably cause dirty floors throughout your home. Never wax, polish, sand, lacquer or steam your laminate floors, as it will null the warranty and lead to irreparable damage.
Unfortunately, even the most cautious person can end up with difficult stains that won't come out with the standard cleaning process. For that, Mannington has a few recommendations.
Juice, Wine, Grease, and Chocolate: Use a clean, white cloth and moisten it slightly with Mannington Ultra Clean or a similar product, and spot clean by only cleaning the area of the spill. Start on the edges and work your way in.
Shoe Polish, Paint, Crayon, Ink, Dried Foods, Nail Polish, Cigarette Burns: Use a clean, white cloth moistened with either alcohol or nail polish remover. Again, spot clean, working your way from the edges in, toward the center of the stain.
Candle Wax or Gum: Allow the substance to harden, then using a plastic knife, scrape it off.
Care Guide and Warranty Terms
Mannington
Click here to find the complete care & maintenance guide
Click here to find the complete warranty terms