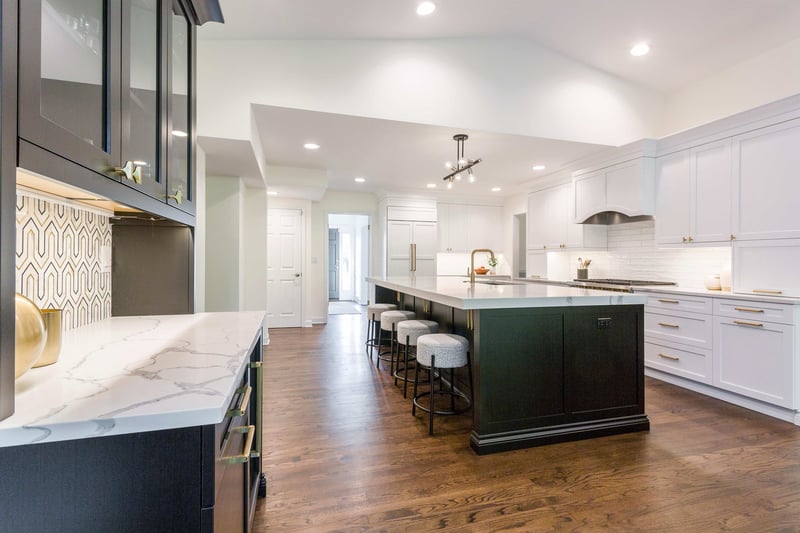 With the holiday season just around the corner, we all start to become aware of our kitchen's strengths and... deficiencies. Sometimes, you love your kitchen. Other times, you feel like you'll scream if you bump into one more family member while trying to pull together one of your famous meals. As you start imagining your large family or groups of friends crowding into your home for different parties, you might be thinking the space needs a makeover. Here are four changes to make if you want your home to be hosting central.
1. Large Islands
Whether you love entertaining or simply find yourself constantly in the kitchen, having a large island makes everything easier. Not only does it provide ample space to work while you're in the kitchen, but it provides a helpful gathering place. If you're cooking, you likely can't stand it when people hover in the kitchen, as they often happen to be standing exactly where you need to go. With an island, anyone in the kitchen can be directed to take a seat.
A large island is also great for laying out any top-tier spread crafted for a party. Charcuterie table? Islands are perfect. Need a place to put your Thanksgiving buffet when your family of 30+ people arrives? Islands will become your best friend. We once had a client who cooked and hosted so frequently that she requested two large islands. We removed the wall separating the kitchen from the living room and replaced it with the expansive islands.
2. Open Floor Plans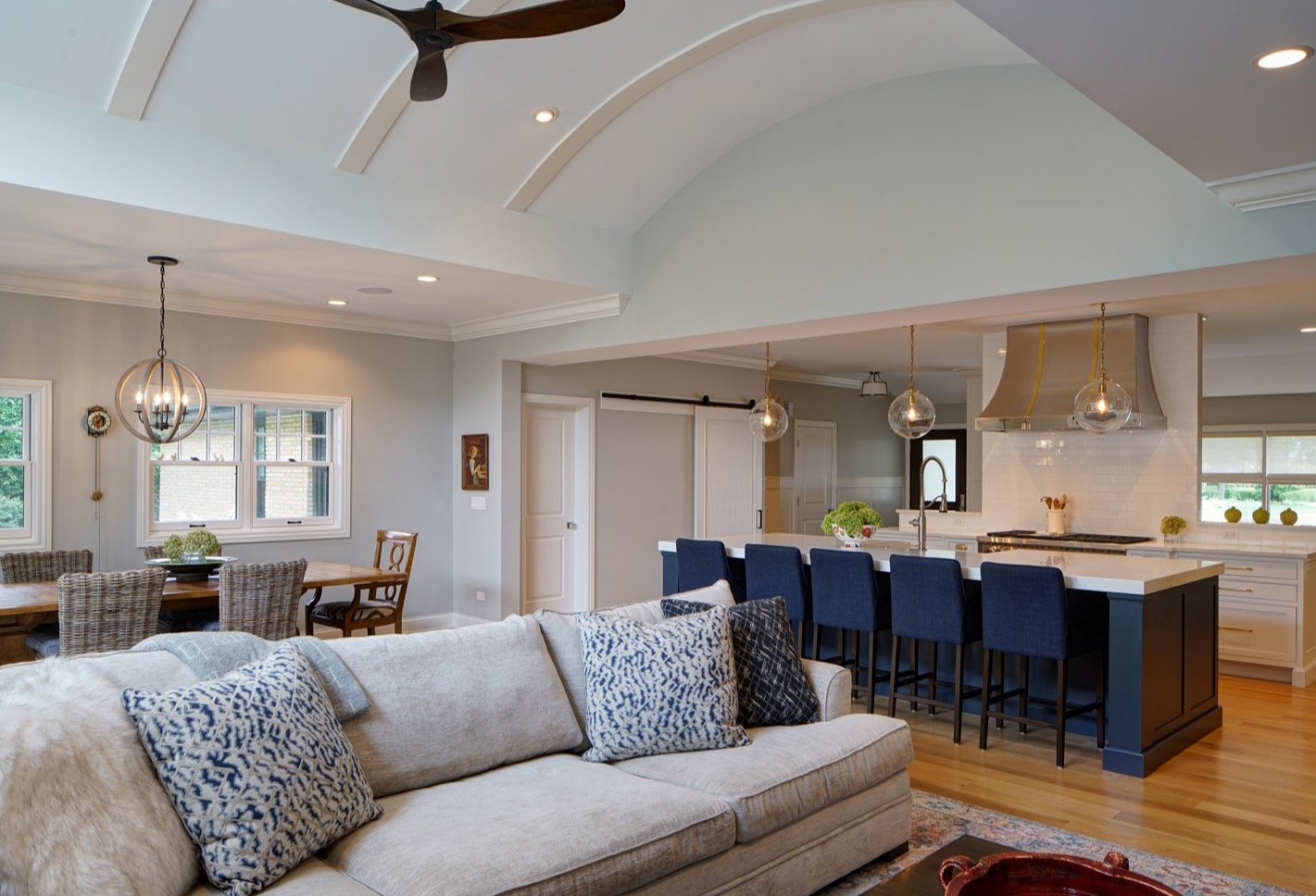 Trends come and go, and thanks to Covid, many home designs are moving away from the open floor plan. Families have started requesting delineated spaces as a way to give them mini escapes from others if they need a breather. An open floor plan means everyone is in your space at all times, even if you're in the kitchen area and they're sitting in the family room area.
And yet…
The open floor plan works exceptionally well for certain clients. For example, those who often find themselves hosting large groups. This helps the host feel more connected to the group at large. When the kitchen is closed off, hosts often get swept away in prepping all the food or making sure there is enough food that they don't get a chance to spend time in the main area of the gathering. With an open floorplan, everyone is in one space, and some guests may even feel more comfortable lending the host a hand. That being said, if you like having room to hide the prep mess, then an open floor plan may not be for you, as all your kitchen mess will be visible at all times.
3. Baking Pantries
With the advent of hidden pantries, hosts who love to bake might be intrigued by baking pantries. These pantries have shelving for food storage like a standard, but they also include countertop space. They're similar to butler pantries but slightly more enclosed. The door attached to them allows homeowners to easily hide away their workstations, which often equates to messiness. This also solves the problem of open concepts. One client who built her home from the ground up wanted the connection of an open floor plan without the stress of cleaning her prep stations before guests arrived. Here baking pantry is tight quarters but perfect for her specific needs.
4. Coffee Bars & Beverage Centers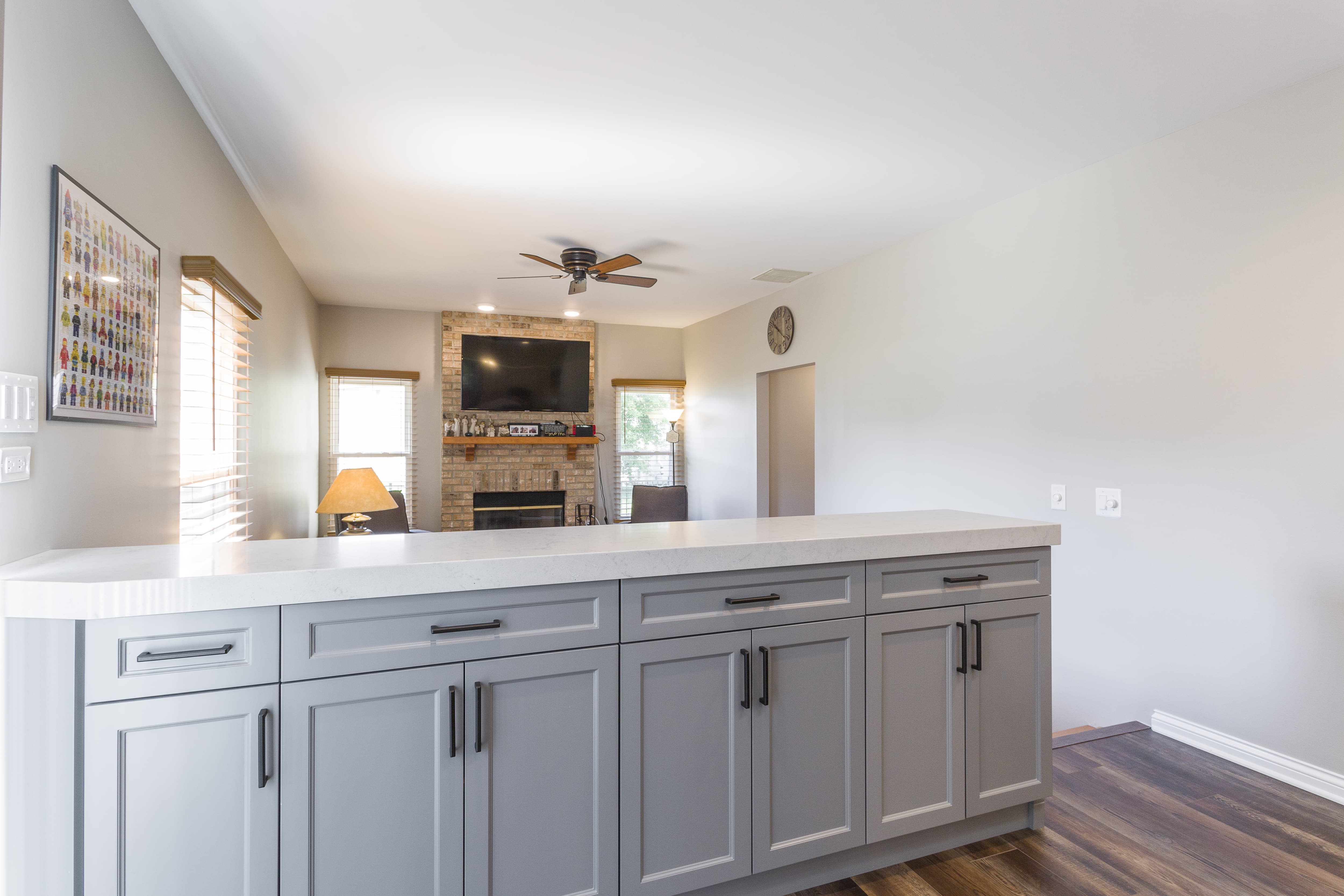 Not only do coffee bars and beverage centers become great places to store drinks that are easily accessible for all guests and family members, but they create another station of gathering. This can help move traffic away from the heart of the kitchen or the island if it is overcrowded. Furthermore, they offer more countertop space, ideal for placing strategic snacks like your famous four-cheese dip. For one client, they had a handrail separating the step-down family room from the kitchen. While there needed to be some barrier, the railing was a wasted opportunity. Our designer proposed that the clients instead install a narrow coffee bar. This help the family room feel more connected with the kitchen while creating storage opportunities for all your favorite party trays and dishware.
We have no shortage of ideas when it comes to beautiful kitchens. OHi has been helping families in Chicago, and its surrounding suburbs remodel their homes since we founded our family business in 1900. We've been improving our neighborhood one home at a time through expert advice, exclusive products, and exceptional service. Our team members are excited and ready to work on your dream space!
If you're ready to make your kitchen marvelous, give us a call or fill out our project discussion form.