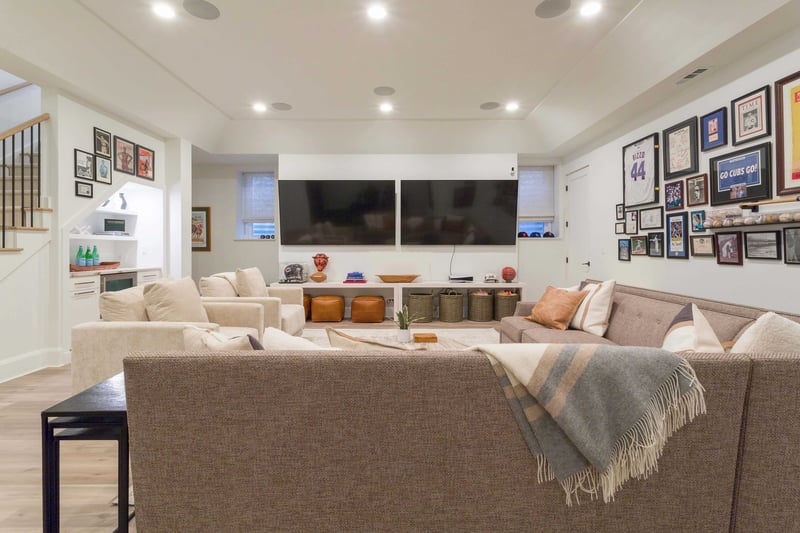 Over the last few years, design trends have become much more fluid, allowing for personal expression and interpretation of beloved materials, colors, and aesthetics. And we're obsessed. Long before this became acceptable, we have always challenged our clients to find the design right for their lifestyle and taste. The world has finally caught up. Here are a few ways to put your personal stamp on your next remodeling project.
Take Notes
The first step to putting your own stamp on your style is exposure. You'll never know what you love if you aren't exploring what is out there. There are a few avenues to determine the elements or aesthetics you prefer.
Pinterest: We LOVE Pinterest. Not only can you find pictures of other rooms that may spark inspiration, but you can also compile boards with specific elements to give a robust vision for your space. Need a little inspiration? Check out our Pinterest and save a few projects.
Houzz: Like Pinterest, Houzz is excellent if you want laser focus, as the entire platform is dedicated to home projects. It can also help find specific names of materials and compile all of your inspiration in one place, like Pinterest.
Multi-Media: Other ways to explore and find your style include watching HGTV, reading a few design magazines, or scrolling through social media platforms like TikTok or Instagram. These can be helpful to gather current and vivid images to see what is in style while also finding unique usage of materials or creative layouts.
Also, take stock of things you know you love. Do you have a favorite color? Our team could find a cabinet or tile that pulls that into the space. Do you have artwork you want featured in your new space? You'd be surprised how many of our designs are inspired by some form of art that clients want as the focal point. Maybe you have a hobby, like gardening, and need space to have a unique twist to make it more functional. Thinking through these elements and sharing them with a designer can be tremendously helpful in creating the personalized space of your dreams.
Visit A Showroom
After doing some research, visit a showroom like the one we have at 106 Garlisch Dr. in Elk Grove Village. While pictures and videos are great, seeing materials and displays in person can give you a better feel for if you actually like a layout or the texture of a material. Sometimes, images online can be deceiving. We've had instances where clients come in thinking they are 100% in love with a specific product, and then they see it in person and find it lackluster or different from the color they thought it was. Going to a showroom in person gives you a much more authentic look at what your remodel could look like at the end of a project.
Bonus: If you're around the Chicagoland suburbs, keep an eye on our events page for open houses where previous clients open their homes for people to explore our craftsmanship in person.
Work With a Designer
Sometimes, the discovery stage of finding what a person likes can lead them to an overwhelming sense of decision fatigue. After all, you want an investment like this to last and to be something you genuinely love. That is where designers thrive. Not only can they challenge you to try exciting combinations of materials, but they are trained to know current stock and pieces to help sift through the thousands of options you have (seriously, just look at our tile wall and try not to get overwhelmed). Working with a designer is a great way to ensure your space is personalized and unique while receiving helpful guidance.
They are experts who are capable of looking at the design inspiration clients show them and creatively problem-solving for functional issues clients may be having as well. They help take the stress of personalizing your space away while still allowing you to tweak designs until you know it's the right fit for you. Want to see what your bathroom looks like with pink cabinets? They will work with you on that. Dying to mix your metal hardware but unsure of where to start? Your designer will be able to lead the way. Working with a designer is truly a secret weapon for getting your space to feel personalized without looking chaotic.
If you're considering a remodeling project, give us a call or fill out a project discussion form. Our team members are excited and ready to get to work on your dream space!