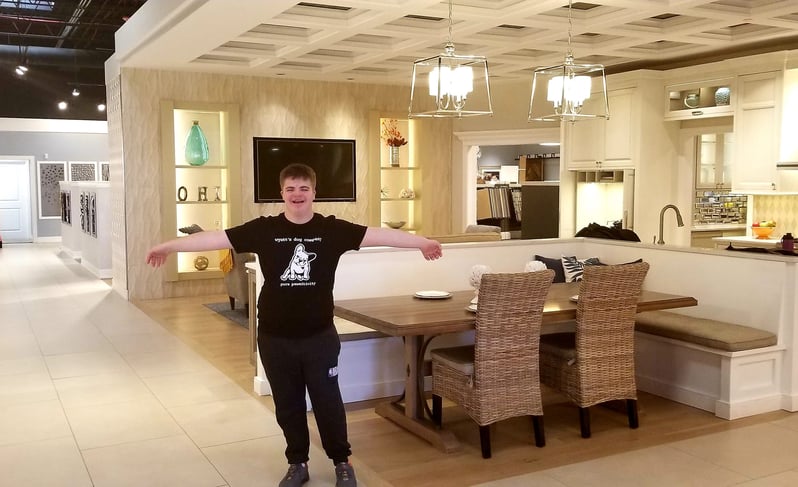 This past weekend, we had the pleasure of hosting Wyatt's Dog Company in our showroom for the second time since November. We all got together and helped bake and package a doggone lot of dog treats! It was so much fun working together and for a good cause.
Wyatt's Dog Company
Wyatt's Dog Company was founded by Wyatt Nelson, an ambitious, dog-loving teenager with Down syndrome, autism, and a love for baking! Last October, he officially launched his business and has been growing ever since. All of Wyatt's dog treats are made with human-grade ingredients and a whole lot of love. Wyatt chooses to donate his profits to a handful of charitable organizations, including SALUTE, Inc., the National Association for Down Syndrome, the Midwest Council for Children with Disabilities, and more.
The First Bake
The first group bake we did in November, we partnered up with Wyatt's Dog Company and volunteers from SALUTE, Inc. to help bake a big batch of dog treats in honor of Veteran's Day. In addition to the Thanksgiving Turkey & Sweet Potato flavored treats, we also baked a special flavor called "Patriot Bones." These specific batches were donated to the local Arlington Heights Police Department K-9 units, to Northwest Community Hospital's Animal Assisted Therapy dogs, and to veterans through SALUTE.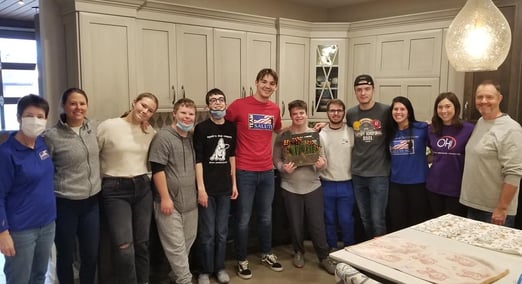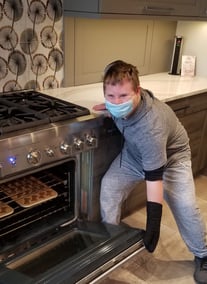 SALUTE Inc.
If you're not familiar with SALUTE Inc., it is a wonderful non-profit organization which helps provide assistance to veterans and their families during their time of need. SALUTE was actually started by Will and Mary Beth Beiersdorf, the parents of OHi team member, Matt Beiersdorf. Will was a Naval Reservist who was called to active duty following the events that took place on 9/11. After serving 13 months in Cuba, Will safely returned home to his family. He and his wife were so grateful for all of the help and support they received that they were compelled to find a way to give back, so, they started SALUTE. Whether it's helping cover housing payments, medical bills, or food costs, SALUTE works with each veteran one on one to provide specialized support and assistance.
The Second Bake
The second group bake we did was to ensure that Wyatt's Dog Company would be stocked with plenty of dog treats for the hustle and bustle of the holiday season. This time, we baked and packaged three different holiday flavors: Gingerbread Bacon, Great Grandma Nelson's Swedish Meatballs, and a tried and true classic - Peanut Butter Bacon - the OHi dogs' personal favorites.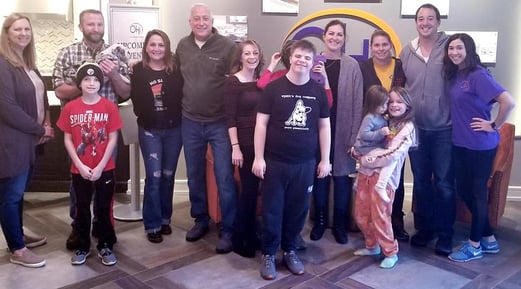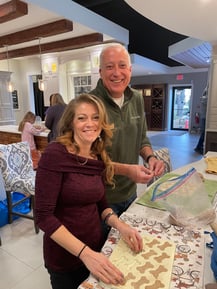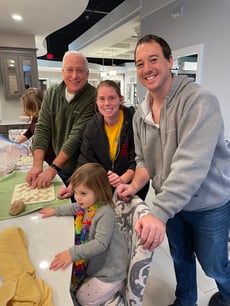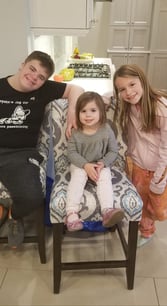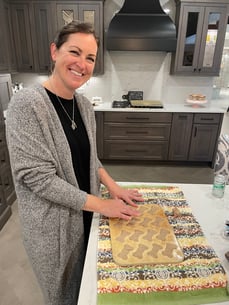 Our clients' dogs, our employees' dogs, and OHi dogs, Lola & Moses, absolutely LOVE these homemade, freshly baked, hand packaged dog treats, photo evidence can be seen below. To purchase treats from Wyatt's Dog Company, you can stop by Robyn's Nest Boutique in downtown Arlington Heights or at any of Wyatt's upcoming events listed on their Facebook page.
To read more about Wyatt's Dog Company or SALUTE Inc., I encourage you to check out their websites here: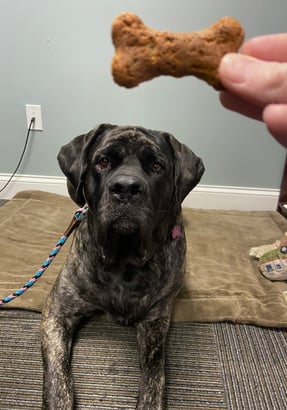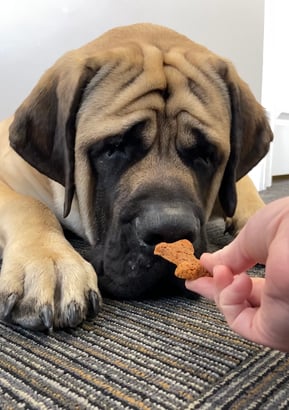 Whether you want a kitchen suited for baking human treats or dog treats, visit our home design showroom in Elk Grove Village and meet with one of our team members. If you're already considering a remodeling project, fill out a project discussion form or give us a call! We are excited and ready to get to work on your dream space!
If you're not quite ready yet to discuss your project, download one of our investment guides to learn more about the costs associated with remodeling. Or, for digital design inspiration, download our 2021 Lookbook or visit our online portfolio.
Article Categories:
Insider
,
Kitchen Remodeling
,
Remodeling
,
Home Remodeling
,
Ohi News
,
Construction
,
Home Improvement
,
Home Tips
,
Ohi Family Traditions
,
Family
,
Interior Design
Related Articles