Tired of having your closet put to shame by the neighbors' gargantuan walk-in? Allow us to inspire a few creative muses for you. At OHi, we are devoted to giving you the home improvement tips you need to stay ahead of the crowd, and while it may not warrant much attention at first glance, a renovated closet can be the first step to a completely rejuvenated abode. OHi team member Tammy Ogaard describes what you need to know when building your dream closet.
Make Sure You Have Closet Space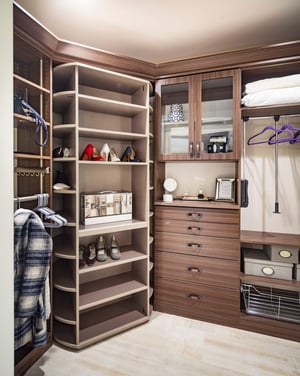 The most obvious step in obtaining your new walk-in closet also happens to be the first; in order to begin, you must find an area in the house that can be converted. The size of the space will vary depending on how lavish you'd like your final product to be.
Start With a Mirror
Once you've mapped out a proper location, the first step in having the walk-in closet of your dreams is actually finding the right mirror. Crazy, right? But, the thing about designing your dream closet is that you need to keep the end in mind at the beginning. If you're like me, you want to see what you look like before you leave the house. Therefore, the mirror is critical when designing your closet. Not only will it will exponentially increase the convenience factor, it will also add depth, making your walk-in appear larger than it is. Your mirror should be at least 18 inches wide, and should most definitely be full-length.
Shelves or Drawers?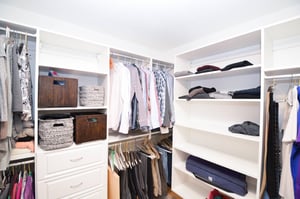 Now that you've picked the perfect set of doors for your walk-in, the next step is selecting the shelves and/or drawers to match. Depending on how open you'd like your closet to be, you might pick shelves for easy access to your clothes. If you have room to spare, think about including an island with drawers to store jewelry, sunglasses, and other accessories.
Choosing Closet Doors
There are thousands of unique options to choose from when it comes to closet doors. Do you want sliding doors, or swing ones? If you go with sliding, will they be modern, or chic, vintage Japanese? Do your research before you finally decide which style to go with. The closet color and style will determine the base aura your walk-in exudes.
Add a Little You
Once the basic layout has been decided you'll come to all of the difficult decisions. By this we mean everything from choosing the color scheme, to adding accent decorations to your walk-in.
Now What?
There are endless possibilities for making your current home into your dream home, and OHi has been helping families in Chicago and its surrounding suburbs remodel their homes since we founded our family business in 1900. Our expert team members will help you find design inspiration and carry out your vision. We've been improving our neighborhood one home at a time through expert advice, exclusive products, and exceptional service. Check out our portfolio, or contact us to speak with an OHi family member about your remodel!
Related Articles