A creative application and arrangement of lighting fixtures can play a dramatic role in the ambiance of a room. Light is an essential element in the design of a home that can be used to set different moods, from warm and restful to bright and exuberant. During a home remodeling project, designer Kim Malito says you should consider these lighting techniques before you make your decision (and before you "just pick" a light!).
Choose The Right Fixtures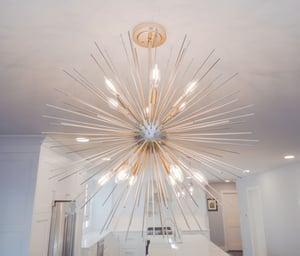 Ceiling fixtures, sconces, and chandeliers are traditional options that are perfect for illuminating an entire room. Floor lamps and table lamps are great options for those who want more subtle lighting in specific areas of a room. Track lighting can offer directional beams to highlight a gallery wall, or in a kitchen to illuminate work areas.
Consider The Bulbs
After a home remodeling project, a homeowner can find fixtures that uniquely blend with the new home decor. Bulb wattage can vary depending on the application, and homeowners can also select multicolored lighting, from white light for reading nooks to cozy warm white light for bedrooms and dens. The bulb shape and style can also impact mood, with some decorative vintage bulbs functioning as design accents on their own.
Details Matter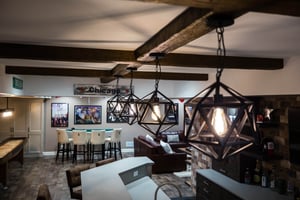 To ensure the seamless flow of an entire room, it is important to consider the overall lighting and design of a room after a home remodeling project. This includes the arrangement and color of the walls. Matching these with the right fixtures and bulb colors helps to create a cohesive atmosphere.
Now What?
There are endless possibilities for making your current home into your dream home, and OHi has been helping families in Chicago and its surrounding suburbs remodel their homes since we founded our family business in 1900. Our expert team members will help you find design inspiration and carry out your vision. We've been improving our neighborhood one home at a time through expert advice, exclusive products, and exceptional service. Check out our portfolio, or contact us to speak with an OHi family member about your remodel!
Related Articles