Window treatments tie together a bathroom design while creating privacy and functionality. Rustic to modern, treatments in any bathroom can create a sense of personality. When combined with professional bathroom remodeling, there is the potential for a truly exquisite bathroom appearance. Our resident window treatment expert Tammy Ogaard weighs in on her thoughts on the ideal window treatments for your bathroom.
Wood Options
Faux or real, wood is an exceptional option. Faux wood blinds are versatile and resist moisture, which helps prevent mold or mildew buildup in a humid bathroom. Woven wood shades are a great option to create privacy while still letting in natural light.
Roman Shades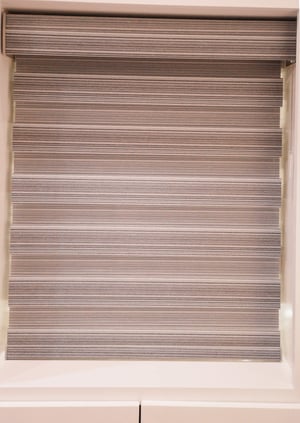 Nearly endless possibilities make roman shades perfect for most bathrooms. They stand out aesthetically while offering a functional purpose since roman shades can keep out light and sound. Adding a soft fabric to the bathroom design can tie together colors in the rugs and towels, while also adding privacy. Choose a moisture-resistant fabric that is easy to spot clean as needed.
Interior Shutters
For a traditional, farmhouse style, shutters can be added to the lower half of the windows. This way, the top of the window can still let in natural light, while the lower portion is closed off for privacy. As a finishing touch, homeowners can add a valance at the top of the window for a splash of color that softens the overall design.
Now What?
There are endless possibilities for creating your dream home, and OHi has been helping families in Chicago and its surrounding suburbs remodel their homes since we founded our family business in 1900. Our expert team members will help you find design inspiration and carry out your vision. We've been improving our neighborhood one home at a time through expert advice, exclusive products, and exceptional service. Check out our portfolio, or contact us to speak with an OHi family member about your remodel!