One of the most popular design features for people remodeling is home additions that blend the shelter of the indoors with the natural scenery, beauty, and serenity of the outdoors. A well-designed indoor/outdoor home addition can offer an oasis of calm that gives the homeowner the perfect place to relax. Designer Teri Meiners shares her tips and features to incorporate a transitional living space that will add beauty and value to any home.
Let Light Transition Seamlessly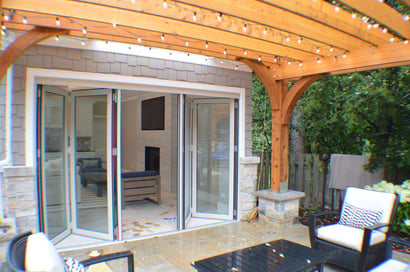 One of the most important features of an indoor/outdoor space is making use of the beautiful natural light from the outdoors, indoors. This will create a more seamless transition between your inside space and outside space. There are countless options for floor to ceiling windows, sliding doors, french doors, arch-top doors, and more. But my personal favorite is the Nanawall option. These accordion doors allow you to open basically your entire wall up to the outside, creating seamless traffic flow when they're open, and gorgeous light flow when they're closed. A Nanawall can also be installed full-length rolling screens to assist with keeping the bugs out of your house!
Frame The Space With Fabrics
A great way to make an outdoor area feel like a distinct "room" without losing the openness is to frame it with fabrics that can be drawn or opened. A gazebo or covered patio with light curtains will provide shade and help temper stronger winds without interfering with the flow of fresh air or blocking any natural light.
Your Own Secret Garden
One of the most popular indoor/outdoor home additions that creates a true oasis is a private garden off the master bedroom suite. Try a glass door that opens onto an area enclosed by high bushes, latticework, bamboo, or any other barrier that encloses a small but well-appointed area perfect for two people. A water feature, outdoor fire pit, or other elemental addition will make it feel like a retreat from the rest of the world is just outside the back door.
Climbing Plants At The Threshold
Climbing plants are a great way to give the distinct impression that one is crossing into a new space. Plants like ivy, wisteria, and others planted on trellises at the entryway to outdoor spaces will give a nice demarcation of the outdoors and provide color and variation. It will also form an inviting suggestion for those inside looking out.
Now What?
There are endless possibilities for creating your dream home, and OHi has been helping families in Chicago and its surrounding suburbs remodel their homes since we founded our family business in 1900. Our expert team members will help you find design inspiration and carry out your vision. We've been improving our neighborhood one home at a time through expert advice, exclusive products, and exceptional service. Check out our portfolio, or contact us to speak with an OHi family member about your remodel!
Related Articles