The Super Bowl is set for kick off this Sunday from Los Angeles as the Rams take on the Bengals. Whether you're attending a party or hosting, it will most likely be happening in a basement. We have five basement remodels that are perfect for hosting the ultimate Super Bowl extravaganza. Here are 5 basement remodels that win on Super Bowl Sunday.
1.) Spacious and Fun
Maximizing the space of the basement is essential. In this basement remodel there is a cozy unimposing bar that is effortlessly tucked into the basement. A great place to store drinks for the family and snacks for easy access while watching the game. LVT flooring to be durable for pets, kids, and messy spilled. Mix in the dartboard and arcade games that have been furnished and this is a Super Bowl party win.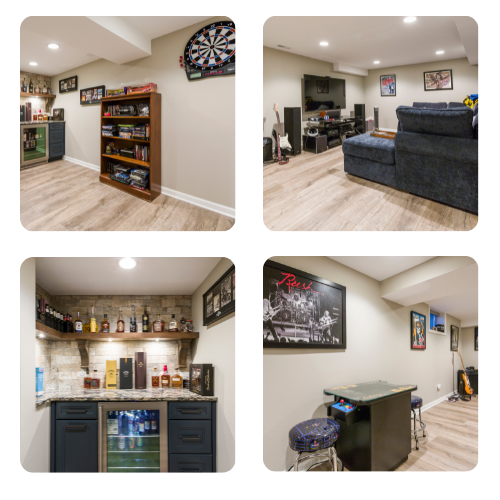 2.) Cool and Blue
We love the choice of colors that were chosen for the bar. It's cool and blue, while providing plenty to offer. There is ample bar storage to ensure you never run out of your choice of drink as well as your guest's favorite choice. It effortlessly is situated in the rest of the space creating a cool hang-out larger gathering room. With plenty of seating and display shelves to allow guests easy access when choosing drinks. If you thought it couldn't get any cooler, the lighting from the mini fridge sets it off.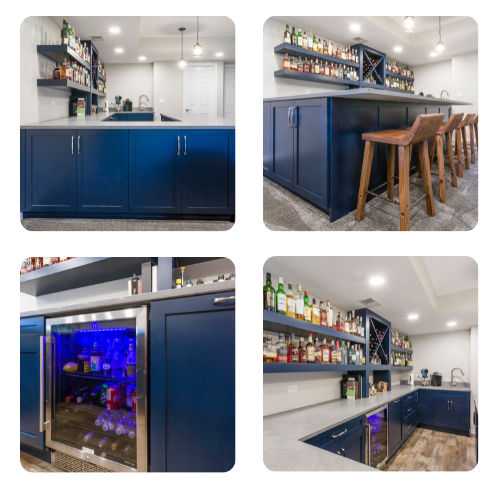 3.) Large and Cozy
The before and after really showcases how to maximize a basement for a large and cozy space that is perfect for hosting. The large seating area combined with other fun activities such as the foosball table make this the spot to hang. The cozy fireplace creates an ambiance that can't be missed nor replaced. Are kids coming over? A separate TV room is perfect for the kids to play, while the adults are watching the game.
4.) Balanced and Spacious
This basement remodel offers a working bar, with plentiful storage and booth seating. A dartboard, shuffleboard and easy viewing TV access due to open floor plan are a win. The durable floor provides a worry free experience, that you don't have to sweat when the ball crosses the goal line. There is a great balance for gathering large crowds and offering different avenues of fun for those not interested in watching the game.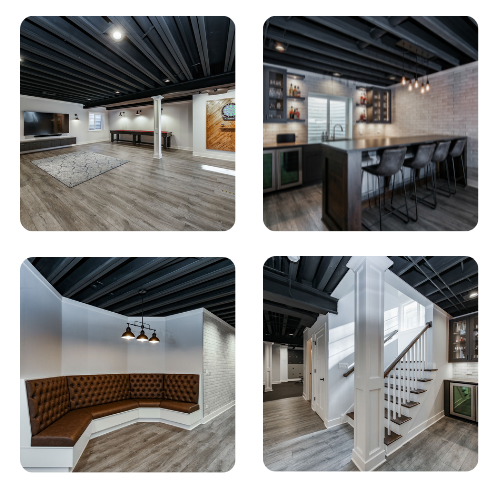 5.) Amazing and Plentiful
This amazing and plentiful space has plenty to offer. With a full-service bar that include a working tap, the glass will never go dry. There is lots of seating, multiple TVs, and cozy lighting. The space that provides a little bit of everything, is without a doubt, victorious on Super Bowl Sunday. If you are looking to WOW, then this is the space to do it.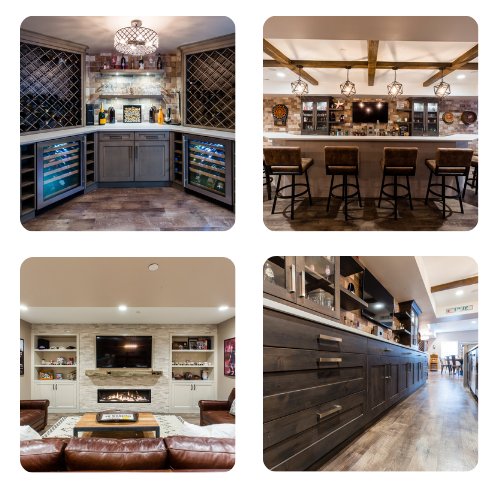 The OHi family hopes you enjoy a Super Bowl Sunday that is unforgettable. Regardless of who wins, the ultimate goal is to enjoy the company and family that surrounds you. We hope these 5 basement remodels provide some insight to what can be possible, if you are considering a basement remodel. Call us today or schedule an appointment online. If you want a little more basement inspiration, visit our portfolio to see past projects. You never know what other creative ideas can inspire a change to your basement.