Engineered and natural stone have been the front runners in countertop materials for quite some time now. Stone countertops, such as quartz, granite, and marble, remain a popular choice for homeowners because their versatility in style is unmatched. Not only do these materials come in a wide range of patterns and colors, they are also extremely durable and fairly low maintenance!
However, there's much more involved in choosing a countertop than simply determining the material. After selecting the stone countertop that works best for your lifestyle, you need to think about the details. The key details you need to consider when making countertop selections are the options available for edges, the different finishes, and the desired thickness.
Edges
Each countertop manufacturer offers a multitude of edges, ranging from a clean, simple eased edge to an ornate, decorative edge like a cove dupont. When selecting the edge for your countertop, the style of the edge should reflect the overall desired style for the rest of your space.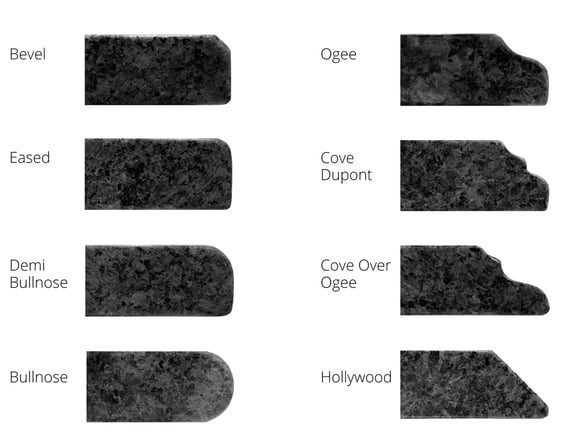 Bevel: features a clean top angle cutting downwards to enhance the stone's gem-like properties (frequently used in contemporary style kitchens)
Eased: features a soft square corner to provide some level of comfortability when leaning on it (frequently used in modern style kitchens)
Demi Bullnose: features a moderately rounded top and a flat bottom to give the stone a thicker appearance
Bullnose: features rounded corners on the top and bottom to create a softer look (frequently used in traditional style kitchens)
Ogee: features an S shape profile that highlights the depth of the stone
Cove Dupont: features a 3-part decorative profile with a crescent curve, a 90 degree angle, and a blunt, rounded bottom
Cove Over Ogee: features an ornate combination of both cove and ogee profiles (frequently used in traditional style kitchens)
Hollywood: features a large beveled edge sloping downwards to a rounded bottom to make your countertop appear elongated
Finishes
Depending on the countertop material and the manufacturer, the available finishes will vary a little bit. However, for most, the two standard sheens are glossy and matte. Once again, when choosing the finish, you should choose a finish that is cohesive with the rest of the space.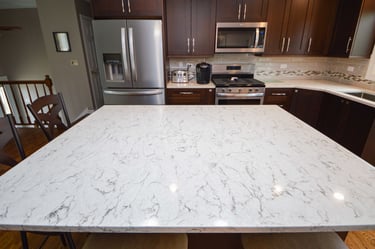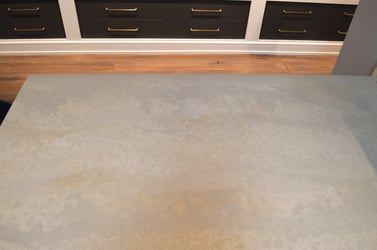 (Left photo: Countertop with gloss finish. Right photo: Countertop with matte finish)
Glossy: If the overall desired style for your space is traditional, look no further than a high gloss finish. Due to the glossy sheen, your countertops will reflect light and make your space appear brighter. In addition to giving your space a warm, classic look, glossy finishes also help camouflage greasy fingerprints and smudges.
Matte: If your overall aesthetic is modern and chic, a matte finish will surely complement the rest of your space. Selecting a matte sheen for your countertops will provide a sleek, unique look wherever it's installed. Matte finishes are already on trend and as they continue to gain more popularity, countertop manufacturers are making matte finishes readily available in more and more styles.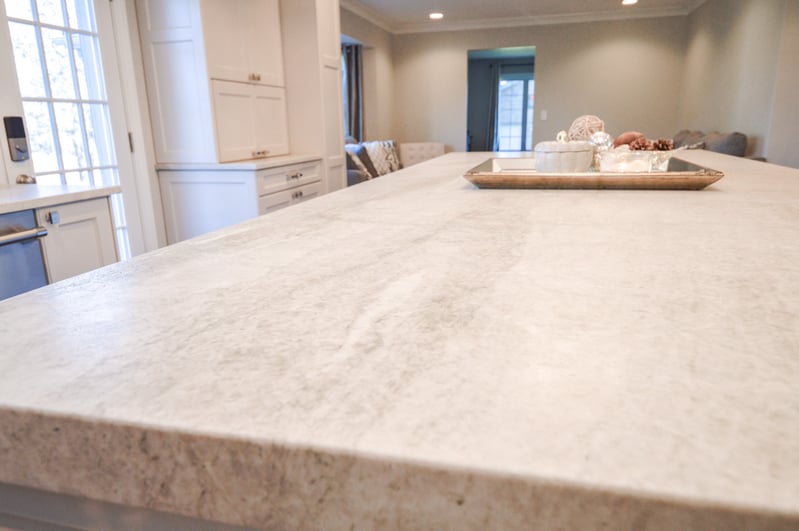 Leathered: A leathered finish is a specialty finish that can only be used on natural stones, such as quartzite. Similar to a matte finish, a leathered finish does not have a high gloss sheen. However, contrary to matte sheens, a leathered finish provides texture and highlights the stone's natural characteristics.
Thickness
The standard thickness for your countertop will depend on the manufacturer and the stone itself. Usually, quartz countertops have a standard thickness of 2cm or 3cm. If you're not looking for 'standard,' there are thin and thick options as well. Quartz countertops can range anywhere from a thin 1cm or 1.2cm to as thick as 4cm or more!
However, any dimension besides the standard thickness will add to the cost of fabrication. If you want the appearance of a thicker countertop, you could add an extra couple centimeters to the edges only. Thick countertops are great if you want to make a bold statement. Thin countertops are a wonderful choice if you are going for a contemporary, clean look. If you really want to highlight your countertops and add dimension to your space, you could do a combination of thin countertops for the perimeter and a thick countertop on the island
If you're interested in a remodel and plan on using stone material for your countertops, give us a call and talk to one of our experts. We'd be happy to help you find the best solution for your space and for your lifestyle. For a complimentary design consultation, schedule an appointment online or give us a call.