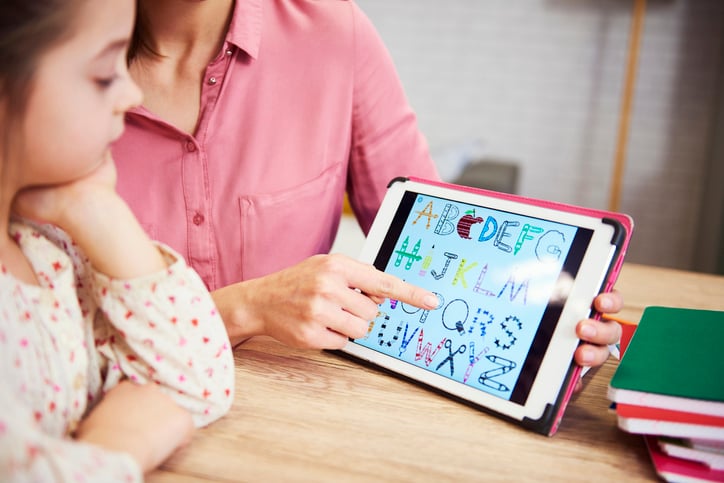 Full disclosure, before the Coronavirus I lived alone. However, in an interesting turn of events, I traded my solitude and quiet for the chaos and joy of living with my family shortly before the stay-in-place order. This includes my mother, my 9-year-old nephew, and my 8-year-old niece. Needless to say, living with children while staying at home, all day, together can get challenging. Luckily, my mom is an old pro at keeping my niece and nephew focused and entertained and she has shared with me some of her favorite resources and activities that are helping her while the kids are spending more time at home.
Before we dive into our recommended activities, we want to make sure we say a huge thank you to all the teachers who have tirelessly and graciously created a virtual curriculum for students to learn digitally while at home. Our teachers continuously put in a lot of work to help educate our children, and have risen to the occasion to help continue that mission during these circumstances. Any of our suggestions below are either to supplement at-home curriculum or to entertain our children in the remaining hours of the day.
Create The Right Space
First, I recommend finding a space in your home dedicated to school time. This will help your kids feel like they have a routine and that there is structure to their learning time. I've seen many people get creative with this. Some convert their guest bedroom into the school room; others use a spare corner in their basement. We chose the dining room and hung a few educational posters to give it a little school room flair.
We also decided to organize one of our closets to have our office and crafting supplies easily accessible. Not only has this helped keep things in one place so we aren't frantically searching for a ruler, but it also allows the kids to get art supplies whenever they feel the need to be creative. While some may not have spare closet space, others can use a pantry or a hutch nearby their school room space.
Look Online For Educational Resources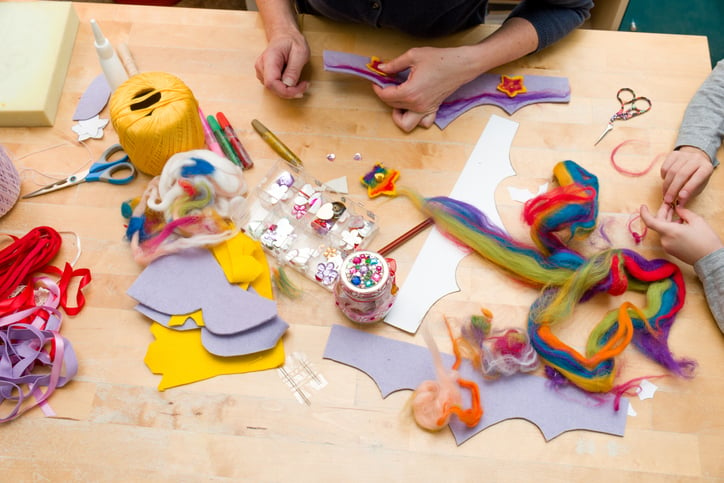 The internet has been an amazing resource for our family during this time. Not only have social apps like Zoom helped my niece and nephew keep in touch with classmates and even their teachers, but many organizations and talented people have started offering free educational and creative resources through video on social media or on their blogs. For science lovers to future artists, here are some of my family's favorite online educational activities.
Get Scholastic: Everyday, Scholastic.com shares a fun lesson plan crafted around two books based on your kid's grade level. First, it reads the book through a video, then your kid is asked to complete a set of activities aiming to improve their reading comprehension. The topics range from spiders to bones, and is a nice way to broaden your child's learning experience. As a bonus, if your kids are fans of the Captain Underpants and Dogman books, the author, in conjunction with Scholastic, is also releasing comic book related lessons to encourage creativity, such as drawing and writing.
Playful Learning: There are numerous educational websites for young kids that foster and encourage learning through games and creative activities. Some of the best sites usually require a subscription. However, many are offering a free period or reduced pricing. For example, BrainPop.com is offering free access while children are out of school. This resource provides many lessons, games, and activities broken down by topic and age group. Another learning resource for families with students from PreK- 6th Grade is ABCYa. This is a free resource with a multitude of educational games for each grade level.
Reading Time: While libraries and bookstores may be closed, help keep kids reading by downloading the Libby app. It's free and available to anyone with a current library card. Once you sign up, you're able to check out various eBooks and audiobooks. You can also take advantage of Epic's free month subscription, which will give your children access to over 40,000 children books, with options for all ages.
Virtual Museum and Zoo Tours: Many world renowned museums and zoos have released virtual tours of their space. Since you can't walk the halls of the Smithsonian, now is a great time to click your way through it from the comfort of your couch. To help keep your kids engaged, play little games like I Spy or Spot It to see what they discover. Also, take time to share what information you know on the topic you're viewing, or even use Google to receive additional information. If interested in virtual tours of some of Chicago's museums and zoos, here's a comprehensive list.
Crafters Unite: My niece and nephew love crafting. Which is why we've made it a habit to check out Michaels daily newsletter. While it's mostly ads, recently they've included DIY crafts in the Make Break section, such as clothespin sharks. They've also recently posted a few DIY craft videos on their Facebook page, which has been a fun treat for the family.
Learn to Draw From a Famous Artist: Children's author and illustrator, Mo Williams, is sharing his talents with the world from the comfort of his home. Each afternoon, he shares a video tutorial directing children step-by-step on how to draw one of his characters. The delightful videos are fun and cathartic, especially for the creative members of the family.
Exercise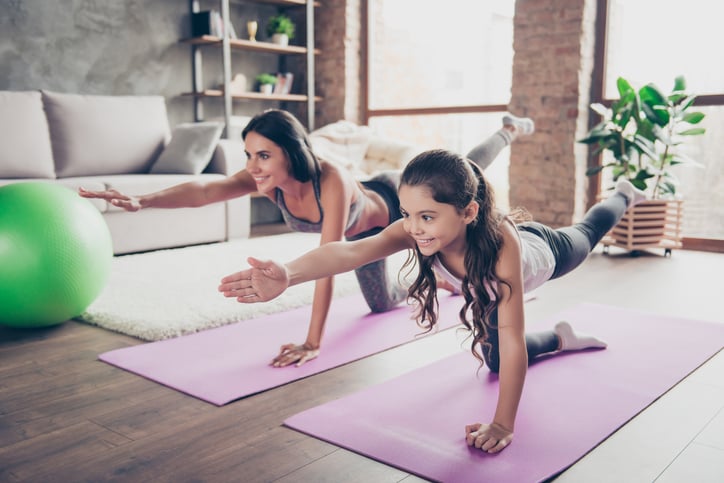 While practicing social distancing, it is still important for both mental and physical health that you and your family stay active. While it's supremely easier to hand the tablets to the kids, it's better to ensure that everyone gets at least thirty minutes of activity in their daily routine. Here are some of my favorite ways to get the kids involved.
Go For a Walk: A simple walk around the neighborhood can do wonders for everyone. We like to point out our favorite house or cars, as well as to see what wildlife we come across (spoiler alert: it's usually just a squirrel).
Yoga: While children might struggle to achieve the quietness often required for yoga, this is a great way to stretch and build muscles, while also helping everyone's stress levels decrease.
P.E. with Joe: On Youtube, there is a U.K. resident who guides viewers through a 30 minute P.E. class. My nephew particularly loves it because he always introduces fun new exercises to keep active even when indoors. I love it because of the accent. It's a win-win.
Learn a Tik Tok Dance: Let your kids teach you a Tik Tok dance. For those who aren't familiar with Tik Tok, it's an app with short videos in which people make fun, short videos. Lately, there have been a plethora of multi-generational families performing dances together. Maybe it's your turn.
Making Memories
One of the great privileges for those of us who get to stay home with children is the ability to use this time to build great memories. We at OHi have always believed in the power of the home for encouraging togetherness, love, and laughter. And while the circumstances are different, that wonderful atmosphere is still waiting to be found. That's why I think this time is a gift for growing closer and building memories with the family we love, especially for children who may not fully understand what's happening and why they can't see their friends or go to school. While I am sure so many people have found some excellent ways to spend time together, here are two favorite fun activities in my household.
Build a Fort: My nephew loves nothing more than trying to create huge, elaborate forts that span the length of our entire living room. He will gather almost every sheet and blanket in the house and implore me or my mom to help build it. The finished products are always exciting and completely transform our living room into whatever land my niece and nephew can imagine. While this task is messy and a lot of work, I truly love the creativity and problem-solving required to successfully pull it off.
Themed Dinners: Once a week my family loves to pick a random theme, whether it's camping or formal attire, and we deck out our dining room and prepare a menu to match the theme. The kids help create decorations, while my mom and I prepare the food. It helps us all feel like we're going "out" or getting a special experience even though we are still inside our own home.
While staying inside can be challenging, those of us who are with our families are very lucky. Whether it's cooking or having lazy days, family makes everything better. I hope this list allows you and your family to discover new avenues for fun and education. Above all, however, I hope you and your families are staying healthy and safe.
Related Articles