If you're contemplating a home improvement project, getting a return on your investment is likely on your mind. What should you splurge on? What should you save on? While everyone's situation is different, there are running themes when it comes to ROI in real estate. Whether you're staying in your home for years to come, or are hoping to sell, spring is the perfect time to take on a home improvement project and build up the value of your home. But where should you invest? OHi President John Kautz weighs in on this oft-asked question with what he's learned after 40 years in the industry.
Think Classic for Big Elements, Trendy for Small Elements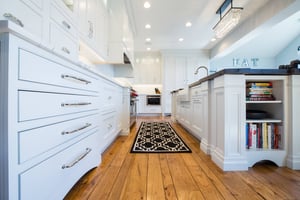 When I was growing up, my mom didn't have any daughters. We had an all-boy household. It couldn't have been easy for her! But I remember her telling my nieces that you "invest in the classics" and "get your trends on the cheap" when it came to clothes and shoes. She also used this explanation to my dad after buying expensive black shoes. I don't get it, but I guess it's a mom thing!
Anyway, the same holds true when it comes to investing in your home. A classic investment like hardwood floors is likely to last you through the ups and downs of flooring trends when it comes to tile sizes and textures and all that jazz. They're more expensive up-front, but they're adaptable, classic, and last for years. Likewise, trendy colored cabinetry should be saved for a specific area of the kitchen, like the island, and classics like white or mid-shade cherry should take up more of your cabinet design. Better yet, put the color, texture, and size trends to work in your backsplash - one of the easiest things to update at a later date! Small vanities in a powder room are also easy to replace as trends change, as are plumbing fixtures and cabinet hardware.
Kitchens Take The Cake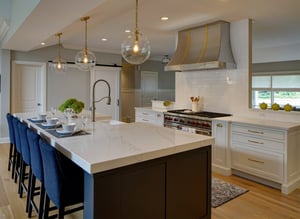 It likely will come as no surprise to you that your kitchen gives you a great return on your remodeling investment. As the heart of the home, it deserves the love and attention of a beautiful remodel. Whether you intend to stay in your home for quite some time or sell it in the near future, you're likely to see your home's value increase with an updated kitchen, including the latest design trends in cabinetry, countertops, backsplash, and flooring. Sometimes a little refresh, like new countertops and a backsplash, is all that's necessary, but in today's open-concept era, you might need some construction work to bring your space the new life it needs.
There are a lot of options when it comes to a kitchen remodel, so choosing the right layout and details for your floorplan, the design as it relates to the rest of your house, and the taste of your future homebuyers is critical. Working with a certified kitchen designer is a great first step to making sure you cover those three elements.
Bathrooms Are Booming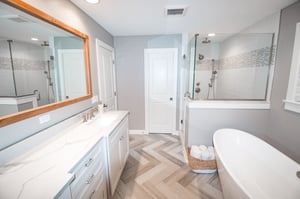 The second most valuable space in your home is your bathroom, specifically your master bathroom. Updated bathrooms show you're a wise homeowner, investing in one of the most expensive areas of the home, and one of the places you spend a fair amount of time. While bathrooms don't return as much on investment as kitchens, they're one of the most desired upgrades that homeowners are looking for - whether you're staying in your own home or looking to sell. Outdated bathrooms often appear dirty, even if they are sparkling clean. Lightening them up with a fresh design is never a bad investment.
Now What?
There are endless possibilities for creating your dream home, and OHi has been helping families in Chicago and its surrounding suburbs remodel their homes since we founded our family business in 1900. Our expert team members will help you find design inspiration and carry out your vision. We've been improving our neighborhood one home at a time through expert advice, exclusive products, and exceptional service. Check out our portfolio, or contact us to speak with an OHi family member about your remodel!