All the glitter and gold is gone. There are no more presents to open or holiday parties to attend. Instead, you are left alone in a room with one giant, glaring thing left to accomplish… your New Year's resolution.

Every year, the number one resolution is to get healthy and lose weight. Is it yours this year? But when you set foot in your kitchen, you realize you're secluded from the family, don't have enough room on your counters to perform the meal prep tasks ahead of you, and the haphazardly stacked pile of pots and pans in your cabinet comes tumbling out on your big toe. Cue the takeout order or pizza delivery guy!

This story could have played out a bit differently with a functional and beautiful kitchen to help you keep that resolution. Science agrees... home cooked meals straight from your kitchen are the key to a healthier lifestyle. Here are a few tips from Designer Kim Malito to help you keep that "get healthy" resolution.
Channel Your Inner Julia Child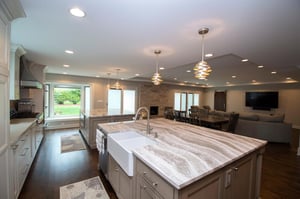 Cooking can be daunting if you've never spent much time doing it. But the best place to start is by perfecting a handful of classics, and leaning into fresh fruits and vegetables. And we all know fruits and veggies take quite a bit of prep before being ready to eat! Clearing the countertops of unnecessary small appliances will allow you space to appropriately chop and prepare your food. Consider an appliance garage that allows you to tuck those appliances out of the way without unplugging them, or adding a cabinet pantry with pull-out drawers to increase your storage space.

One of the best ways to learn is by trial and error, but we also like watching videos courtesy of Tasty and Food Network to cut down on the error part! Some of our favorite classics include one-pan chicken and veggies, salmon, and salt-crusted beef tenderloin.

Encounter More Space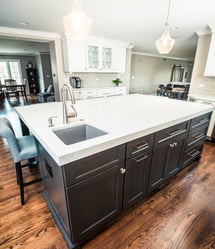 See what I did there? When cooking, there is nothing worse than running out of space. One counter could be crowded with small appliances, while those near the sink have gained piles of dirty dishes and mixing bowls. Meanwhile, you can't even invite anyone to join you in the kitchen as you cook because there is simply no room for anyone. All that can change by renovating your kitchen to include more counter space, better flow to the adjacent rooms, and smarter storage solutions. This could mean crafting a new floor plan or adding an island (or two). Either way, you won't regret creating more space as you become the next Chrissy Teigen.
Spice Up Your Life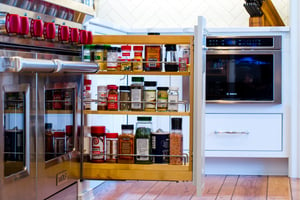 Experimenting and using a variety of spices is one of the most fun ways to expand your taste buds and create new healthy habits. Healthy foods that pack exciting tastes are much easier to crave than bland, repetitive recipes. Want another reason to spice it up? Give yourself one with a beautiful spice rack that maximize otherwise unusable spaces in your kitchen. Thekitchn.com says the best way to organize your spices does not include buying identical spice containers or alphabetizing. Instead, experts recommend organizing them based on usage and putting your favorites where they are easily accessible. And what is more accessible than a pull out shelf near the stove? Nothing. You can thank us later when you realize we're not only helping you get healthy but helping you get more organized.
Hide the Freezer
You start getting in the habit of replacing your highly-processed snacks with fresh fruits and vegetables. You stock your cart full of leafy green and heart healthy fruits only to find they go bad quicker than you can eat them. This is an age old problem. Luckily, your trusty freezer allows you to save fruits and veggies for a later time after you wash, dry, and chop them. You might protest and say you don't have room in your freezer... so consider separating the freezer from the refrigerator and hiding it with a cabinet panel. This can give you more freezer space, while also being able to amaze guests as they gawk at the still frozen ice cubes you seemingly pull from your cupboards.
Now What?
There are endless possibilities for creating your dream home, and OHi has been helping families in Chicago and its surrounding suburbs remodel their homes since we founded our family business in 1900. Our expert team members will help you find design inspiration and carry out your vision. We've been improving our neighborhood one home at a time through expert advice, exclusive products, and exceptional service. Check out our portfolio, or contact us to speak with an OHi family member about your remodel!
Related Articles