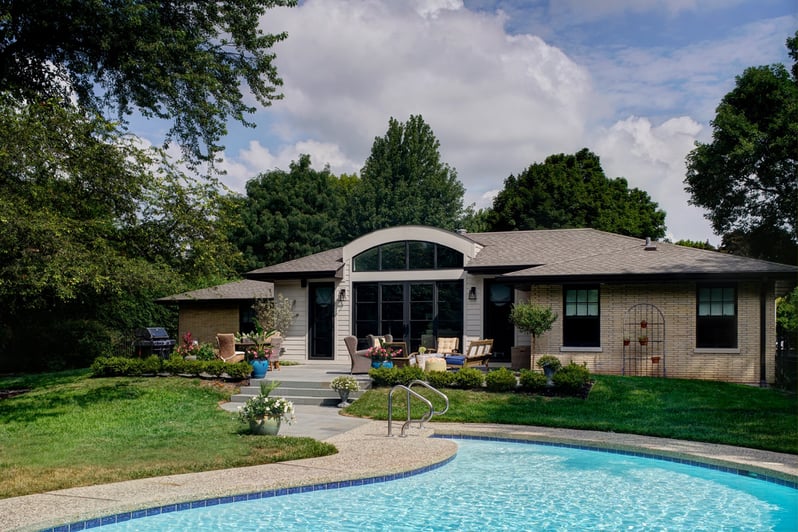 Whether you're hosting a summertime soirée or you just want to indulge in a tasty treat while relaxing in the sun, these recipes are sure to be a hit with your tastebuds! With tropical flavors and colorful, fresh ingredients, you're bound to find a new staple for your classic summertime menu!
Easy Peasy, Party Pleasing Dip
Using a cream cheese base, this dip is effortless to make, but packs impeccable flavors! While you can make this dip anytime of the year, the assortment of bold, colorful veggies just screams summertime. Plus, you can make this dip beforehand and store it in the fridge in an air-tight container for up to a week…if it lasts that long!
Ingredients:
16 oz fat free cream cheese, softened
1 packet of Hidden Valley Ranch dip seasoning mix
1 red pepper, diced
1 orange pepper, diced
2 jalapeños, diced (for a little kick, leave some of the seeds)
1 can of whole kernel fire-roasted corn, drained (plain whole kernel corn is fine too)
Instructions:
Mix all of the ingredients together in a bowl.
Once it is evenly mixed, put the bowl in the fridge to chill.
Remove from the fridge 20 minutes before serving. Serve with tortilla chips or veggies.
Taffy Apple Salad
Although this "salad" isn't low calorie, it righteously deserves a spot at every summertime BBQ get-together. With crisp apples, tangy pineapple, crunchy peanuts, and mini marshmallows, this sweet treat is a delightful mixture filled with nostalgia in every bite.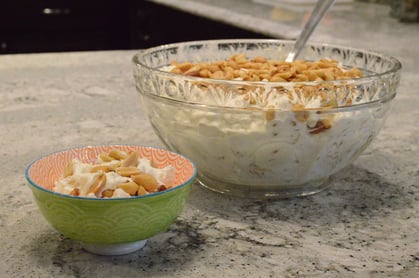 Ingredients:
1 large can of pineapple chunks (drain, but reserve juice)
2 cups mini marshmallows
1/2 cup sugar
1Tbsp of flour
1 egg, beaten
1 (8oz) container of cool whip
3 cups apples, unpeeled, cored, and sliced into bite-size chunks (use a mix of sweet red apples and granny smith)
1 cup cocktail peanuts, unsalted and no skins
Instructions:
Mix pineapple chunks and marshmallows in a bowl and refrigerate overnight.
Mix reserved pineapple juice with flour, sugar, and the egg. Cook on a low heat, stirring constantly, until it's thick. Refrigerate overnight.
Next day, mix everything together in a large bowl, adding the peanuts in last, right before serving.
Tropical Coleslaw
This tropical twist on classic coleslaw is the perfect side dish to accompany any cookout. With fresh summer flavors including coconut, mango, and lime, it's much lighter than the traditional mayonnaise-based coleslaw you're used to.
Ingredients:
2/3 cup of canned coconut milk
2-3 limes, juiced
2 mangos, julienned
2 Tbsp fresh cilantro, chopped
1 bag of plain coleslaw
Instructions:
Stir together the coconut milk and the juice from the limes and set aside.
Mix the sliced mangos and cilantro into the plain bag of coleslaw until it is evenly distributed.
Toss the coconut-lime dressing with coleslaw mixture and chill in the fridge for at least 2 hours, so the dressing infuses with the coleslaw mix.
Before serving, briefly toss the tropical coleslaw once more, then salt and pepper to taste.
Luscious Lemon Meringue Bars
When you think of summer flavors, you tend to think of citruses like lemon, lime, grapefruit, and orange. Since so many cleaning products are scented with these same aromas, you need to be careful when cooking as you don't want your food to taste like Lysol. I'm happy to say that these tasty bars boast crisp, refreshing notes of lemon without an overpowering, artificial lemon flavor.
Ingredients:
6 egg whites
1 cup sugar
1 tsp vinegar
2 packages of Lemon pie/pudding mix - not instant
2 (8oz) containers of cool whip (16oz total)
Instructions:
Preheat oven to 275º.
Beat 6 egg whites until stiff and glossy adding sugar and vinegar gradually. Spread in a greased 9x13 pan. Bake for 1 hr and 15 mins. Then let cool.
Make the pudding according to the directions on the packages, using all egg yolks, and let it cool.
Once the meringue cools, spread half the cool whip over the base. Next, pour all of the lemon pudding over the cool whip. Finish it off, by topping it with the second half of the cool whip. (Optional: garnish with lemon zest)
Keep chilled until right before serving.


If you're considering a remodeling project, give us a call or fill out a project discussion form. If you'd like to learn more about must-have 2021 design trends, download our lookbook. Our team members are excited and ready to get to work on your dream space!
Related Articles