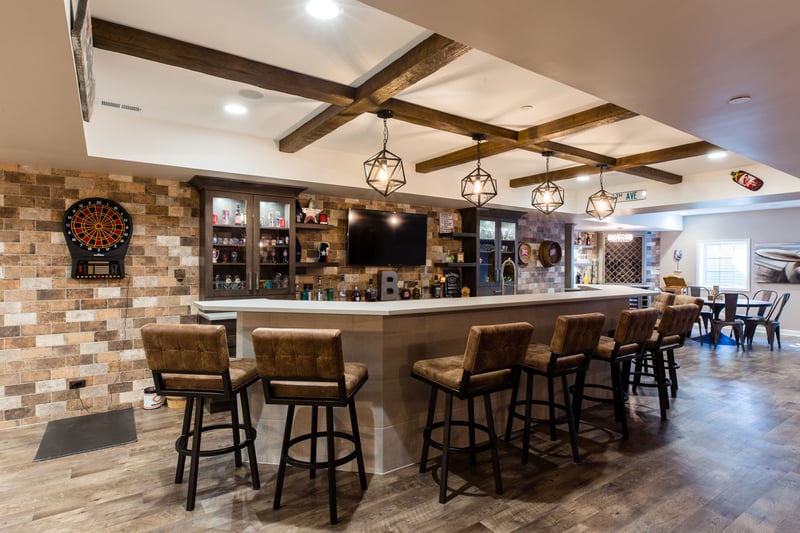 Long days of work, doctor's appointments, grocery shopping, paying the bills, taking the car to the shop, and driving the kids in between make us wish we never grew up. No responsibilities and no care in the world; kids get to play while sipping juice boxes and eating snacks all day. What if I told you we have the secret to never growing up without having to fly to Neverland?
No need to go through the hassle of obtaining pixie dust; just place your trust in us! We at OHI will help you set your inner Peter Pan free with these seven basement features.
Ready, Set, Aim
Be prepared to fight against pirates or show up your buddies at the bar with a built-in dartboard. Installing a dartboard is a great way to relieve stress and entertain guests. You can also engage your kids by doing weekly family dart tournaments. In this basement, the dartboard is installed on a stained-wood slate backboard to protect your walls from rogue darts. You can also choose a backboard that fits the aesthetics of your basement to add a textured accent wall.
Yo,Ho,Ho!
Enjoy a bottle of rum with Captain Hook with one of our fully stocked bars. A full bar in your basement creates more seating and space to host guests. You can include wine racks, a mini fridge, a prep sink, and even a beer tap. This bar has a back counter space and an island, allowing plenty of cabinetry storage and countertop space. Not only is it functional, but it adds a pop of color with an indigo bar. Now you can enjoy a peaceful drink in the privacy of your own home.
Game On!
Play games with the Lost Boys in your at-home arcade. Transforming a section of your basement into a game room is the perfect way to get lost in the 70s-80s nostalgia. Putting in shelves for board games and purchasing a few retro arcade machines like Pac-Man, Space Invaders, or pinball creates a space you and the kids can enjoy. This at-home arcade went with a 70s aesthetic. The bright blues and greens in the furniture and bold wall design transport you to your teenage gaming days. A game room is the ultimate escape from reality.
Up, Up, and Away!
Escape the "Tick Tock Croc" and install a rock-climbing wall. This slim built-in rock climbing wall has an industrial feel with bright purple and green pops to make you feel like you're back on the playground. This wall is easily installed with customizable angles. Installing a rock-climbing wall is fun and a great way to change your workout routine. Rock climbing is found to have great cardiorespiratory benefits, build muscle strength, and enhance memory and hand/eye coordination. It's a unique feature that will draw your friends and neighbors' attention.
Entertainment Daily!
Discover new worlds in the comfort of your home with a built-in entertainment wall. Built-ins allow ample storage space without taking up any room. These shelving units fit perfectly into the wall and allow you to display all your treasures. A tilted tv mount allows you to watch your flat screen comfortably from any angle. This entertainment wall uses Sorrento Bevel Framed Doors to give hidden storage for items you may not want guests to see, such as DVDs, toys, or game counsels. Sit back, relax, and enjoy the show!
Fore!
Hit the greens with TinkerBell! Outdoor events are always a risk with the midwest weather, but you won't have to worry about missing a day of playing golf if you install a golf simulator. You can practice your hobbies anytime, right in your home. This golf simulator was installed in a basement custom-built for such activity. The golf simulator will fit perfectly in a basement that is dug deep with high ceilings. We can add faux grass flooring to help you feel like you're right on the course.
Hit The Deck!
Join the pirate crew by putting a shuffleboard table in your basement. This wood shuffleboard table adds a rustic bar feel to the classic cruise ship game. It's a beautiful furniture piece that fits nicely along any wall while being narrow enough not to take up floor space. Beneath the table is shelving for all game pieces. It's a great game to compete against your spouse or friends.
We want to make your childhood dreams come true! If you are considering a basement remodel, call us today or schedule an appointment online. For more details about the mentioned projects, visit our portfolio.
Related Articles